---
The Facebook Factor Part One: What Fandom Means to Hotels & Restaurants
Stock valuation concerns notwithstanding, it is generally agreed that Facebook will reach 1 Billion users in 2012.  There is simply no denying the company's star power in the social media landscape.  After spending time to adopt the new timeline format, hotels and restaurants are looking to Facebook to drive business, brand equity, and word-of-mouth marketing.  In this two part article I will talk about what Forrester research calls "The Facebook Factor" and discuss how the world's most ubiquitous social media site can deliver for the hospitality industry.
Forrester Research reccently released a report called The Facebook Factor (April, 2012), where compelling numbers show the impact of Facebook fandom on brand interactions and sales.  While this report focuses only on four companies; Best Buy, Walmart, Research in Motion, and Coca-Cola, there is widespread applicability to the hospitality industry.
The reason to have a customer become your fan is logical because they see your posts on their timeline without having to visit your Facebook page.  However, this report drills deeper into three specific benefits of fandom and quantifies the responses of fans vs. non-fans.  When surveying Facebook fans, the report shows dramatically higher purchases made, consideration of the product, and the likelihood to recommend products to others, as you can seee below.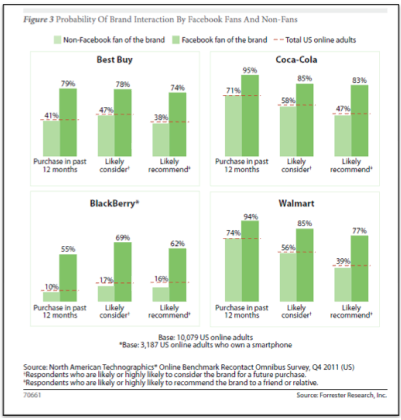 Fandom's influence on purchase
Hospitality businesses that benefit from heavy repeat business are in the best position to take advantage of a Facebook fan's likelihood to purchase.  According to Forrester, 79% of Best Buy fans purchased within the past 12 months of the survey.  Non-fans who were surveyed only purchased at a rate of 41%.  Being a fan of your business nearly doubles the chances that a customer will book.  This proves that targeted promotions can drive business quickly. The real-time delivery of marketing messages via Facebook can drive value in your fan relationships and business when you need it most.  Hotels will want to consider their average booking windows and the location of many of their fans, before launching promotions.  Restaurants may have more flexibility to drive business during slow-demand periods using Facebook promotions.  For any business, however, it is important to consider your engagement-to-marketing balance with fans.  If you bombard customers with offers and never engage them with information or entertainment, you may begin to lose fans.
Fandom's influence on consideration
Interacting with Facebook fans mean that your business will stay in your customers' sphere of consideration both for repeat business and recommendations.  Reminder advertising seeks to keep a product in the mind of the consumer once it is already familiar.  This can be done in a highly targeted and inexpensive way through Facebook and other social media channels. Updates, anecdotes, and interactions from a hotel or restaurant will keep fans thinking about your business and remembering their experience with you. When they have another need for your restaurant or hotel, they will be more likely to come directly to you, and less likely to consider competitors.
For hotels, there is an additional advantage to this type of loyalty. Customers are less likely to book via an online travel agency when they have a relationship directly with you. This reduces booking costs and the chance that a competing property could lure your customer away.  When the average booking through an OTA costs a hotel between $40 and $120 and a direct booking cost between $2 and $6, the savings from having a customer directly loyal to you are clear.  Facebook fan bookings can be more profitable than other customer segments and you can offer direct book promotions to maximize this advantage.
Facebook Fandom and recommendations
While all three brand interactions surveyed by Forrester are important to hospitality, recommendations tend to be the most useful to our industry.  A report by HMSAI reports that WOM (word-of-mouth) is the top factor in a business traveler's decisions about hotels and restaurants. In that report 67% stated that they get guidance from co-workers who have visited the area and 60% say they consult business contacts in the area when planning travel.
Even when hotels or restaurants are unlikely to see a customer again within a short period of time, recommendations can be a powerful marketing force. Our industry now survives or thrives on word-of-mouth marketing and Facebook fans can become your best salespeople.
According to Forrester's survey of over 10,000 US adults, 62 to 83% of fans were likely to recommend the brands tracked.  For example, 74% of Facebook fans of Best Buy were likely to recommend the retailer vs. 38% of non-fans.  This evidence about the level of recommendations by fans is very enlightening and shows without question the value of social media engagement.  Savvy hotels and restaurants can experience a snowball effect, where continued interaction with Facebook fans drives new business from recommendations, which then builds more fans.
Earning Fans and keeping Fans
The most effective way to earn a Facebook Fan is to provide a great stay and/or meal.  Forrester warns against advertising solely to get fans on Facebook rather than appealing to current customers to become fans. It is important to realize that a company's Facebook fans "have an affinity to the brand, not necessarily as a result of being a Facebook fan."   The best fan base is created by customers who have experienced your hospitality.  They will be more engaged, more invested, and more likely to repurchase, consider, or recommend your hotel or restaurant.  Fans that follow you because you put forward a special offer to become a fan are more likely to end their fandom as soon as they have redeemed the offer.  The most valuable fans are grown naturally through great service combined with social media integration.
Once you have gained a fan, the fundamentals of good social media interaction apply. Provide value to your fans through information, entertainment and engagement.  Allow your fans the ability to upload photos and stories about their time at your hotel or restaurant.  This not only helps your fans feel connected to each other, but humanizes your business. Customer relationships that grow through fan interactions are very persuasive to other potential customers. Consider treating your fans like members of an elite club, not necessarily with perks, but with attention, engagement, and sharing.
When you gain a Facebook fan the cost benefits, relationship benefits, and word-of-mouth benefits are clear. Repeat customers are cheaper attract, cheaper to maintain, and more likely to foster more business. Social media sites like Facebook provide an unparalleled avenue to engage with those customers and keep them loyal. The Facebook Factor is alive and well for the hospitality industry and hotels and restaurants should continue to take notice.
The next step: Brand Advocacy
Turning a Facebook fan into a brand advocate will deepen the benefits of high customer involvement. In part two of this article we will look at brand advocacy for hotels and restaurants.  Stay tuned to learn how to turn ordinary fans into brand champions who will promote and market your business in surprising ways and provide excellent insight into how to attract new customers.