Revinate On-Site Surveys Success Story: The Florida Hotel & Conference Center
A Revinate client since 2011, The Florida Hotel & Conference Center was one of the first customers to adopt Revinate On-Site Surveys, an innovative iPad solution for capturing guest feedback during the stay or visit. With On-Site Surveys, hotels can collect real-time feedback from customers or day visitors, and with real-time alerts, staff can be notified of guest comments that require immediate attention.
The Florida Hotel & Conference Center was intrigued by On-Site Surveys as it was interested in capturing as much on-site feedback as possible from all of its patrons – whether they were in-house guests or visitors frequenting the hotel's vast meeting and public spaces – more efficiently and comprehensively. Says Room Operations Manager John Lamont, "In the past, we have always collected feedback primarily on paper. While every single touch point is useful, we were looking for a way to automate the on-site guest feedback collection process so that our team could take immediate action on guest issues reported as well as learn important insights about our guests."
To ensure that the hotel captured a high volume of feedback, On-Site Survey locations were selected based on service points where the hotel knew it could grab the guest's attention. The locations included the elevator landing on a guest room floor, close to the pick-up counter at Starbucks, near the cash register in the convenience store, and even in a crowded bar. The response rates showed that guests are responding well to several On-Site Survey locations; one location saw nearly 3,000 guest comments come in over a 3-month period.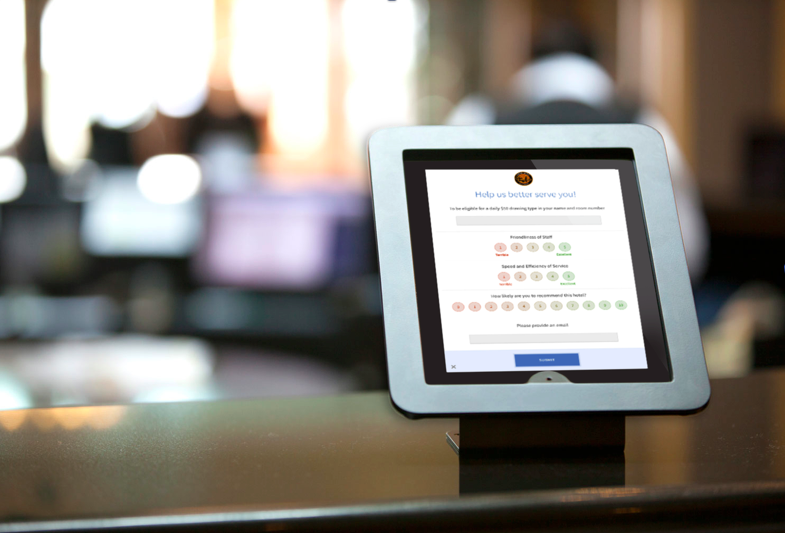 By serving five quick rotating questions to guests, the property has been able to capture rich aggregated data that can drive improvements in specific service areas. Director of Food & Beverage Jonathan Whitney has seen this play out at the property's Starbucks location. When the survey began surfacing repeat mentions of guest complaints, Whitney was able to take immediate charge. He says, "When we saw increasingly lower cleanliness scores, we stepped up our vigilance on the cleaning rotation. When we received complaints about long wait times after adding our warm food program, we hired an additional Barista. We were able to take operational action from the feedback On-Site Surveys generated."
Using On-Site Surveys has also opened up a new feedback collection channel that appeals to an entirely new generation of customers. Says John Lamont, "We still have an abundance of personal interaction with our guests who are religious about sharing their in-person feedback with us. But there is a new millennial generation of guests we're encountering that prefers to give feedback on a device in private rather than face-to-face. The On-Site Surveys provide an avenue for these guests to share their comments."
The Florida Hotel & Conference Center then is able to analyze and learn from these guest comments with Revinate. On-Site Surveys insight is fully integrated with Revinate's reporting and provides hotels with a full, 360-degree view of customer feedback. This forward-thinking ability affords hoteliers greater future customer insight that they can leverage to drive guest loyalty and provide exceptional future stays.
Thanks for checking out this Revinate Success Story. You may download a PDF version of this article. Please check out additional success stories, and contact us for more information about Revinate.
Insights that drive results
Subscribe now to get the latest content