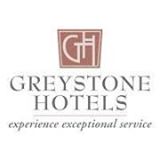 "I have so many contacts at Revinate now and it is great to know that I can just pick up the phone to ask a question or have a response to an email in minutes."
Emily Johnson, Manager of eCommerce and Marketing
---
SUCCESS STORIES
Greystone Hotels is a well-established West Coast hotel owner and hospitality management company based in San Francisco, with an eclectic range of properties in California and Oregon. An early adopter in using online reviews as a barometer of guest satisfaction, Greystone Hotels has been paying attention to public guest feedback since the first hotel review sites launched.
In July, 2010, Emily Johnson, Manager of E-commerce and Marketing at Greystone Hotels, saw Revinate for the first time and it was love at first sight. Emily recalls, "My first thought was that Revinate was the answer to my problems. For nearly three years prior, I spent at least two days a month manually assembling monthly online review reports for all nine hotels, in addition to daily monitoring and responding to reviews. It was so important, but also an incredibly time-consuming and arduous process." Two weeks after seeing the product for the first time, Greystone Hotels was up and running.
DOWNLOAD FULL STORY