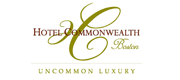 "...from the perspective of maintaining our service and quality, we are constantly using the review data through Revinate to identify ways to improve and reaffirm our strengths against our STR competitive set."
Shane McWeeny, Rooms Division Manager
---
SUCCESS STORIES
The Hotel Commonwealth is a 149-room boutique hotel located in the heart of Kenmore Square in Boston. It has held the #1 ranking on TripAdvisor for well over a year and has been consistently recognized as the Boston market leader in delivering personalized guest service and attention to each guest. Situated adjacent to historic Fenway Park as well as nearby major hospitals and universities, the hotel caters to a diverse audience, each seeking a unique stay that is tailored to his or her divergent needs. Accordingly, the property offers a wide variety of guest-friendly amenities and features – from complimentary WiFi to spaciously sized rooms – that both leisure and business city travelers demand. Combine these attributes with a staff that is committed to delivering a responsive level of service, and the overwhelming guest satisfaction speaks for itself.
DOWNLOAD FULL STORY