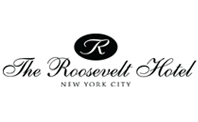 "Finally, being able to see our competitions' activity in social media is incredible helpful. The business intelligence that I get from Revinate definitely helps me do my job better."
Kelli Crean, E-Commerce Manager
---
SUCCESS STORIES
For a classic New York City hotel experience, nothing comes close to The Roosevelt Hotel. Opened in 1924 at the height of the Jazz Age, the "Grand Dame of Madison Avenue" continues to impress guests in its prime location at Madison Avenue and 45th Street in midtown Manhattan. Kelli Crean is the e-commerce manager at the hotel. Always looking for new technologies that can help drive sales and loyalty, Kelli heard about Revinate from the social media gurus at the Roger Smith Hotel, widely known as leaders in the industry and passionate Revinate users.
Prior to Revinate, Kelli spent a lot of time monitoring and responding to reviews by visiting TripAdvisor, Expedia, Hotels.com and other review sites. With more than 1000 rooms and a program to encourage reviews, the hotel often gets upwards of 100 reviews of month. With a policy of responding to both positive and negative reviews, Kelli spent the good part of the day reading and responding to reviews without being able to see key trends or track success.
DOWNLOAD FULL STORY