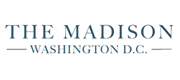 "Everything that gets measured gets done so having the ability, through Revinate, to easily report how we're doing every week."
Gavin Philipp, Hotel Manager
---
SUCCESS STORIES
For most hotel General Managers, a renovation promises both headaches and opportunities. In the case of Washington DC's Madison Hotel, a massive twenty-two million renovation provided the hotel with the opportunity to reposition the hotel and return it to its luxurious roots—The Madison hotel was one of the first luxury hotels in DC. When it opened in 1963, John Fitzgerald Kennedy cut the ribbon, and DC's rich and famous flocked to the hotel. But decades later, the 356 room hotel was outdated and dominated by the likes of Four Seasons, Hay Adams, Ritz Carlton and newer hotels.
But in January 2011, Destination Hotels and Resorts took over the property and paved the way for a whole new chapter in the hotel's life. First, the management company instilled new processes around online reputation management using Revinate. Second, they paved the way for the full-blown renovation, which lasted for more than a year.
DOWNLOAD FULL STORY