Email Marketing Certification Program
Build a connection with your guests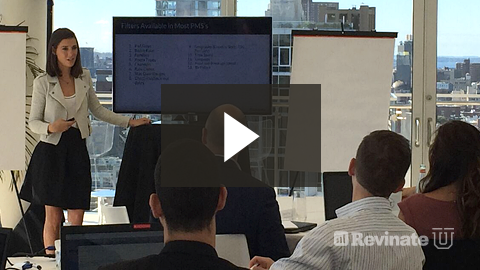 "The Revinate email marketing class was comparable to my email marketing class at NYU, except this was much more tailored and relevant to my current profession at Atlantic Stars. Erica was well prepared and her agenda was robust. The class size was small enough for everyone to participate, which makes it an even richer experience because everyone is able to share ideas and discuss their individual scenarios. I came back with many valuable insights and tips to make our various email campaigns more successful and have already see an upward trend in ROI. Thanks to the Revinate team for an invaluable experience!"– Artie Lachhman, Marketing, Atlantic Stars

Now more than ever, it is critical for hospitality marketing to focus on email marketing to deliver greater ROI for hotel properties. The Ad Effectiveness Survey by Forbes Media indicated that email is second only to SEO as most effective for generating conversions. And yet, email is still one of the most underutilized marketing resources used by hospitality professionals. With three times the conversion rates of social media and widely accepted as the most effective channel, any hotel interested in achieving awareness, acquisition and retention of guests needs a clear email marketing strategy.

"The class was very informative and spawned lots of fresh ideas about how we can use Revinate to market the hotel with email and in many other ways. This will really help push my brand to the next level."– Adam Perabo, Community and Marketing Manager, Hotel On Rivington

"I learned so much at Email Marketing Certification including how to leverage our PMS data to send targeted campaigns and how to make sure we're sending valuable content to our guests. The team who executed the presentation was outstanding and kept us engaged throughout the entire day."– Karen Pennington, Director of Marketing, Blockade Runner Resort

"I came to Certification to expand my professional horizons and learn how email marketing could help our new hotel grow and prosper in the marketplace. It was a great class. We've been wildly successful with Revinate, and we really enjoy the partnership."– Jamie Fox, Director of Rooms, Hotel Emma

Developed with new practitioners in mind, Revinate's Email Marketing Certification program will help you develop the skills necessary to implement email marketing campaigns that effectively engage guests and increase your direct bookings. Receive practical training and professional guidance from email marketing strategists and proven instructors.

Certification Benefits:
Develop a strong understanding of email marketing and deliverability, including tools and strategies to reach marketing and revenue goals.
Apply proven email marketing methods to maintain guest engagement and increase brand awareness.
Receive email marketing credentials and valuable skills in less time and money than a traditional marketing course.
Be recognized for your hospitality email marketing expertise and commitment to evolving your skill set.

"It was great to learn about segmentation and how we can optimize the guest data that we already have in our PMS to maximize the results that we see when we email our guests."– Freya Orley-Simmons, Group Marketing and Media Coordinator, St. Pancras Hotel Group

2017 dates