Revinate Success Story: OTO Development
South Carolina-based hotel management and ownership group OTO Development has a tradition of excellence that is rooted in efficient development practices and exemplary operational performance. Recognized by Hilton Hotels as Developer of the Year as well as a recipient of Marriott's highest honor – the Partnership Circle Award – the company has thrived for many years and has a portfolio of high-achieving properties. Nevertheless, OTO Development still faces several challenges as a company. With over 30 select service hotels in major markets – where growth in supply continues to outpace demand – the company faces tremendous competition. Moreover, the company has numerous large brands in its portfolio, each with different policies and procedures around online reputation management. Faced with these difficulties, the company turned to Revinate to help get their properties on the same page and more engaged with online reputation management.
Lee R. Byrd, Director of eCommerce for OTO Development says, "the problem we were trying to solve was increasing hotel involvement in social media. Without the tools for a hotel to easily respond to review, they are less likely to do so. With Revinate we have been able to to cut the number of steps needed to respond to a review by more than 33%, which allows our on-site hotel management teams to respond to reviews while maintaining a focus on what they do best…managing their hotels." Through the first half of 2013, the portfolio's hotels have already improved their response rate to reviews by 7%.
To ensure that the entire company is fully committed to online reputation management, OTO Development has a diverse Revinate user base, from the Chief Operations Officer and VPs of Sales & Marketing at Corporate all the way down to Front Office and Housekeeping Managers at the property-level. Revinate guest satisfaction reports are reviewed on a weekly basis by operations teams who have worked hard to improve performance based on these results.
Notably, the portfolio improved its overall review rating score from 4.37 in 2011 to 4.42 in 2012 and received 88% positive reviews, up from 79% in 2011.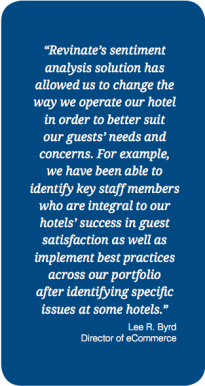 Moreover, 95% of reviewers recommended OTO properties on TripAdvisor in 2012, a 4% improvement from the previous year. These positive trends are also continuing in 2013, as the company is ahead of its competition across all categories, from the average review rating and number of positive reviews to the number of people who would recommend and TripAdvisor popularity index.
Each of the properties is also receiving a higher volume of reviews since adopting Revinate, a trend Byrd says is indicative of how invested each of the hotels are in online reputation management. In 2012, each hotel, on average, received a 55% increase in the number of reviews. By reviewing customer feedback on a weekly basis, reviews have been more top-of-mind and, accordingly, have been a greater focus for each property.
Reviewing the sentiment analysis of reviews more carefully has also changed the way OTO runs each of their hotels. Says Byrd, "Revinate's sentiment analysis solution has allowed us to change the way we operate our hotel in order to better suit our guests' needs and concerns. For example, we have been able to identify key staff members who are integral to our hotels' success in guest satisfaction as well as implement best practices across our portfolio after identifying specific issues at some hotels."
For example, one property was able to identify that its limited pool hours were not in-line with guest expectations. Accordingly, as soon as they increased the amount of time the pool was open they saw an improvement in review sentiment score. On the whole, Byrd reiterates that this attention to detail has yielded significant improvements. Byrd comments, "our teams are much more in touch with our guests which makes our guests, and our stakeholders, happier."
Thanks for checking out this Revinate Success Story. You may download a PDF version of this article. Please check out additional success stories, and contact us for more information about Revinate.
Insights that drive results
Subscribe now to get the latest content