Integrated reputation management and guest surveys solution for hoteliers
Delight your guests
Revinate Guest Feedback boosts your online ranking, improves your guest experience, and drives direct revenue with consolidated reputation management, guest surveys, and best-in-class reporting. Watch a video to understand why hoteliers bank on Revinate Guest Feedback.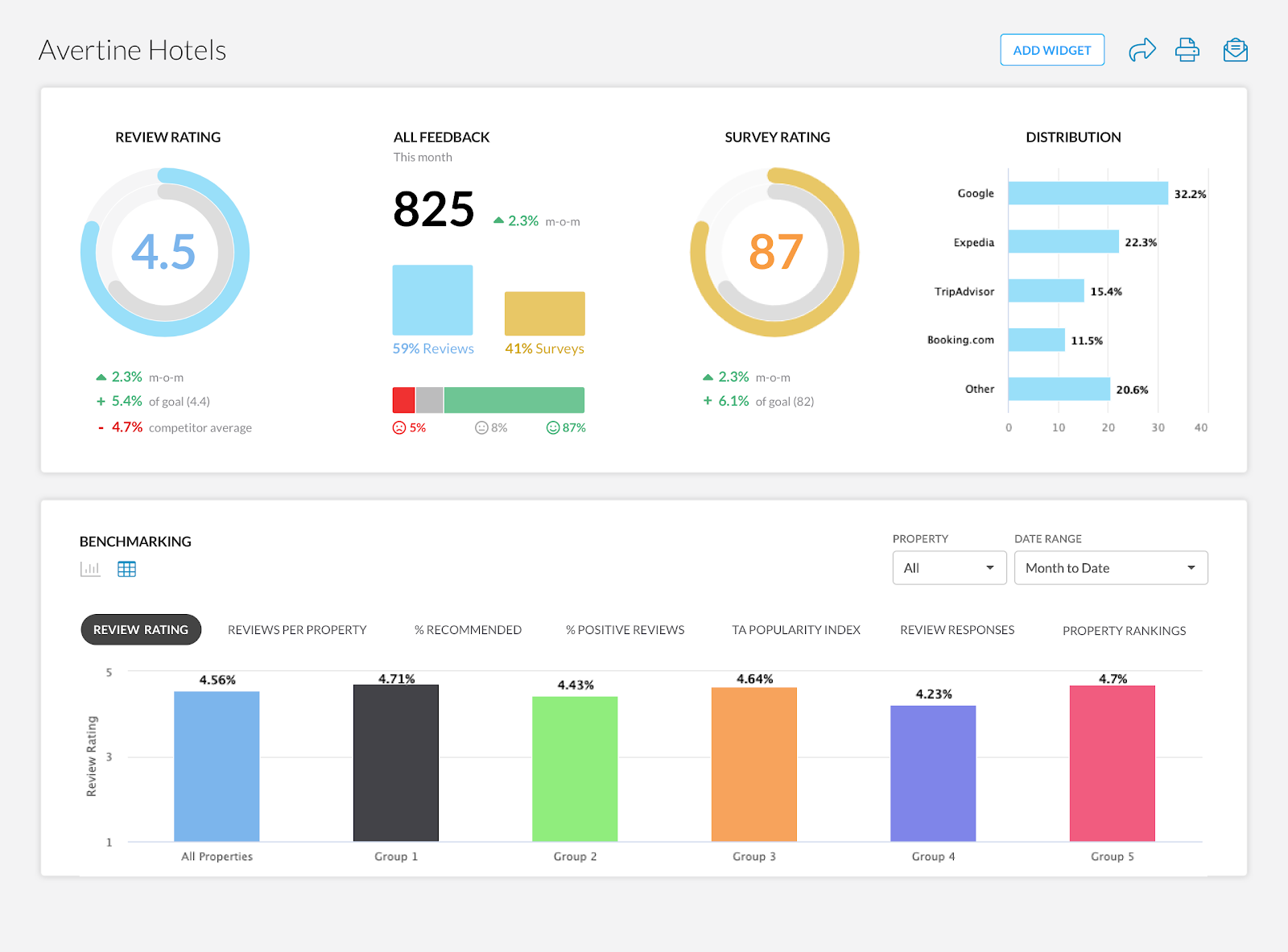 What they're saying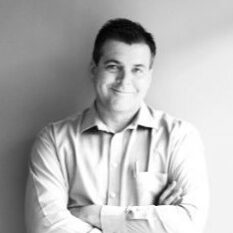 "Being on the first page of TripAdvisor has huge benefits to our direct bookings. Revinate is the best decision I've made for this hotel so far."
– Phillip Lategan, General Manager, Morning Star Express Hotel
"Revinate easily saves us about 8 hours a week by pulling content from multiple sources. It easily pays for itself each month in time savings."
– Lisa Juliot, Social Media Community Manager, Crown Paradise Club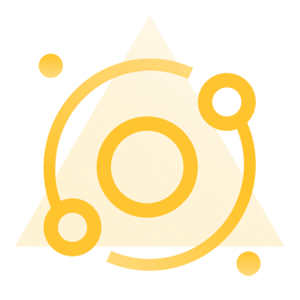 REVINATE GUEST FEEDBACK
Reputation management
Manage reviews and feedback from one dashboard
Efficiently manage hotel reviews from sites like Google, Booking.com, and TripAdvisor all in one place. Respond to negative and positive hotel reviews from within the platform.
Data syndication
Publish automatically to TripAdvisor, Booking.com, Google, or HolidayCheck. Revinate's structured review data API provides access to your hotel reviews across more than 100 review sites.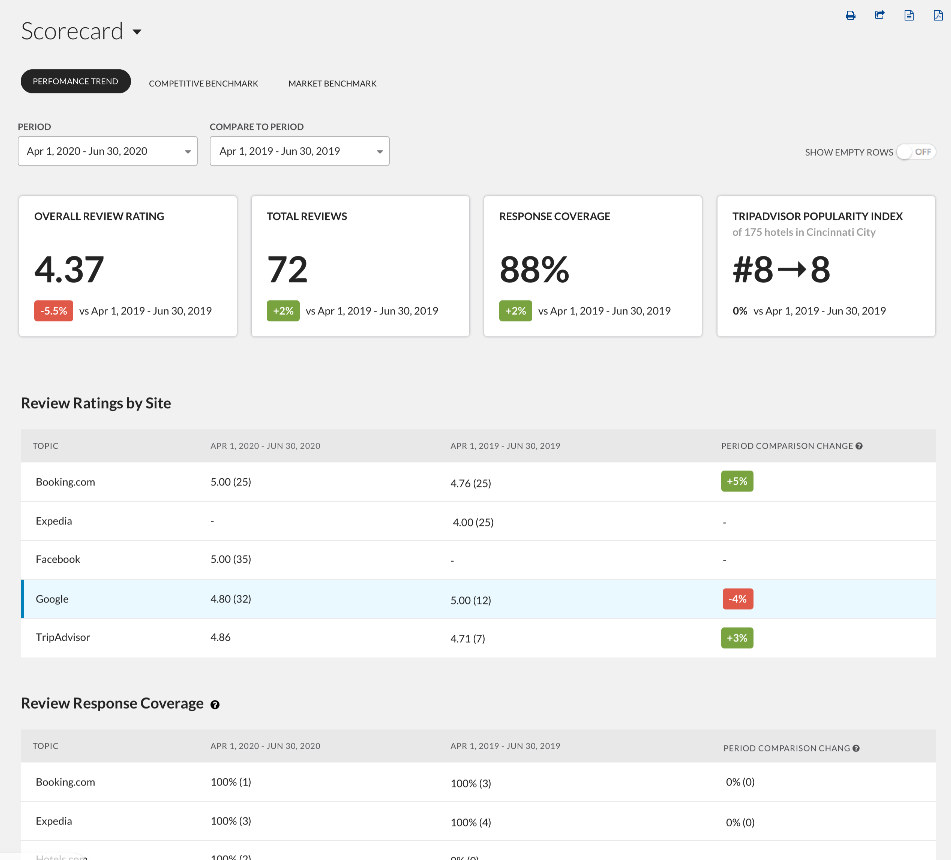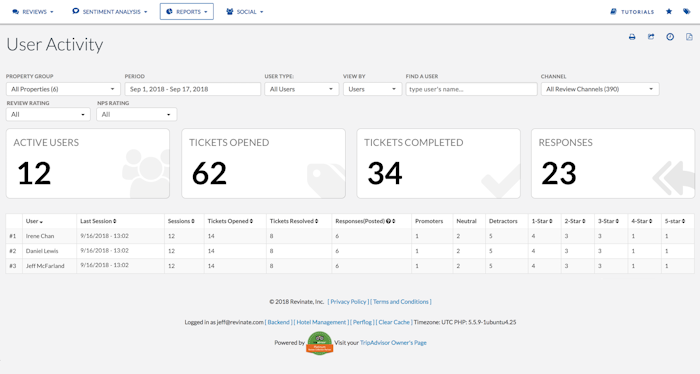 Resolve issues quickly
Use the ticketing system to communicate service shortcomings to the relevant person or department.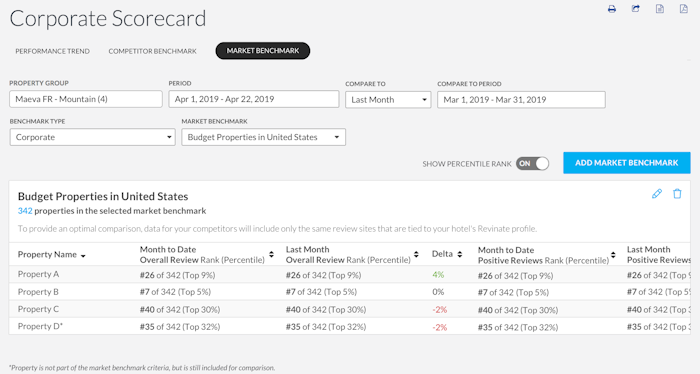 Stay ahead of competition
Benchmark your hotel's performance against your competitors' online review rankings.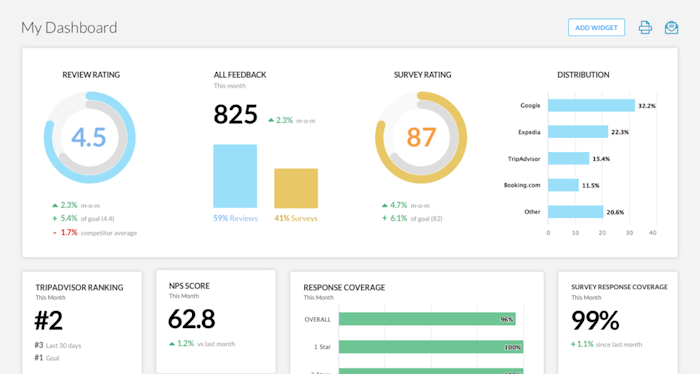 Simplify your social media
Link your hotels' social media accounts in one place to monitor engagement, post updates, track insights, and more.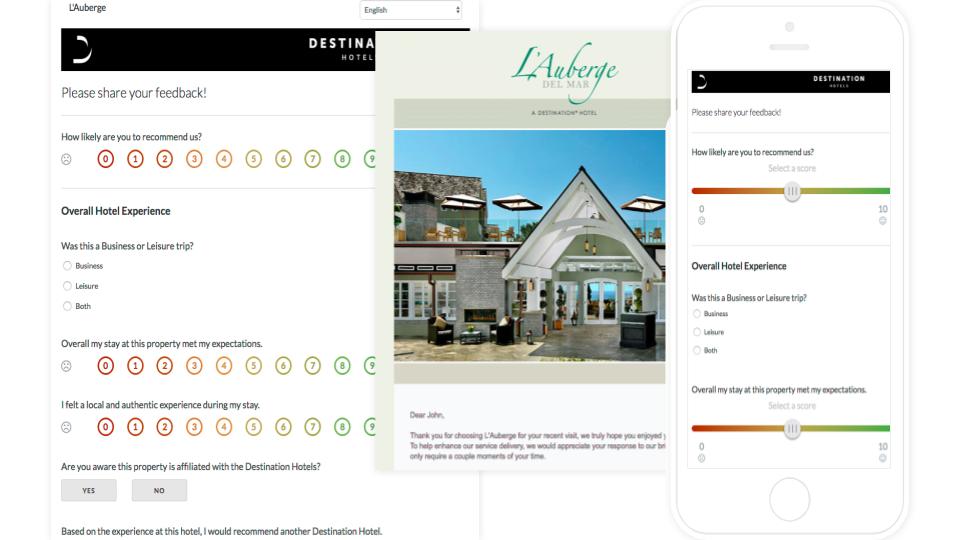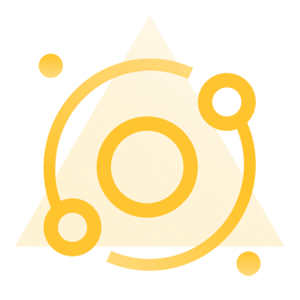 REVINATE GUEST FEEDBACK
Guest surveys
Boost rankings and completion rates
Send guest satisfaction surveys that are customizable, mobile optimized, employ conditional logic, and that guests find easy to complete.
Send the right survey to the right guest
Send customized segmented surveys to specific audiences based on PMS or contact list criteria. Collect data that is highly relevant and actionable.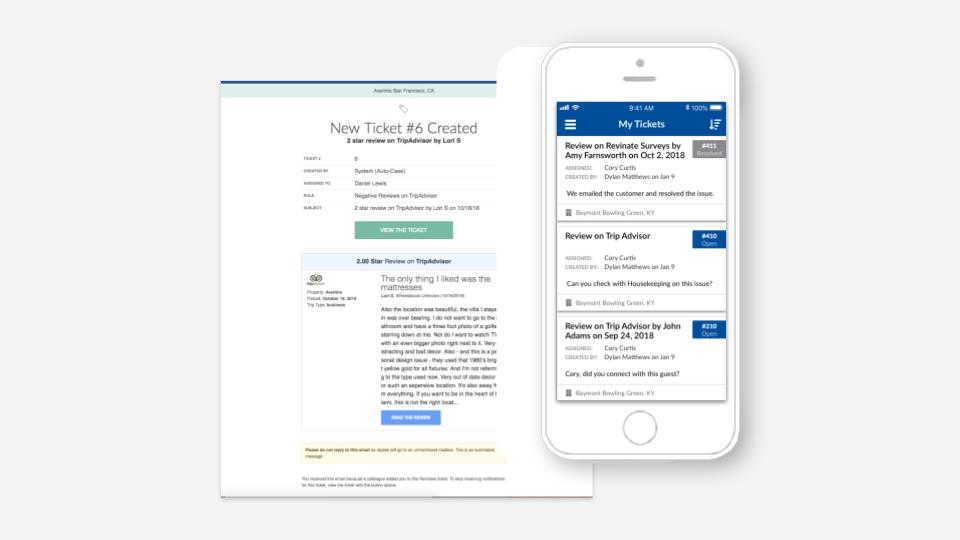 Identify issues in time
Send in-stay surveys while guests are still on property to identify any needs for service recovery.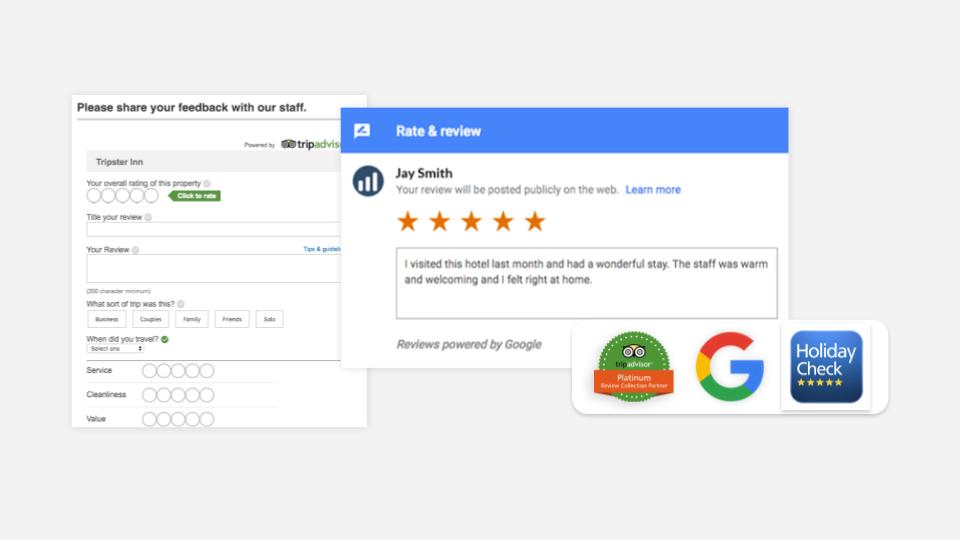 Publish feedback online
Boost rankings by asking your guests to publish their feedback as reviews directly from completed surveys.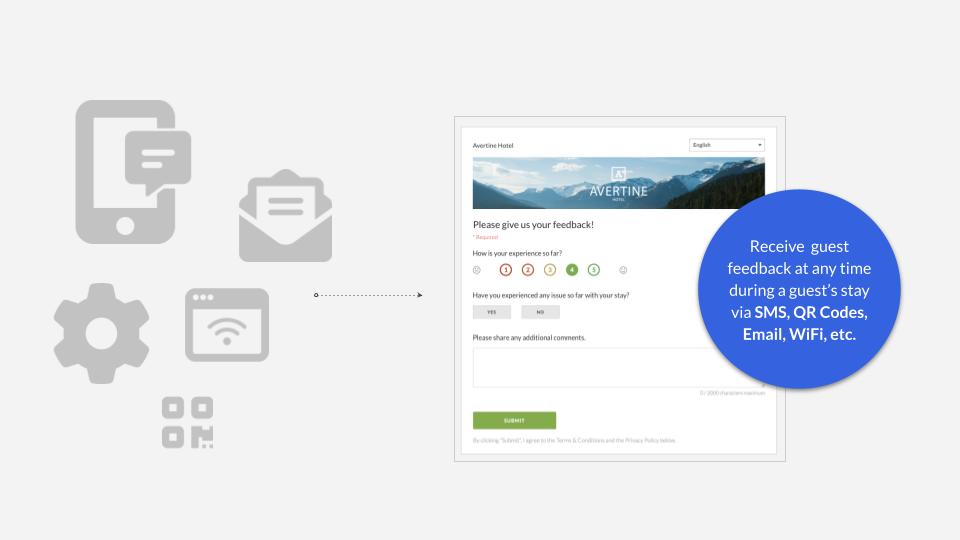 Flex surveys
Receive guest feedback at any time during a guest's stay via SMS, QR codes, email, or WiFi.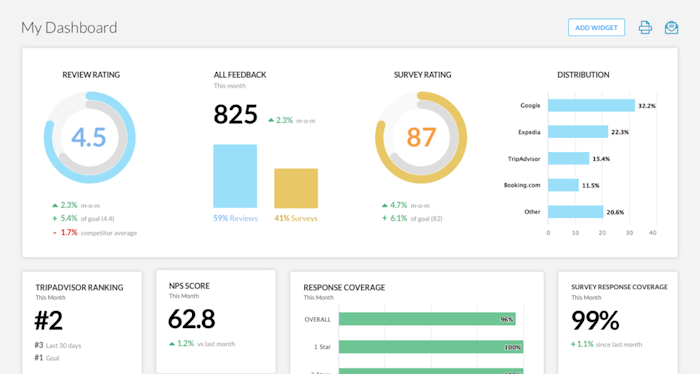 Build custom dashboards
Focus on what matters most with the metrics you care about along with actionable reporting in your inbox.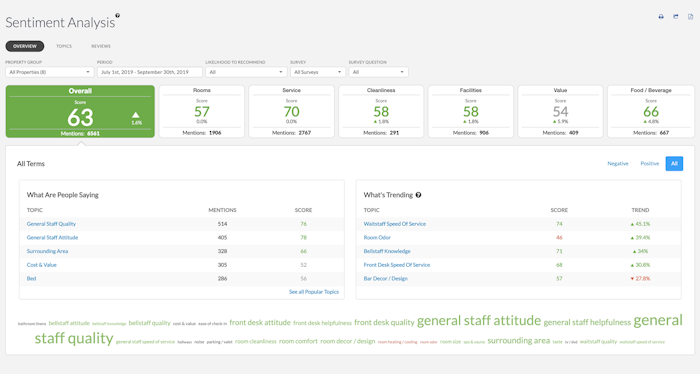 Prioritize improvements
Discover what is important to your guests from hundreds of sentiment analysis topics – so you can prioritize improvements accordingly.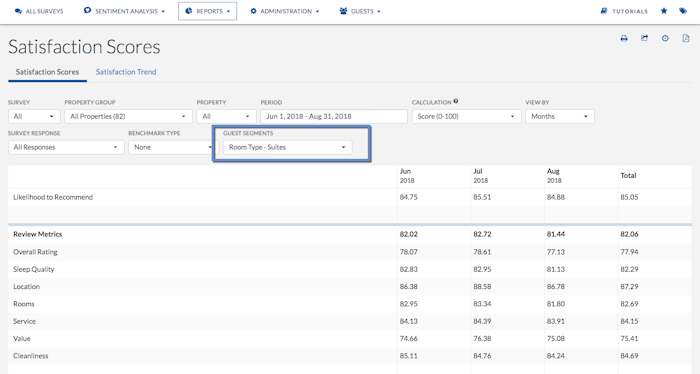 Get granular reports
Improve guest satisfaction across all teams by monitoring how each department is performing, spotting trends, and setting alerts.
OMNI-CHANNEL COMMUNICATION
Every channel at your fingertips
Guests' preferred communication channels can vary. Besides Revinate Guest Feedback, our reputation management solution, with Revinate, you can use every channel available — voice, text, and web.