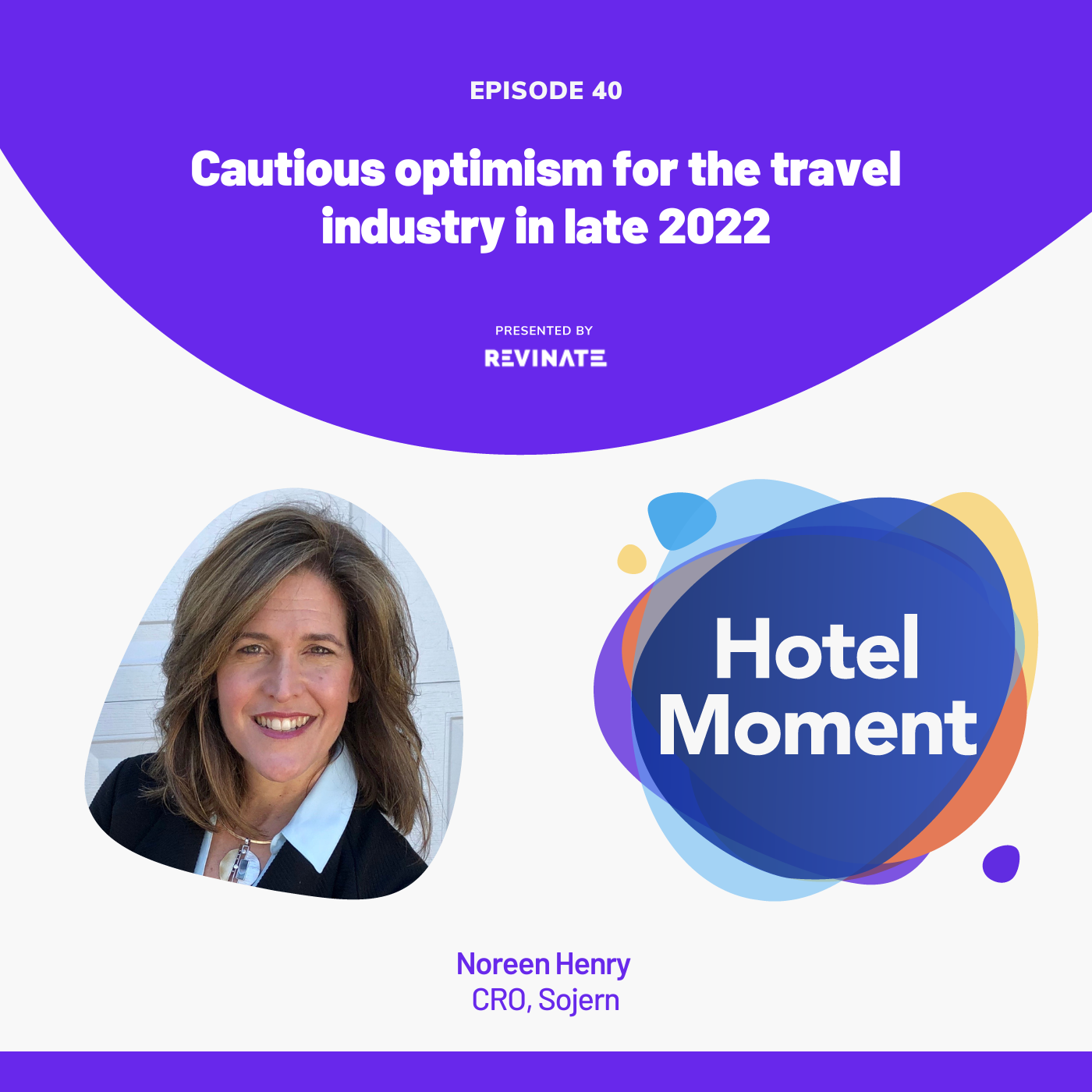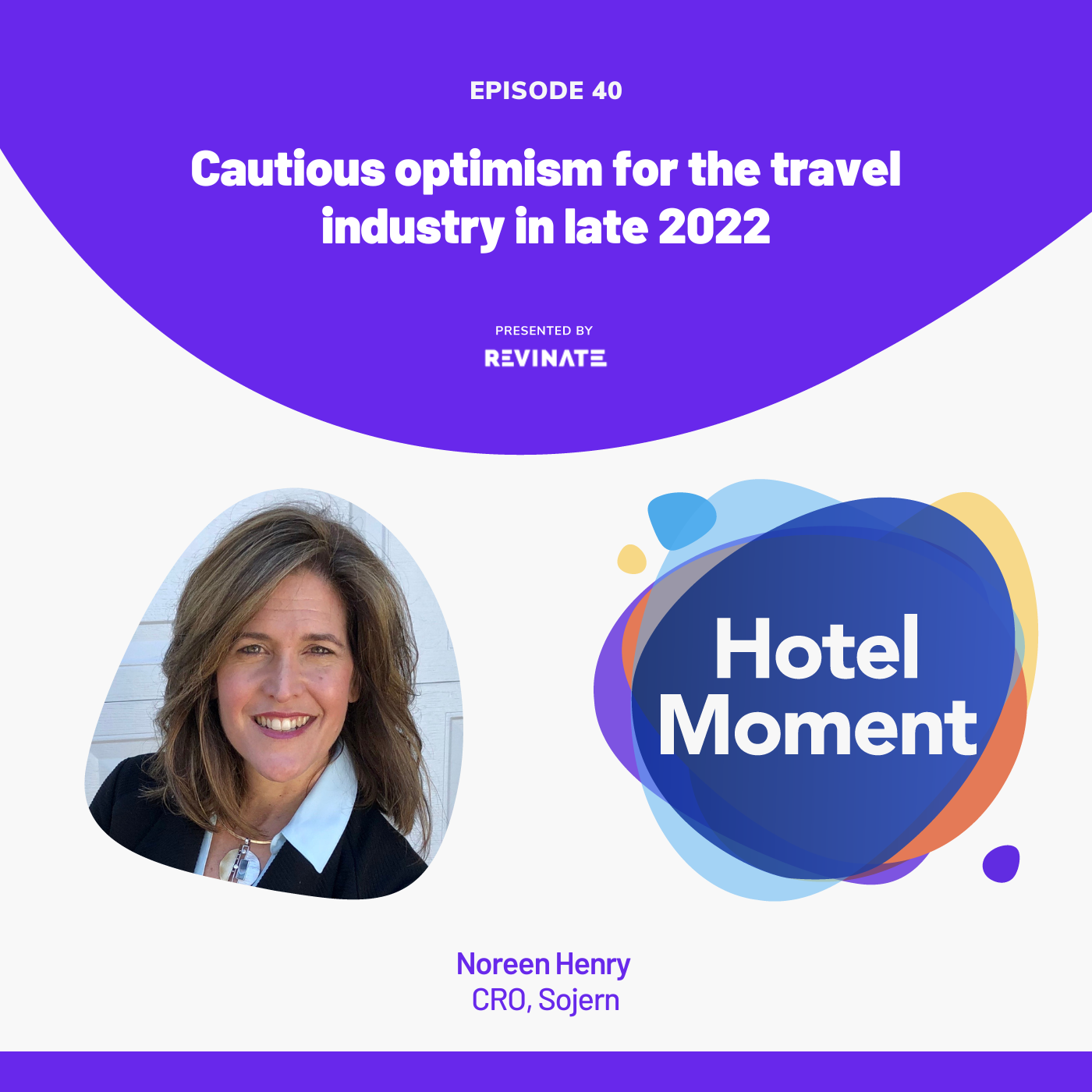 The Hotel Moment podcast — episode 40
Cautious optimism for the travel industry in late 2022
Our Chief Revenue Officer, Karen Stephens (aka Prof K), sits down with Noreen Henry, Chief Revenue Office at Sojern, to discuss the rebound in the travel industry and what we can expect going forward.
Listen to Karen and Noreen talk about cautious optimism for the travel industry in late 2022 and how hoteliers need to leverage data to make the most of marketing and reach their revenue goals.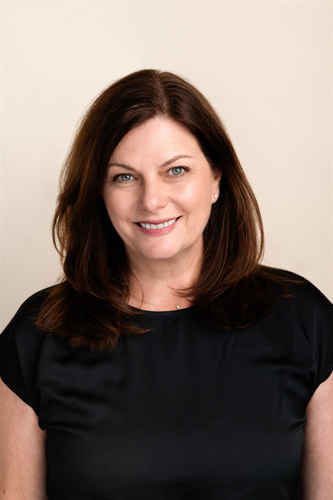 Meet your host
Karen Stephens is Revinate's Chief Revenue Officer and runs the sales, marketing, and customer success teams. She has more than 20 years of experience in the industry alone.
On the Hotel Moment podcast, Karen speaks with leaders to draw out their experiences and insights. She is also a Francophile and Prof K — a coach, a mentor, a guide to the people who work with her.
Transcript
Karen Stephens: Hello and welcome everyone to the hotel moment podcast. My name is Karen Stephens, and I am the Chief Revenue Officer of Revinate. This is my very first podcast, so I'm very excited to be joined today with a heavy hitter in the industry. One of my favorite people: Noreen Henry, who is the Chief Revenue Officer of Sojern.Welcome Noreen!Noreen Henry: Thank you. You are too kind with that introduction. Thanks. I'm excited to be here. I appreciate the invitation.Karen Stephens: Absolutely. It's amazing. And I have to say, you know, for everyone listening, it's great because Noreen and I have known each other for a long time. So, we actually used to work together. She's my former boss and continues to be one of my mentors. So, when I think of leadership and hospitality, and women in particular, strong women, I always think of Noreen.So, it's an absolute pleasure to have you.
Noreen Henry: Thanks Karen!
Karen Stephens: Sure. So the topic today. You know, here we are, we are in the middle of summer, of 2022, and it's been really interesting to see the trends happening out there. So, I think, you know, we had kind of a slow start to the year. Q1, you know, January and February, was still pretty soft for hotels.
And then in March, we just saw things start to really spike. ADR was already clipping 2019 levels. And now we're seeing even RevPAR start to peak over what we saw before. So, all the early predictors, you know, they were saying it was going to be the end of next year before this happened. But what we're seeing is that strong, strong growth in recovery across the board.
Yet at the same time, a storm is a brewing. There's a lot of talk out there about recession — interest rates are going up. So, I really want to dig in with Noreen on these juicy topics.
Noreen Henry: Never a dull day.
Karen Stephens: Never a dull day, it's like, what the heck is going on? But before I get into that, I have some questions for Noreen just to warm us up.
Noreen Henry: Bring them on.
Karen Stephens: All right. Here we go. So, what I'd like to know is what was your very first job in the travel industry? And do you remember your first day? What was that like?
Noreen Henry: Oh, wow. Um, yes. So, my first job was with Saber. So I worked, um, in product on the travel agency side. So building products for travel agents. And I was actually working on a product that was about bringing video and images. That just tells you how old I am. And I thought the first day was amazing. I thought the opportunity to work in travel was like, I never dreamed that I could do that. And I was just pinching myself that it was the opportunity to work in the travel industry.
Karen Stephens: Wow. That is so cool. Imagine that video content being important. Amazing. Yeah. So, what is the most uplifting moment in your career so far? I know you've done a lot, seen a lot. Can you think of one moment that has been the most uplifting for you?
Noreen Henry: Yeah, the things that impact me the most, that I go, "Oh, wow. That was a day that I'll never forget." It was actually, it was when we were with Travelocity and it was a travel partner conference that was in New Orleans.
And so we were one of the first ones after Katrina to come back to the city and figure out, "Hey, how do we help stimulate business again?" And one of the things we did was we did a volunteer day before the partner conference at one of the schools. And, uh, I think you were probably part of that.
Karen Stephens: I was there. Yeah.
Noreen Henry: We redid their whole playground. We, uh, we just did some amazing things to just renovate that school.
And the kids were gone on a field trip while we were doing this. And when they came back, their eyes were amazed. They had these new basketball courts and everything else. And so it was a very, very rewarding day. And we were doing that side-by-side with our partners. And so it was just a terrific way to connect with our partners.
Karen Stephens: That is such a great moment. I'm glad you brought that up, because that was a fantastic moment. And you're right. It was so great because it was all the leaders across the airlines in our hotel companies. All of our great partners and we were out there digging in the dirt, painting walls, tearing out ceilings.
So, that's an awesome moment. Yes. Awesome moment. Cool. Okay. So here's something on more of a personal level. What is your most striking experience so far in terms of a holiday, or a hotel, or a place you've been? I know you love to travel, so what's your favorite so far? That's hard. I know.
Noreen Henry: That is really hard. There's so many different ones. I'll tell you. One of the ones that was most impactful for me is we did a family trip, um, to Ireland and it was a trip with my children and with my parents. And my mom's from Ireland. And so it was a chance for us to experience Ireland through her eyes.
We met her family over there. We toured the beautiful scenery. My children connected with their cousins and all wanted to go to college there afterwards. Like it was just one of those, like, "Ah, this is where I'm from." And you just connect it with the people. And they're such lovely people in Ireland. Oh my gosh, they are just so warm and welcoming.
So yeah, that's probably my best.
Karen Stephens: Ah, that's a cool one. Okay. I've got two more. This one's easy. Have you met any celebrities in your travels or in your job?
Noreen Henry: Uh, John Stamos in New York. Not, not really meeting,. He was in the lobby. Um, but I happened to know him and he thought it was cool. So that was probably one. Oh. And, um, Phil from the Amazing Race.
Karen Stephens: Oh, yeah!
Noreen Henry: If you remember that. And, uh, so yeah. I spent time with him and, uh, he autographed books. Iit was a very cool experience with him.
Karen Stephens: Oh, that's another great memory. What a great TV show that was, Travelocity sponsored. Yeah. Amazing. Amazing. Okay. Last question. Who are the women at work or in the industry that you have been most inspired by?
Noreen Henry: Ooh, there are many women that have inspired me. But I'll tell you. Um, so probably one of the most influential was Michelle Peluso. So Michelle was the CEO at Travelocity. Young, vibrant, energetic, brilliant, smart, relatable. Like she's the first one that just like really walked the halls and sat down and wanted to understand your perspective on things.
And she just connected with employees like I've never seen before. And so I always hold her in high esteem and try and go, "Oh, what would Michelle do?" And try to channel Michelle whenever I'm trying to make tough decisions.
Karen Stephens: That's so, I'm so glad you said Michelle. She is an amazing person. So that is great. Okay. Thank you so much, Noreen.
Let's get to the topic at hand. Uh, you know, we talked a little bit about the snapshot of where we are. So what are you seeing at Sojern? I know you have a ton of data coming in there. What are you seeing on your side?
Noreen Henry: Yeah. You know, so we've got data and then, of course, we talk to our partners all the time. And I, I will tell you, yes, you know, there's lots of concerns about, "Hey, what's going on in the economy?" But, everyone's pretty cautiously optimistic. So, you know, I, I get that investors are concerned and, you know, people are tightening belts, but, you know, travel seems to be bucking the trend a bit.
Q3 bookings in particular are very strong, particularly in leisure. We primarily focus on the leisure segment, so I can tell you from our data, Q3 bookings are very strong. Some markets are starting to cool down a little bit, but most of them are continuing. You know, going aggressively and you're seeing them meet or exceed 2019 levels.
And so that's looking great. Q4, surprisingly, is still relatively strong as well. And so, you know, we're seeing marketers make sure that they are getting in front of consumers as they start to figure out their plans for the fall and figure out their plans for the holidays. But we are still seeing, um, cautious optimism out there.
Karen Stephens: That's amazing. No, it's so great. And certainly everything that hospitality has been through the last couple of years. It's great to see that strong recovery. And now it's almost like there's too much demand. Uh, so now it's all about how do you capture the right demand at the right price and make sure that you're maximizing your direct channels?
And I know that that's something that Sojern does wonderfully for hotels, right? Helping them capture those bookings.
Noreen Henry: Yes, absolutely. And you know, one of the other trends I thought would be interesting to share was we were, as I was looking through our data for this, it's a trend I did not expect. We're actually seeing longer length of stay. So, my theory was, "OK, you know, people are getting concerned."
I don't wanna use the "R" word, but people are concerned about the economy and tightening their belts. I thought what people would do is say, "OK, I have to take this trip. I've been locked up for too long." You've got all this pent up demand. They still want to travel. But I thought that what they would do is say, "It's pretty expensive. Airlines are expensive. Hotels are expensive. I'm gonna shorten my trip, but I'm still going to get away."
But that's not what we're seeing. We're actually seeing them lengthen their trip. And so, when I dig into it, you know what our theory is? It's this whole blending of business and leisure that we've all been talking about with everybody being able to be flexible with their work and work remote. And, um, I'm an example of this.
We had a trip planned to Italy back in 2020. It was our trip of a lifetime. And of course, it got stopped because of the pandemic. We finally took that trip in May of this year, and it was originally a 2-week trip. And of course there was, you know, we did all the tourist things in those 2 weeks. But we extended an extra week and I worked remotely for a week in a small little wonderful beach town in Italy.
And it was this amazing combination of, "I'm already over there and I'm now gonna extend this and find a way to blend the two sides of my life." So, I think there's more and more of that going on. I'd be curious if you're starting to do that and, and you know how you are looking at your summer vacations.
Karen Stephens: Yeah, the bleisure as we like to call it.
Noreen Henry: Right.
Karen Stephens: Yeah, absolutely. So I don't have kids. I'm actually waiting until the fall, when things mellow out a little bit. And then I'm going to Hawaii and yeah, I will make that bleisure for sure, because uh, you know, and I did get back from Europe. We had a, um, actually a sales incentive trip that got, you know, we had a president's club that got pushed back for two years.
So we had an amazing time, but man, everything was full. Flights were full. Hotels were full. And it's just, it was great. It was great to have that atmosphere around us, you know? It's like it's back.
Noreen Henry: Right. Like I'm enjoying that. It's back. And I, I don't personally mind the full planes because it means business is back and you get that whole . . .
Karen Stephens: Business is back.
Yeah, 100%. Well, I know we don't wanna use the "R" word. Um, but, and I know we wanna be cautiously optimistic, but what are you recommending that our hotel partners do? Just to kind of hedge their bets because, you know, I think if anything, we've learned that things can change quickly.
So, what do you think is the best thing that they can do to kind of prepare in the event that things are not as rosy as we hope they are?
Noreen Henry: So, I think what they need to do is take a page from what I call the "Survive and Thrive Pandemic Playbook." So, hoteliers got really smart during the pandemic. They did a couple things to really kinda leverage technology. They leaned into direct bookings. So, we really saw the shift to direct booking. Consumers wanted to, you know, it was kind of a catalyst because of the pandemic.
People went to the websites and mobile to learn more about what are the safety protocols? What are the cancellation policies? Et cetera. And then hotels really captured that they made sure they had a great experience and that they were able to capture those direct bookings. So, I think the more hotels do to make sure that they are continuing to lean into direct is probably a really good thing.
The other thing we saw them do was optimize for mobile. So again, our data shows that there is a shift. Actually, I'll quote a stat for you. So direct booking searches for hotels increased from 14% in June of 2019 to 24% in June of 2022. So, it's a 10% increase in people shopping on mobile.
So, it was really important for, uh, hotels to optimize their mobile experience so that people had a good experience. Bookings didn't go up as much. They did increase, but people are shopping on mobile. They're getting inspired, they're dreaming, they're figuring out what they wanna do, and they're planning on it.
And then the other thing, um, which is near and dear to our heart is they, they really start to leverage data to improve their business. And so for us, we're all about our data. We've got rich travel intent and, uh, we leverage that to make sure that we are putting the right consumer in front of the advertising for our clients and driving people direct.
And so, you know, leveraging our data for providing insights into what's going on in the marketplace, as well as leveraging their own first-party data really helps them optimize. And I've got to tell you, like, data, it's provided insight into these trends that are so different than normal. You know, normally, you would plan a marketing campaign for Q1 that was focused on spring break and Q2 was focused on summer travel. But during the pandemic, you know, those trends just kind of went out the window.
So, you had to look at data to go, "What's the right thing? How do I change my messaging? How do I be very flexible and nimble and be able to adapt to what's going on?" And I think as we look at, you know, the future and what the economy brings, I think it's gonna make sense for them to leverage that same toolkit as they go forward.
Karen Stephens: Absolutely. You know, and that's the same thing. Obviously, Revinate, we are powered by data as well. So we have all of the first-party data from bookings in the hotels. And we can ask hotels to use that data, to get more customers like that. And leverage that data. And what we saw a lot during the pandemic as well is you don't know what segment can come into your hotel.
Right. If international travel is shut down, how do you target the near guests? Um, how are you able to be flexible? Um, when things change, how are you able to tell your customers when you're back up and running? So, it is all about data and being able to leverage that, not only to drive conversion and direct bookings, but also to make sure that when your guests get there, they are having the best experience because, it is that trip that you've been waiting to have for 2 years and you just want it to be perfect.
Right. So, yeah, that's a great tip.
Noreen Henry: I also think it's about, you know, your loyal customer. Staying in front of your loyal customers and repeat bookings like during, you know, when people are going, "OK, where do I spend my money?" If they known they've had a great experience at your place before, they're likely to want to come back.
So, it's also making sure that you, you know, stay in front of those loyal customers and make sure you bring them back.
Karen Stephens: Yeah, absolutely. Very cool. You know, we're coming up on budget season. As you said, it's a little, "Let's see what happens?" Right? Because the rule book got thrown out. It used to be like clockwork, you know, we've got through the different seasons. Yeah. So, as hoteliers come up on this, it'll be interesting to see.
But what other technologies do you think that hotels should be adopting out there? You know, in addition to record-high occupancy and bookings, we have staff shortages all over the place and, um, you know, other issues. So as hotels, you're starting to think about their toolkit.
How do you think about, you know, the technology that you're seeing out there and how they can leverage that at their properties?
Noreen Henry: Yeah, I think that's a great question. You know, hoteliers are very resilient. They first get the pandemic thrown at them then. OK. Business starts to come back and you've got high occupancy and labor shortages. And the more they can leverage technology to help them through this, uh, the more that you can automate, the more that you can leverage experts to be able to help support you on some of the stuff the less than your staff has to do.
So, I think you're gonna see more and more of that. We obviously saw a lot of that going on during the pandemic. You know, they, you know, they're figuring out which partners to work with and who's gonna help them best as they go through this.
So I think the more they can leverage partners in technology, the better off they're gonna be for it.
Karen Stephens: Absolutely. Absolutely. Well, great. Any other tidbits to share with our audience? Any other tips or tricks and advice as we come out of this awesome summer?
Noreen Henry: So I, I think the one other thing I would say is at least from a marketing perspective, I would recommend that we, the hotels that we saw not just survive but thrive during the pandemic really leveraged an "always on" methodology. So they didn't go dark. When everything got rough, they continued to advertise because there are consumers that are out there shopping, and you just need to get in front of the right consumer.
So again, leverage that data, and keep your messaging always out there. People need to know you're open and that you're open for future travel. So that, that would be one of my recommendations for sure.
Karen Stephens: I love that. Keep communicating, keep letting your guests know. I mean, we saw a lot of hotels that were closed use that opportunity to gather preferences from their best guests so that they knew how to market them when they were back open. So, I think that's fantastic.
Noreen Henry: Right. Right.
Karen Stephens: Awesome. Well, thank you, Noreen. You've been a great first guest.
Noreen Henry: Thank you. And, um, let's all remain cautiously optimistic, you know, continue to focus on what you can control and make sure that you're staying in front of all the trends so that we can capitalize on this.
Karen Stephens: I love it. I appreciate your time and sharing your thoughts. You know, that's the end of this first episode of Hotel Moment. Once again, Noreen is the Chief Revenue Officer of Sojern. To learn more about Sojern, you can go to www.sojern.com.
Thank you, Noreen!
Noreen Henry: Thank you, Karen! Appreciate it.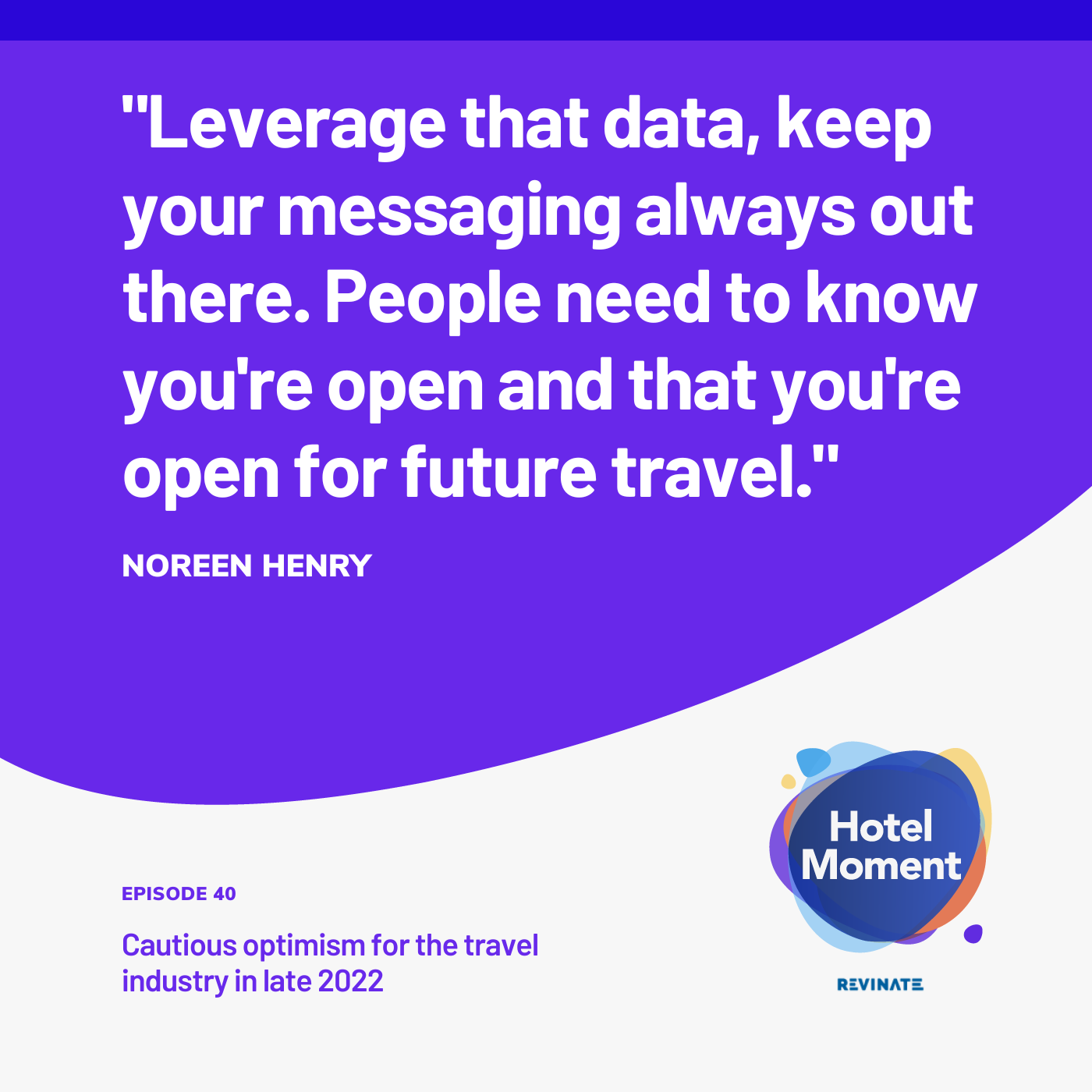 Quote | PNG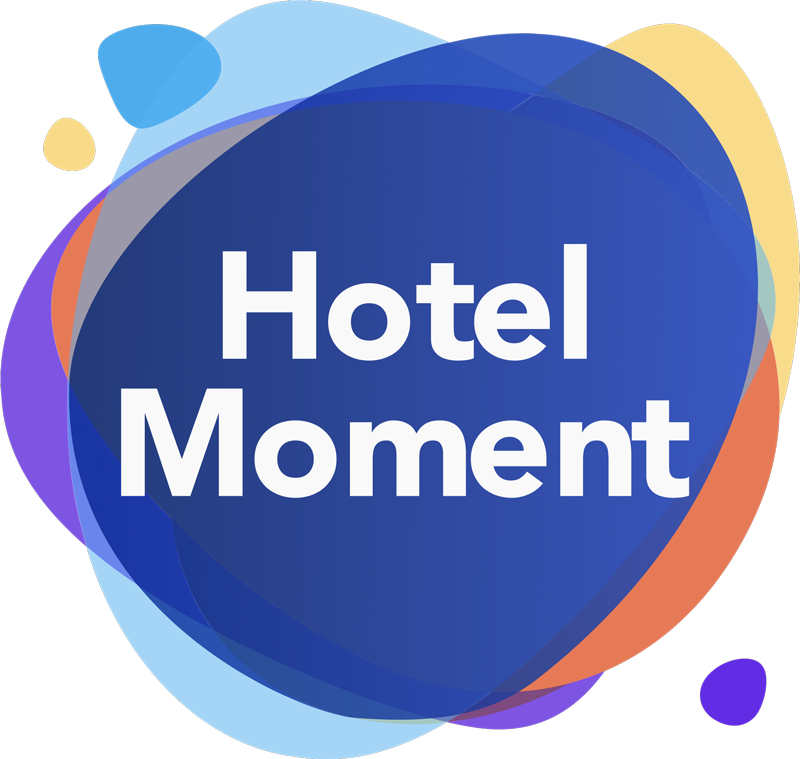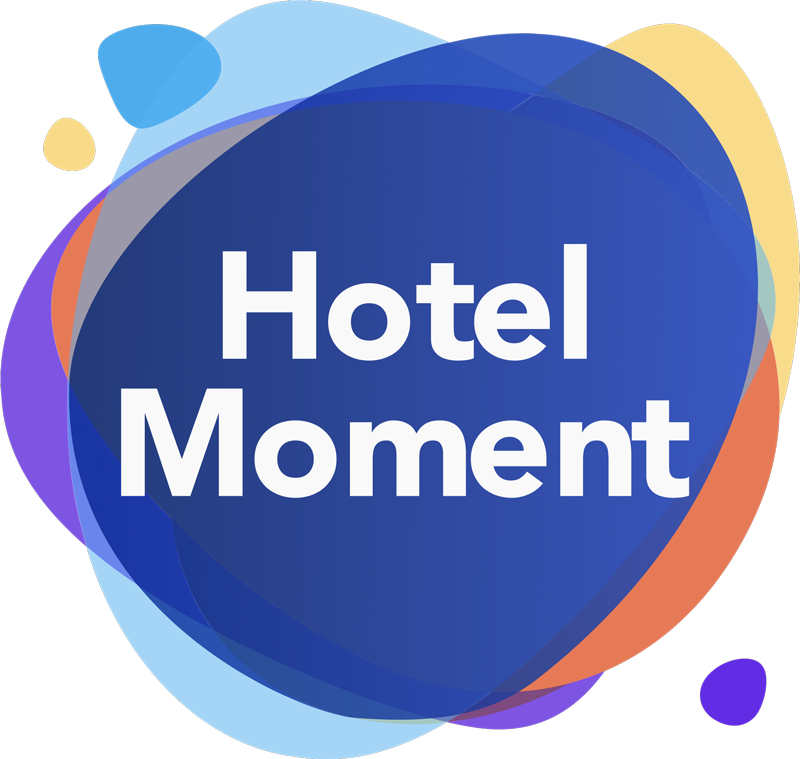 Be the first to know when a new episode drops