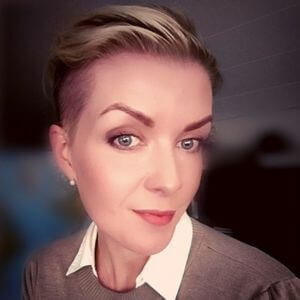 Meet the customer
"Revinate has solved our data management problems and given us a holistic view of our guests which allows us to take our marketing to the next level. Our unwavering commitment to customer satisfaction has redefined our business."
Dagrún Pettypiece
Customer Relationship Management Specialist
The brand
Íslandshótel is a group of 18 properties spread across Iceland, offering a diverse range of accommodations to suit every traveler's preferences. Each property within the group exudes its own distinct charm and character, showcasing Iceland's unique landscapes and cultural heritage. From a convention hotel in Reykjavík to cozy boutique hotels nestled in charming towns and set against dramatic natural backdrops, Íslandshótel caters to the varying needs and desires of its guests.
The challenge
Before partnering with Revinate in 2021, Íslandshótel, like many hotels in the industry, grappled with the complexities of managing guest data effectively. The decentralized approach to managing data was not unique to the hotel group; it represents an industry-wide challenge that impedes the ability to provide the level of personalization and service excellence expected by guests. With no holistic view of guest data, the marketing team struggled with segmentation, which is critical for personalizing outreach and optimizing the guest experience. Each property also had its own unique marketing approach, leading to inconsistent branding, that failed to fully showcase the brand's true strength.
The solution
After hearing about Revinate Marketing and Revinate Guest Feedback, Dagrún Pettypiece, Íslandshótel's Customer Relationship Management Specialist, knew that Revinate could transform their marketing efforts. With Revinate, she saw the promise of clean, unified data, automated processes, brand consistency, and robust reporting.
"I could immediately see the impact that Revinate would have on our business. I was excited about the promise of clean, unified data for our marketing, the ability to automate manual processes, and Revinate's reporting capabilities. It was everything we were looking for in a solution," she says.
Setting herself up for implementation success, Dagrún spent time getting buy-in from her colleagues, emphasizing the power of a Customer Data Platform, and highlighting the benefits of clean guest data. She shared how clean guest data could be the catalyst for personalized guest experiences and more targeted campaigns. The time she spent driving excitement for Revinate paid off, with hotel teams eagerly suggesting ideas for campaigns and upsell offers, in addition to making guest data health a priority at each property.
The operational team continually works on enhancing its data capture processes, with the goal of improving its data health metrics, which are readily accessible in Revinate. Following a Revinate training, "Understanding Email Health & Data Collection," the hotel put new processes in place to effectively capture guest email, either at check-in or before checkout. As a result, email health is up 5% month-over-month.
After implementing Revinate, clean guest data became a valuable asset for the brand. Leveraging guest preferences in pre-arrival communication resulted in a measurable improvement in customer conversion. And, with Revinate Guest Feedback in place, Íslandshótel can easily see and respond to guest reviews, in addition to leveraging it for future stays.
Dagrún says, "With the data that's now accessible to us in Revinate, we are able to form more personal relationships with our guests and have improved our reputation which drives word of mouth marketing. Guests trust us and feel heard. This remarkable growth isn't just a statistic; it's a testament to our dedication to guest satisfaction."
With their guest data in order, the group successfully uses Revinate Upsells, part of Revinate Marketing, to offer amenity and room upgrades to guests. Revinate Marketing makes it easy to customize upsells by property, so each hotel can send unique offers to its guests. The email automation allows the brand to drive upsell revenue with almost no additional work. Upsells are now a consistent revenue stream that didn't exist prior.
The results
Today, Íslandshótel is a stronger brand because of its partnership with Revinate. The group has increased their revenue by 260% year-over-year, all while nurturing guest relationships, delivering more personalized service, and building brand cohesion, resulting in an overall boost to the brand's reputation.
Because of how easy it is to create on-brand campaigns in Revinate, Dagrún feels great about how the brand is represented in digital campaigns. She says, "Whereas we used to struggle with brand consistency, today our campaigns are consistent and on-brand. Revinate makes it easy."
Íslandshótel's commitment to guest satisfaction is unwavering. Dagrún says, "This dedication is not just a part of our journey; it is our whole journey. We're proud to lead the industry in customer-centric approaches, and we're excited to see what the future holds for Íslandshótel."