Top three ways that Revinate customers leverage clean guest data
Recently, we conducted a poll on LinkedIn about data. Specifically, we asked hoteliers how they felt about the cleanliness of their guest data. Fifty percent of respondents were "ashamed" of the condition of their hotel's data, while only twenty four percent were "proud." Given our conversations with hoteliers and the frustrations we often hear, we're not surprised that the majority of hoteliers aren't happy with the cleanliness of their guest data.
To address this pervasive issue, Revinate released a technology solution called Advanced Profile Synthesis. Advanced Profile Synthesis is a highly sophisticated and effective AI and machine learning-powered process that automatically cleanses, deduplicates, syntheses and merges your guest data so that you can finally get a true and accurate view of your guests.
There are other hotel CRM vendors that claim to "clean data" as part of their solution. However, not all approaches to clean data produce the same results and there is a big difference between how Revinate and other vendors approach the problem and the solution.
When other vendors "clean" your guest data they are looking for guest profiles that have the exact same name and the exact same email address. If there are any variations in these profiles, like a different email address or a typo in the name, these profiles will not be seen as duplicates. As a result, they will not be merged, even if it is, in fact, the same guest. This is a problem, since it means you will miss the opportunity to identify and reward repeat guests for their loyalty.
At Revinate, we realise that guests often use different email addresses or variations of their name, such as Tom and Thomas, when booking rooms. It's also not unheard of for front desk staff to make errors when quickly keying in guest information. For these reasons, and more, our system looks at several different information points, including phone number, address, company, name and email to determine dupes. By ensuring the cleanest guest data, you can easily identify repeat guests and merge their many reservations into one single profile, even when the name and email aren't an exact match or there is a typo. As a result, you can recognise and reward those very important repeat guests.
Knowing what makes Advanced Profile Synthesis different from other solutions is just the first step in understanding why Revinate Hotel CRM is the best solution for your hotel. Now, you need to understand why clean data is so important. So, in this article, we will share three ways that Revinate customers leverage clean guest data.
Merge your guests' direct bookings with their OTA bookings
Whether we like it or not, a guest's booking behaviour can change each stay. Sometimes they may book directly and other times they might come through an OTA. Regardless of the channel they book, it's still important that each stay be added to their profile and counted in their "total stay" and "total spend" history. This allows them to be properly rewarded and recognised for their loyalty.
It's a tricky problem to solve since OTAs don't share the guest's email address with the hotel but Revinate stands alone in solving it effectively.  Luckily, OTAs often share multiple data points to identify guests. Because Revinate is analysing more than just email address and name in the cleaning process, we are able to match these additional data points and identify profiles that match. As a result, we can merge your guests' direct bookings with their OTA bookings.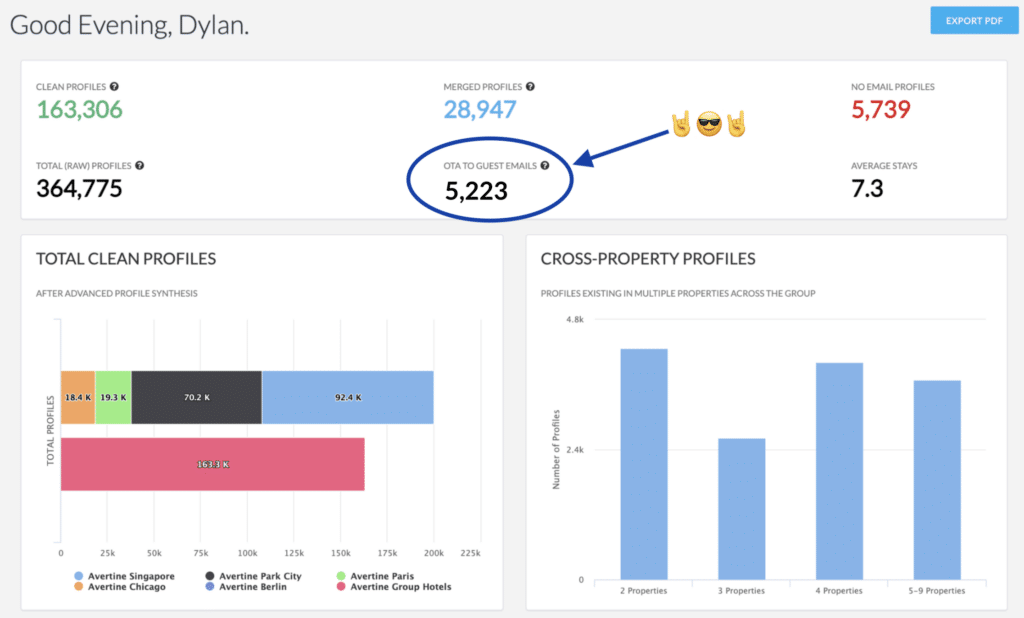 Enrich guest data for arrivals
If you're lucky, your PMS will produce an "arrivals report" that allows your team to get data about your arriving guests. But, because most PMSs are built to manage inventory versus clean data, the information in the report isn't always as accurate as it should be, especially around "number of historical stays" or "total historical spend" a guest has at your property or throughout the group.
With Revinate, your arrivals report is based on the cleanest data possible. This means that General Managers and Front Office teams can accurately identify your highest spenders or guests with multiple stays. This allows you to plan something special for these guests, like a handwritten note, a bottle of champagne or chocolate covered strawberries in the room. You can even use Revinate to send a personalised direct message to these special guests to let them know you're excited for their visit. Recognizing repeat guests and big spenders drives loyalty, which is what we all want!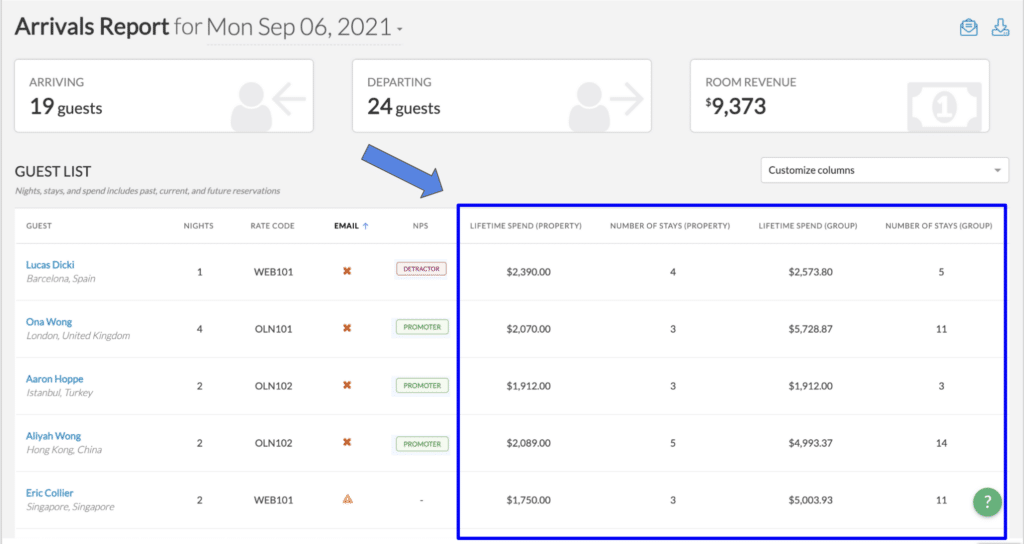 Reward and recognise repeat guests before they arrive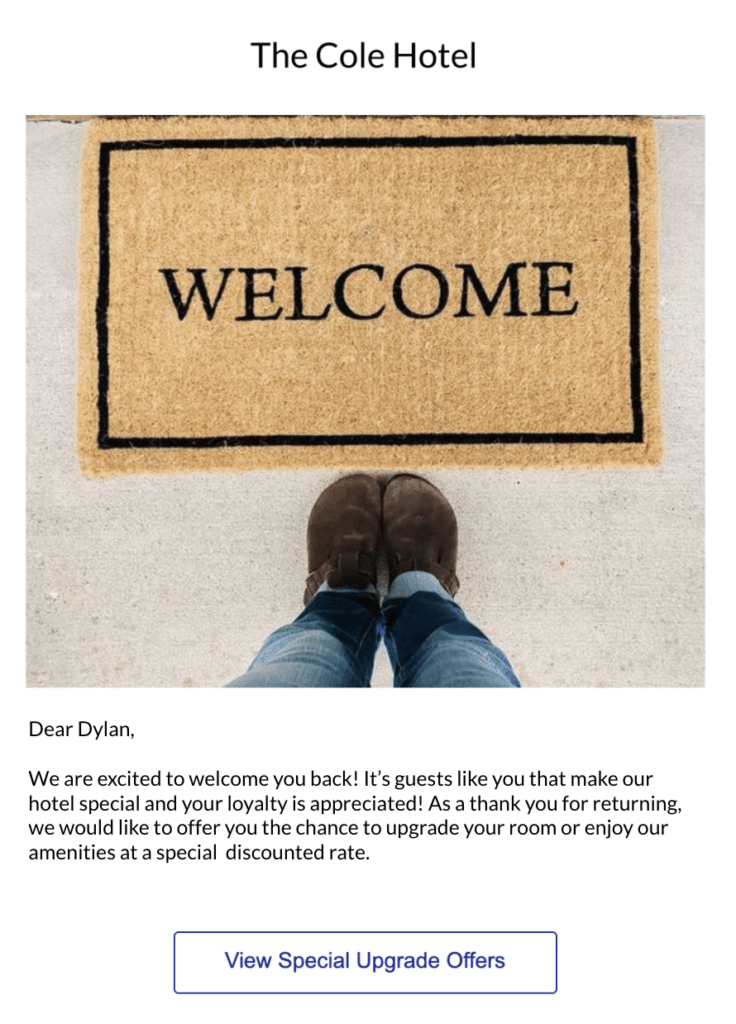 Every hotelier would agree that a pre-arrival email welcoming repeat guests back to your hotel is an excellent way to recognise and encourage guest loyalty. Additionally, rewarding repeat guests with special rates on room and amenity upgrades would even better.
Although most hoteliers want to achieve this level of targeted loyalty marketing, it's impossible to be successful without clean data. Imagine you deploy targeted pre-arrival emails meant for guests with two or more stays but your data is too messy to accurately identify those guests. You would miss the chance to reward a repeat guest and could damage a relationship if your loyal guest received an email intended for a first time guest. Luckily, with Revinate's Advanced Profile Synthesis, you don't have to worry about these problems. With a clean database and merged guest profiles, you can welcome back your repeat guests with targeted pre-arrival emails and offer them special rates on upsells and upgrades.
At the end of the day, dirty data is holding most hoteliers back from achieving the level of marketing needed in this data-driven and competitive world. With Advanced Profile Synthesis, Revinate is leading the way and ensuring that any hotelier can leverage data to drive revenue. If you are ready to get a handle on your data, we'd love to talk with you.
Insights that drive results
Subscribe now to get the latest content