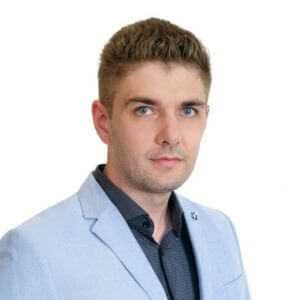 Meet the customer
"With Revinate, we can finally leverage our first-party data, enabling us to reach out to a wider audience more effectively. As a result, we have increased our direct bookings and lowered our acquisition costs."
Dionis Kole
Group Director of Content and Digital Marketing, Lub d
The brand
With six properties across Asia's most exciting destinations, including Thailand, Cambodia, and the Philippines, Lub d delivers unforgettable, authentic, local experiences for the adventurous traveler. More than just a place to crash, Lub d hotels serve as a hub for like-minded guests to chill out, work together, play games, eat, drink, party, and relax.
The challenge
Before implementing Revinate Marketing, Lub d faced various challenges. Personalizing guest communications and sending them on time was difficult, leading to missed opportunities for guest engagement and revenue. For instance, the hotel didn't automatically follow up with guests who made inquiries or canceled reservations. Furthermore, without a unified view of guest data, it was time-consuming and difficult for the team to gain insights about customers or improve booking conversion rates.
The solution
In October 2021, Lub d rolled out Revinate Marketing after Group MarTech Specialist Kediste Mingkaew (Kay) knew it had the potential to transform Lub d's direct booking strategy. "It was clear from my first look that Revinate was purpose-built for hospitality companies, like us, that believe that first-party data is the best way to combat OTAs and drive more direct bookings," he says.
With a central guest data platform consolidating each property's guest data, Lub d gained a single view of guest information. With rich guest data and features that allow anyone, regardless of design acumen, to create on-brand campaigns, the marketing team easily segmented and personalized communications, resulting in improved guest satisfaction and an increase in direct bookings.
To boost direct bookings, Lub d leverages Revinate Marketing's automated lifecycle campaigns, including pre-stay and post-stay emails, birthday greetings, "we miss you", and upsell emails. Upsell emails sent three and seven days before arrival have been particularly effective, driving significant revenue year after year. Through these campaigns, the hotels offer breakfast, airport transfers, motorbike rentals, pub crawls, and even a visit to an elephant sanctuary.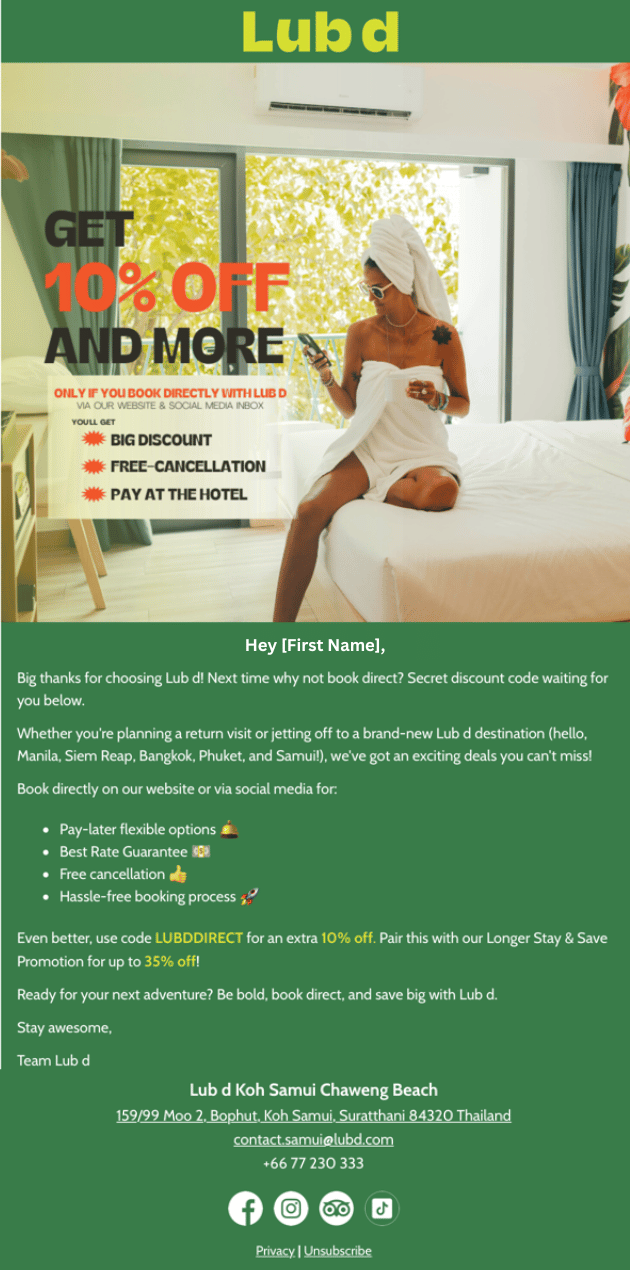 Additionally, Revinate Marketing's OTA win-back campaigns (featured to the right) drive direct bookings and increase loyalty by automatically reaching out to guests once they leave the property. These campaigns target those who made a reservation through an online travel agency and encourage them to book directly, offering them 10% off their next stay. The properties' OTA win-back campaigns have open rates as high as 44%, outperforming the regional average.
With their new focus on segmentation, personalization, and in-depth revenue tracking and analytics, Lub d is truly taking an omnichannel approach. Kay explains, "We are now utilizing custom marketing audiences to deliver personalized offers across all channels, allowing us to hone our customer targeting and deliver offers that resonate with individual guests."
And with Revinate Marketing's revenue tracking and analytics capabilities, Lub d's understanding of its financial performance has also vastly improved. The team has greater visibility into guest preferences regarding amenities and operations, allowing them to make more informed business decisions and create more customized offers and services for potential guests.
The results
With Revinate, Lub d delivers personalized and timely guest communications, leading to increased satisfaction and repeat bookings. Leveraging actionable first-party data led to increased direct bookings and more efficient upselling of rooms and amenities. Revinate Marketing's dashboards also provided valuable insights into guest behavior and preferences, setting new standards for the group. Stronger financials allowed Lub d to invest more resources in portfolio expansion.
"Revinate has not only helped us keep up with the competition but has enabled us to set new standards in the hospitality industry. Since adopting Revinate, we have become stronger financially, allowing us to invest more resources into expanding the portfolio," says Kay.