Tnooz FREE webinar – Cornell-Revinate study: how to improve your TripAdvisor ranking
Live webinar
One of the most important initiatives for hotels today is to move up in ranking on TripAdvisor and increase visibility on the world's largest travel site.
A recent study conducted by Cornell and Revinate, the leading guest feedback and engagement platform, unveiled one simple way for hotels worldwide to improve on TripAdvisor.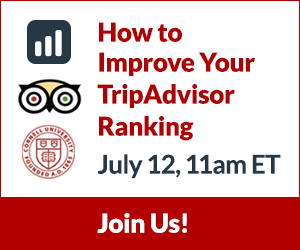 Join Tnooz and Revinate for this FREE webinar and you will learn:
– The full results of the study, and how encouraging guests to share feedback on TripAdvisor drives significant gains in a property's performance on TripAdvisor and even increased occupancy. For example, properties using Revinate Surveys solution, which encourages guests to write reviews on TripAdvisor, experienced a 3X average increase in review volume.
– How hotels can capitalize on additional revenue opportunities with increased occupancy
– Results of related research on the revenue impact of responding to reviews (responding to all positive reviews might actually be detrimental!)
– Broader strategies to encourage direct, repeat bookings and build deeper relationships with guests
Presenters for the webinar are:
– Chris Anderson, Associate Professor, Cornell School of Hotel Administration
– Brian Payea, Head of Industry Relations, TripAdvisor
– Glynis Esmail, VP Marketing, Landmark Hotels Group
– Tara Peterson, Corporate Marketing Coordinator, IDM Hospitality
– Kelly Robb, Director of Market Intelligence, Revinate
– Sean O'Neill, Editor in Chief & Moderator, Tnooz
– Gene Quinn, CEO and Producer, Tnooz
The webinar begins at 11 am EDT, 8 am PDT and 4 pm GMT. Please adjust for your local time zone.