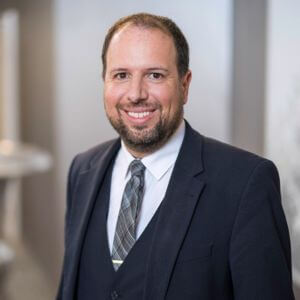 Meet the customer
"Revinate has finally given us the ability to leverage our data for driving direct revenue."
Daniel Bank
Reservations Manager
The brand
Family-run for 16 generations, Parkhotel Adler is one of the world's oldest historic hotels in the world. The hotel, which consists of five buildings from different eras, a lake, and a park, is located on the outskirts of Hinterzarten, where it blends harmoniously into the landscape of the High Black Forest. Guests, many of whom return every year, come to enjoy hiking, Nordic walking, and mountain biking in wonderful nature.
The challenge
With an outdated technology stack, Parkhotel Adler struggled to employ modern marketing strategies, like segmentation and personalization. Every time Reservations Manager Daniel Bank tried to segment by accessing his legacy database tool, his computer would crash. He explains, "Trying to do even the simplest thing, like isolate loyalty guests, was time consuming and frustrating."
Because the hotel didn't have a CRM, Daniel would have to pull the mailing list from the database and then upload it to another system, so that he could send a simple email. The technology was too fragmented to automate, and there was no way to engage the guest throughout their journey.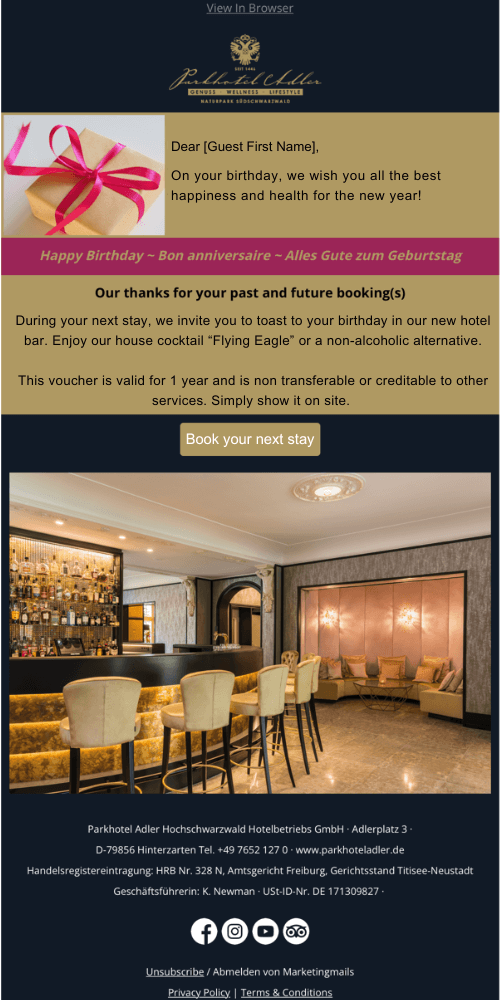 The solution
Three years ago, Parkhotel Adler decided to modernize the technology that powers guest email marketing and selected Revinate Marketing. Daniel was excited to provide his digitally savvy guests with a more modern communication channel. He says, "We were spending €1,000 on physical birthday postcards each month. Automating that one process and making it digital was a huge cost and time savings."
Daniel selected Revinate Marketing due to its ease of use, speed, and compatibility with other technology platforms. He is the main user, but all department heads have access and are able to easily view guest data and quickly create drag-and-drop campaigns. When he compares his old email process with Revinate Marketing, the difference in time and effort is massive. He says, "We are a much more agile and data-focused team today because of Revinate. We can easily segment our guests and create personalized one-off campaigns that are ready to go immediately. We can finally leverage the power of our data to drive direct revenue, a long-term goal of the hotel."
The results
The hotel's focus on guest data has transformed its marketing program. With highly segmented campaigns, average email open rates are 63%, and average room revenue per campaign is more than €28K. The hotel leverages out-of-the-box automation in Revinate Marketing to create always-on campaigns like pre-arrival emails with upsells, birthday (featured to the right), and "we miss you" offers. All these campaigns drive significant revenue with no work after setting up the campaigns.