With the integration between QuickText AI and Revinate all relevant guest information captured by the hotel chatbot is automatically sent to Revinate to enrich guest profiles in Revinate's GDP. Data includes new guest details ( e.g. Name, email, phone number) and key interests (Family, MICE, Spa,…).
The hoteliers benefits of integrating Quicktext hotel chatbot with Revinate CRM include:
Automated guest data capture and enrichment – no more manual processes.
More qualified contacts in your Revinate CRM that can be automatically targeted for marketing campaigns and offers.
Deeper customer knowledge to improve your marketing segmentation and targeting.
Eliminate data silos and get a unified customer base.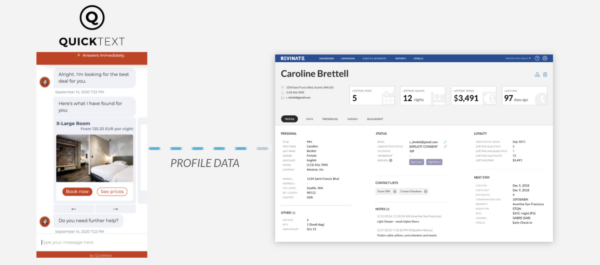 Qualified guest data is extremely valuable for you as a hotelier and with Quicktext + Revinate you can monetize customer data to acquire and retain more guests.
Learn more about the integration between Quicktext and Revinate. Get a demo