Benchmark data: APAC A/B test and drip performance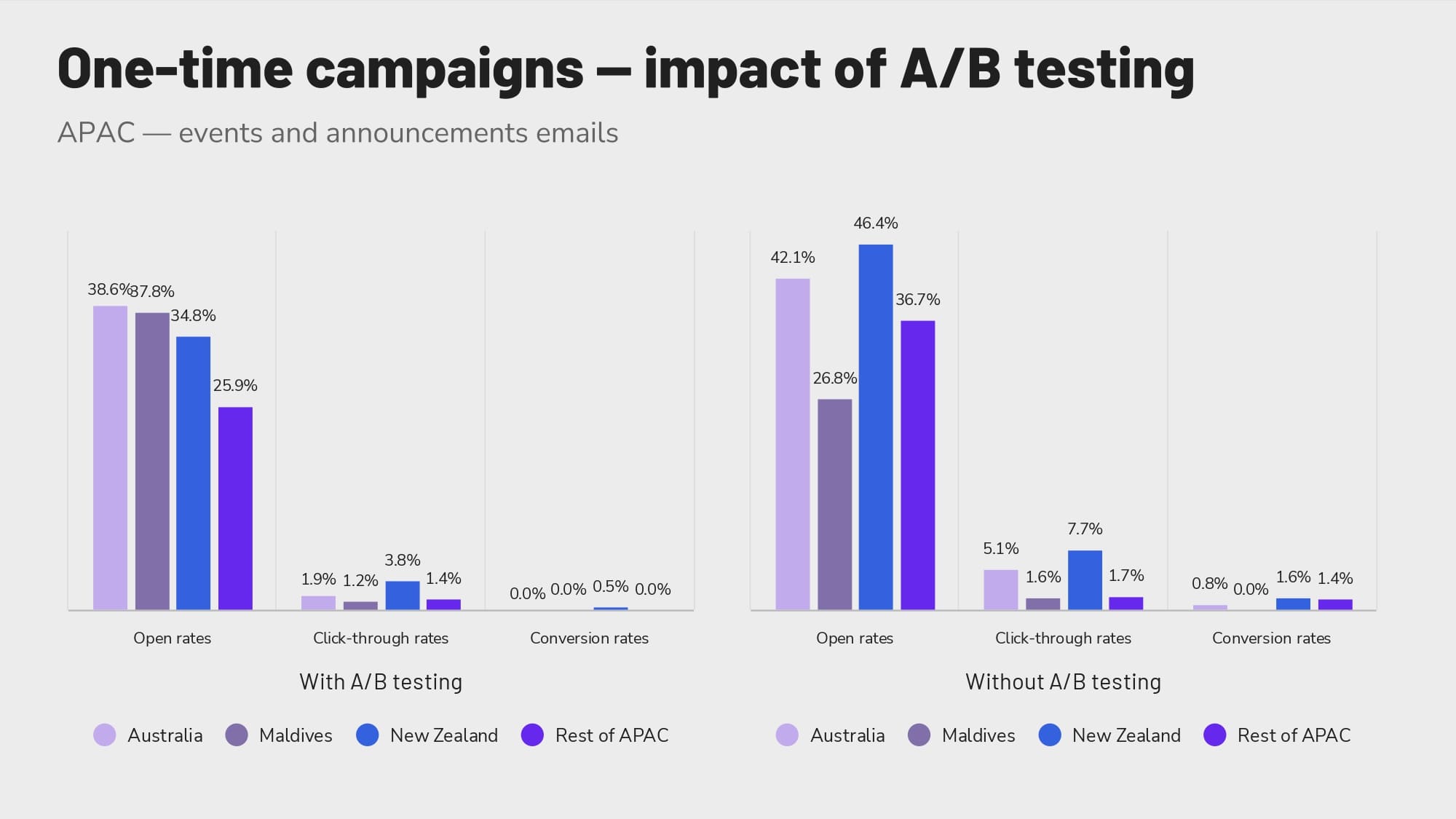 7.7% average click-through rate for one-time events and announcements emails from New Zealand
You've probably seen it before — the 100th email from a brand saying exactly the same thing as the previous 99 emails. You're unlikely to be convinced to take action.
But you might be persuaded by a radically different hook or a series of messages that touched on something different that was still relevant to you. With this in mind, let's look at how these tactics were used throughout APAC during 2022.
A/B testing was used mostly for one-time events and announcements campaigns and one-time newsletters, and A/B campaigns typically saw lower performance than standard campaigns. Some of the most noticeable performance differences occurred in New Zealand and in the "Rest of APAC." One-time events and announcements emails from New Zealand had a 7.7% average click-through rate and a 1.6% average conversion rate for standard campaigns compared to a 3.8% average click-through rate and a 0.5% average conversion rate for A/B campaigns.
It's possible that New Zealand and the "Rest of APAC" micro-region took a highly experimental approach, trying vastly different versions of the emails they tested. But it's more likely that these micro-regions are a bit newer to A/B testing and have less data at the moment.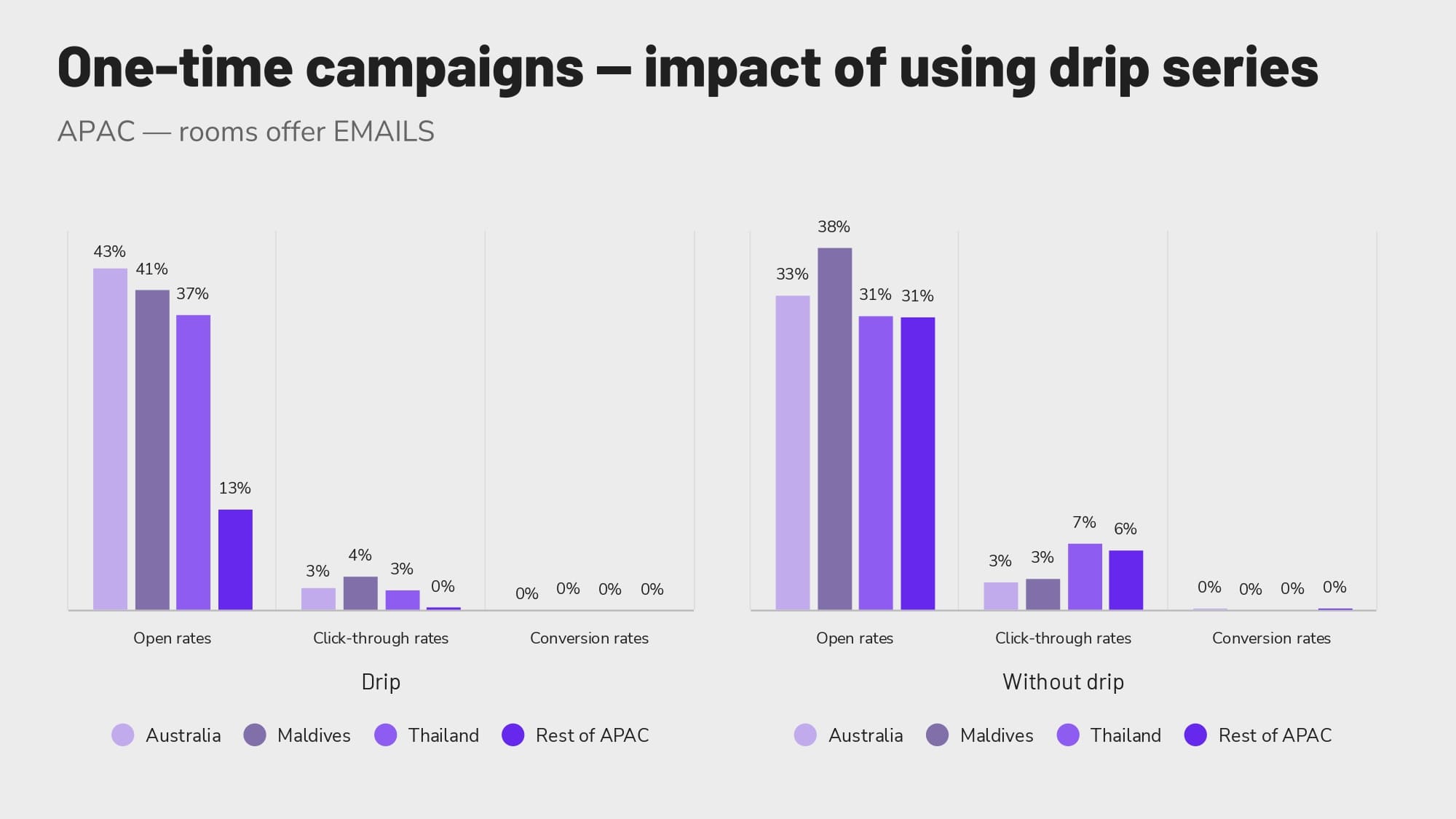 The use of drip campaigns was somewhat spotty for APAC in 2022. That said, all micro-regions except for New Zealand used drip series for one-time room offer campaigns. Only the Maldives saw greater success with the drip variation, but again, that's likely because this micro-region is just starting to expand into drip campaigns.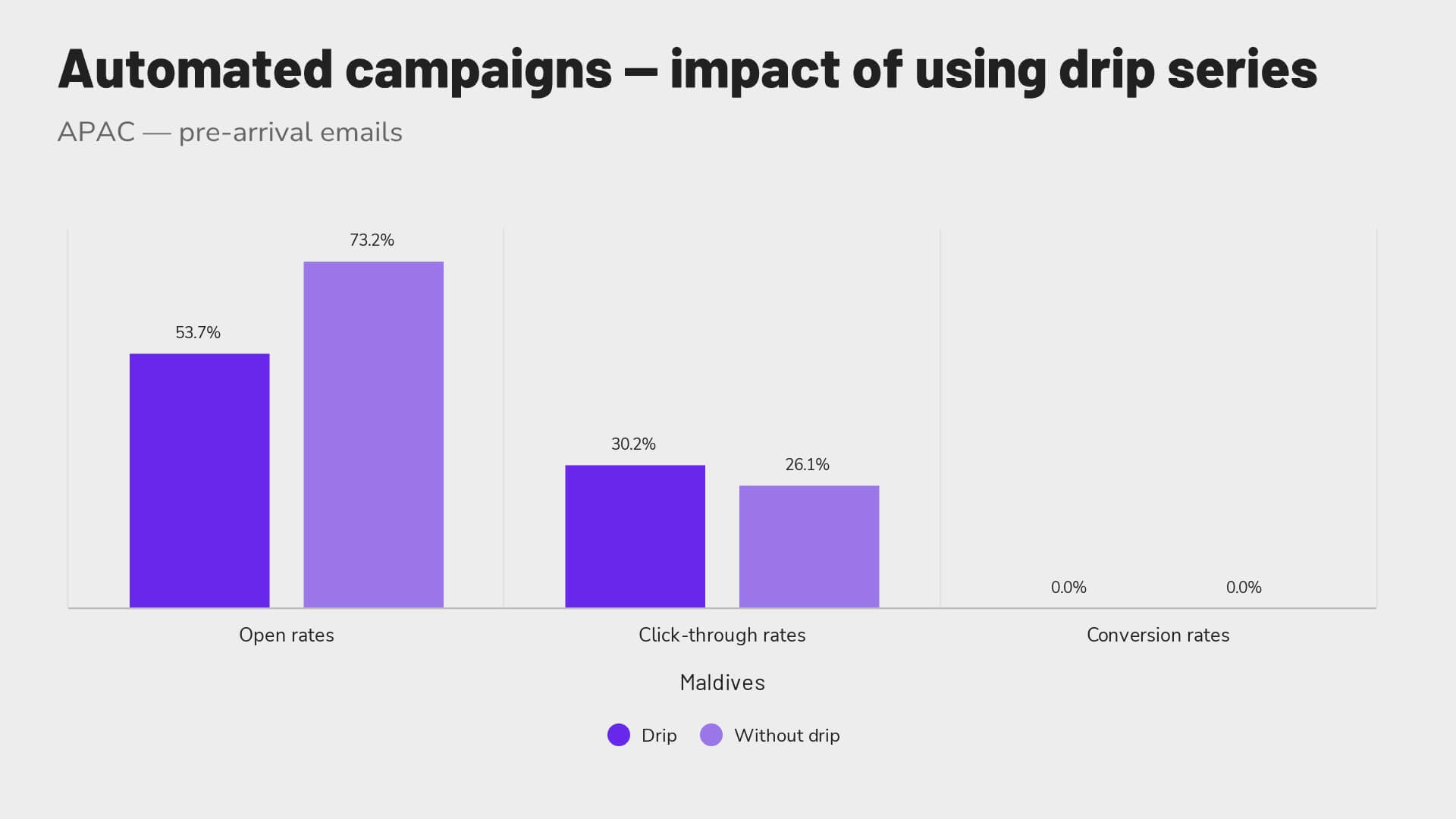 Interestingly, the Maldives is the only micro-region that used automated drip campaigns enough to generate measurable data. These automated pre-arrival campaigns outperformed standard pre-arrival campaigns in terms of average click-through rate and average conversion rate.
Given how successful automated drip campaigns are around the globe, there's a good chance APAC could benefit from leveraging more of these types of campaigns. Automated campaigns also require little maintenance, so they're a great option for testing drip sequences.