3 email campaign examples for Ramadan and Eid al-Fitr
Get inspired for Ramadan and Eid al-Fitr with these email campaigns from Revinate Marketing customers
Ramadan is a holy month for Muslims. In Southeast Asia, 40% of the population identifies as Muslims. and this year more people will be returning home for their annual religious practices as families celebrate with loved ones.
This is good news for hoteliers as 70% of people are looking to travel for 1-2 weeks during Ramadan. If you haven't prepared your Ramadan and Eid al-Fitr email promotions yet, we are here to help you get started.
Take a look at these 3 Ramadan and Eid al-Fitr campaign examples from Revinate Marketing customers to get the creative juices flowing.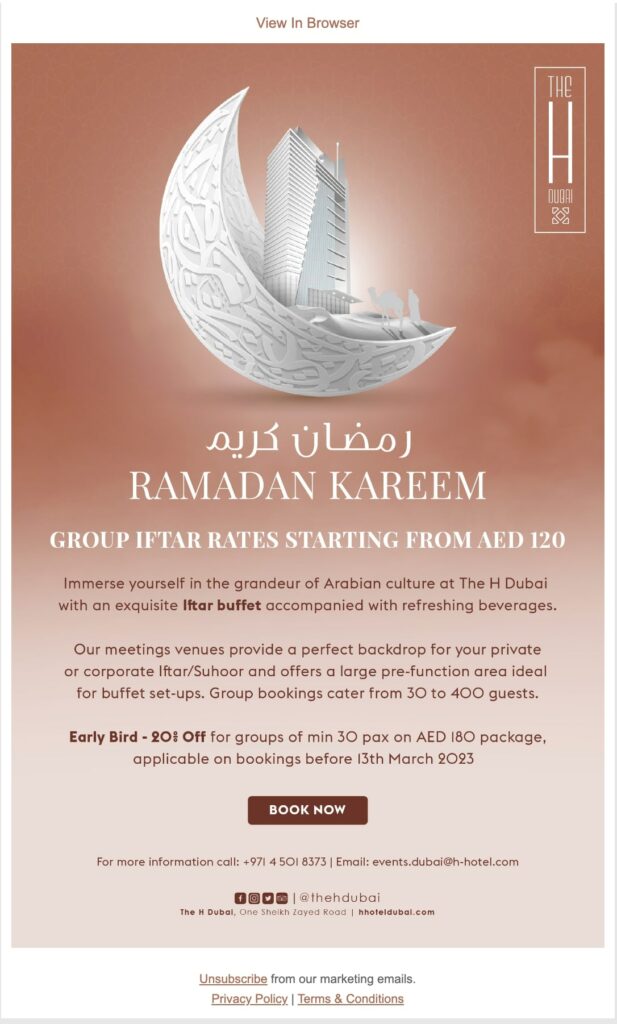 Subject line: Celebrate Ramadan with Our Group Iftar Packages
Segments:

Local guests within the UAE with specific cities as filters.
Audience: office administration and management

Open rate: 23.4%
Room nights: 35
Revenue: $ 4,260
Why do we love this campaign?
Targeting locals is always a good idea. Oftentimes, they're looking for fun nearby activities. During Ramadan, this is important as people look for great venues to break their fast with family, friends, or colleagues. With this offer, guests can host Iftar for larger groups, and enjoy local cuisine. The early bird rate promotes urgency and ensures exclusivity for guests as they work to secure the offer as soon as possible.
$4,260 was generated from this campaign alone, a job well done!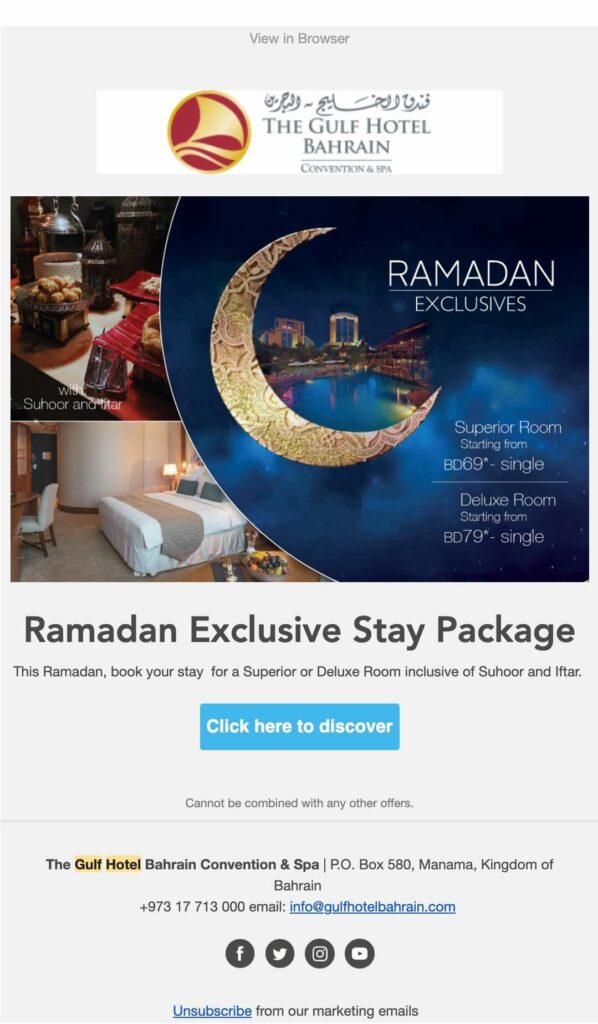 Subject line: Ramadan Exclusive Stay Package.
Segments: Available email address excluding future stays
Open rate:14.4%
Room nights: 150
Revenue: $ 22,636
Why do we love this campaign?
What is better than an Iftar offer? An Iftar offer, a Suhoor package, and an all-inclusive room! The Gulf Hotel Bahrain thought of everything.
This simple, yet effective, campaign by the Gulf Hotel Bahrain, invites guests to book their stay with a special rate, and they have 2 options they can choose from. The campaign also showed a sneak peak of how the room and restaurant looks, which is helpful for guests to visualize their stay.
The result is outstanding with 150 room nights generated from this campaign.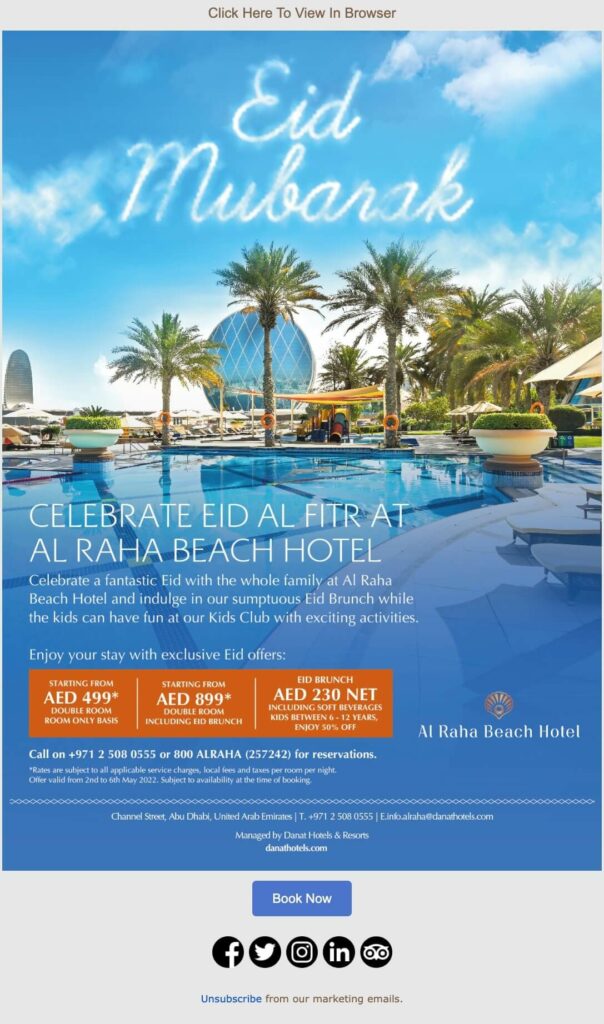 Subject line: [Guest Name], Celebrate Eid al-Fitr at Al Raha Beach Hotel
Segments: All reachable guests
Open rate: 31%
Why do we love this campaign? 
Eid al-Fitr is a major celebration at the end of Ramadan. Al Raha Beach Hotel invited their guests to enjoy the day with a delicious brunch at their stunning property. Guests traveling with their kids can have fun and benefit from childcare with  the property's kids club.
Al Raha Beach Hotel excelled at promoting services within their property. Use this example to take time to think about what your property offers and how you can tailor those amenities to fit the season. Do you have a bakery in your hotel that can offer delicious and well-crafted hampers? Or something simple like a Suhoor wake-up service? This is the time to dive deeper with your campaigns, so you can exceed guest expectations.
Ramadan and Eid al-Fitr email campaigns can be easy
We hope that these Ramadan and Eid al-Fitr campaigns inspired you to craft your own. Remember, focus on your campaign goals and stay authentic to your brand — creating email campaigns should not be complicated.
View more campaign examples by our Revinate Marketing customers on our "Inspirations" page.
Do you want to learn more about how to leverage email marketing to boost direct revenue? Explore our marketing solutions.
Insights that drive results
Subscribe now to get the latest content