See How to Get a 38% Conversion Rate with RezForce
A mighty team of agents, a "force" if you will, that delivers substantial booking results beyond your standard call center, that's Revinate RezForce. This team executes bookings with accuracy and strict attention to guest profiles while capturing lead data throughout the duration of the call. RezForce hotel or vacation rental clients experience higher conversion rates and increased guest satisfaction across the booking process. With RezForce, hoteliers eliminate training costs for call agents, allowing those funds to be invested in other areas of your business.
What About Voice Channels?
We know the voice channel is a key revenue driver for hoteliers, turning passive reservation centers into proactive booking machines. This is why RezForce integrates call recording technology, tactics for upsells, and outbound calling to follow up on interest. Revinate optimizes the voice channel with the best software and services available that drive real measurable direct revenue, conversion optimization and incredible ROI. We are substantially increasing hotels revenues through improved conversions, higher average selling price, and capturing voice demand 24/7 that's currently going unanswered.
Voice Calls
Voice calls optimized with Revinate result in an average of 38% conversion rates. Most hotel websites convert only 1-3%, that's a 10-30X better conversion rate! Driving warm leads to call and convert, rather than self servicing on the web, can have a dramatic improvement in direct revenue conversions. With the presence of the COVID-19 pandemic, more people want to speak with live representatives to understand the requirements of the state, and feel confident in their booking decision. 
Voice calls and conversions also result in a 2X average sale price increase, as an agent can position and customize more amenities, upsells, restaurant/spa/golf and transportation and activities. There are many voice calls that go unanswered in a timely fashion, or at all. This results in lost revenue that RezForce can help you reclaim and capture. Ojai Valley Inn closed the call gap as RezForce rallied during times of call surges and were faithful for after hours calls. 
Guest Database
Build your quality database with more direct-marketable contacts. The beauty of our integrated platform is that, if a voice call does not convert, there are 2 incremental marketing loops that employ. First, we capture guest information and preferences, and enable agents to outbound call back interested bookers to try to convert the booking. Second, guest data rolls into the database, and becomes instantly available for further targeted marketing over email and messaging.
Racking up the ROI
Revinate has achieved the highest Lux status for call center excellence. Hoteliers trust that our service will fully optimize every last direct dollar and ROI that can be captured. Auberge Resorts has been riding the revenue wave with a 21.5% increase in year-over-year Outbound booking revenue since the pandemic. These efforts have led customers to achieve growing ROIs consistently on their spend, while building a strong direct revenue strategy for their highest value guests, that spans voice, email, messaging, and SMS. Noble House has been a Revinate customer for over a decade and has experienced 40X ROI, with continued success since.
Still on the fence about the power of the voice channel? See our infographic below for a glimpse at the incredible success hoteliers are experiencing utilizing Revinate's RezForce.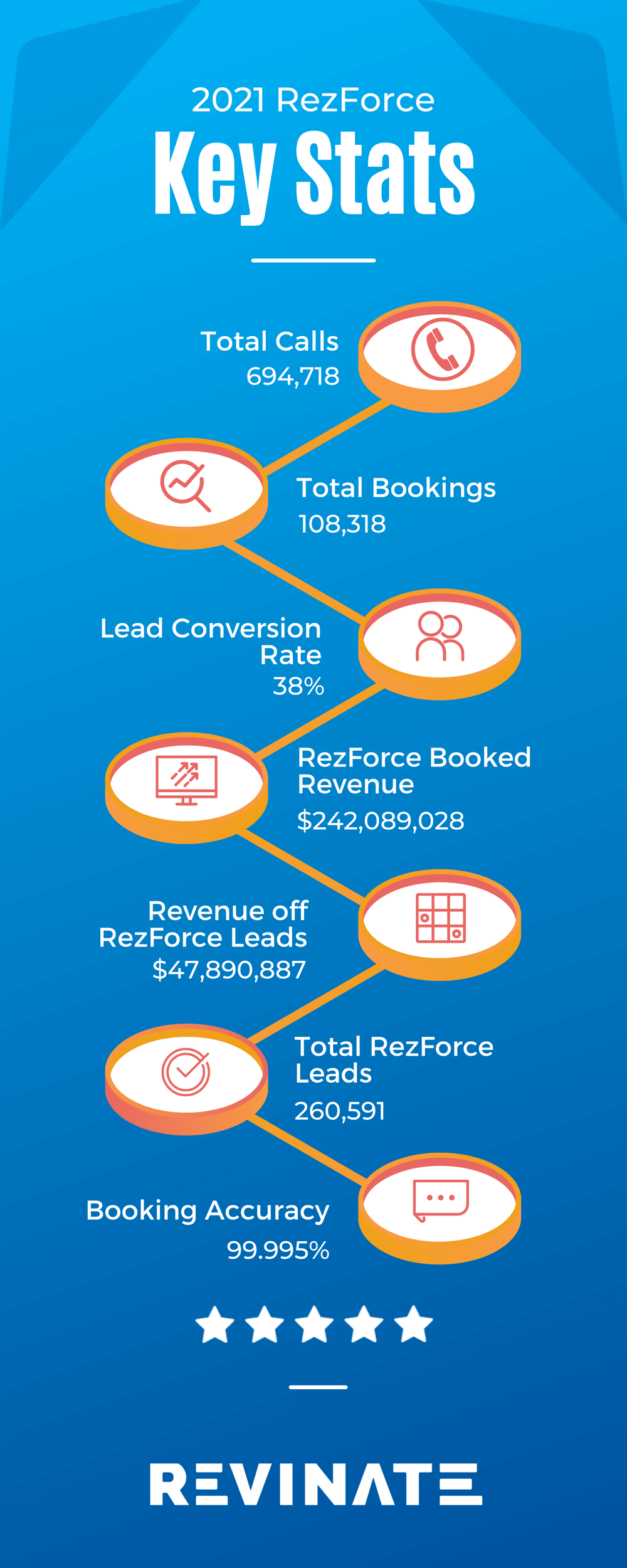 Learn more about RezForce and set up a discussion with our strategists here.
Insights that drive results
Subscribe now to get the latest content