Eight Hotel Email Templates to Rev Up Your Email Marketing
When it comes to hotel email marketing, getting your templates set-up can seem like the most daunting of tasks. Aligning your brand guidelines with email best practices can prove challenging for many hoteliers. However, Revinate Marketing makes it easy by offering more than 100 customizable 'out-of-the-box' templates to help customers get their email marketing up and running in no time at all.
Below are eight hotel email marketing templates we recommend every hotel set up first to ensure a successful email marketing strategy from the get-go.
Promotional/Informational:
This is your go-to template that will be used again and again for your big announcements and offers including flash sales, room promotions, holiday and seasonal packages, etc. Every template should include a hero shot, clear headline and a strong call-to-caption that jumps off the page.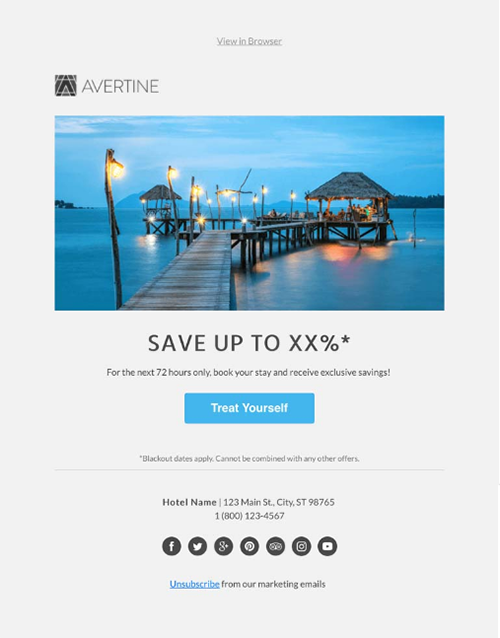 Birthday/Anniversary:
With Revinate Marketing, you can set up automated birthday campaigns to reward customers with an exclusive offer for their special day.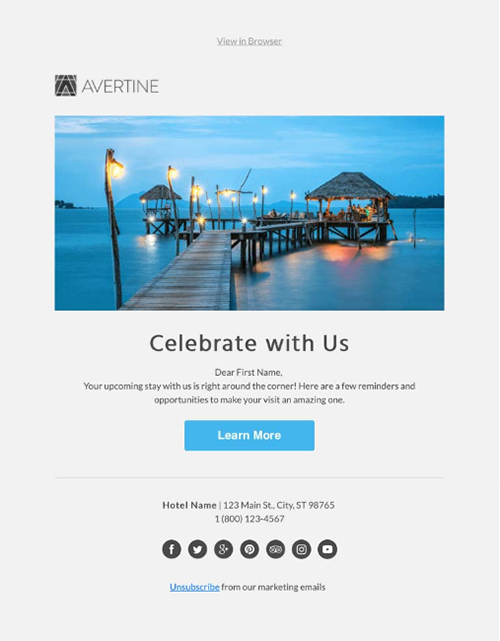 Pre-Arrival Letter:
Pre-arrival letters provide guests with need-to-know information about this stay and the opportunity to enhance their stay with room upgrades and amenity add-ons (which also drives more revenue to your bottom line). Templates should include a personal note, stay details and an "upgrade" call-to-action.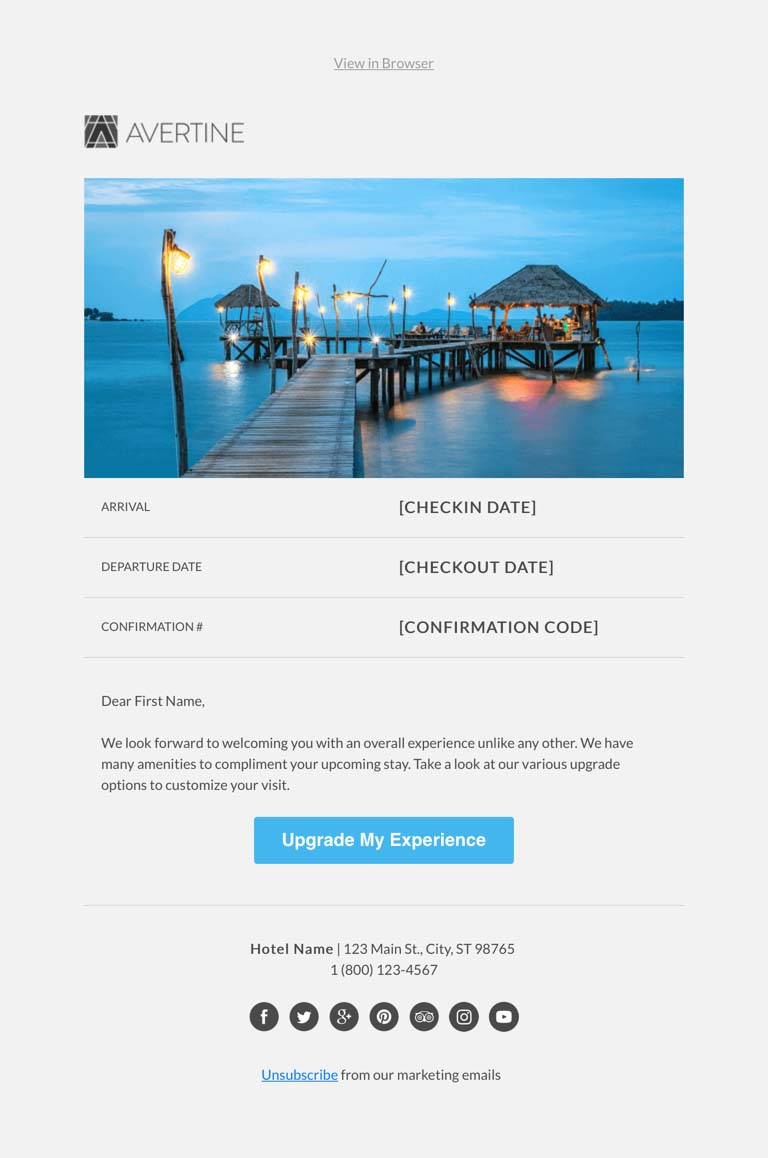 On-Property Welcome:
What better way to welcome a guest on-property than with a personal welcome note from the hotel team? With Revinate Marketing, you can deploy the email the moment the guest checks-in. This is also a great way to capture emails at the front desk by offering to send an email with a compelling offer i.e. dining credit, complimentary cocktail, discount at the spa, etc.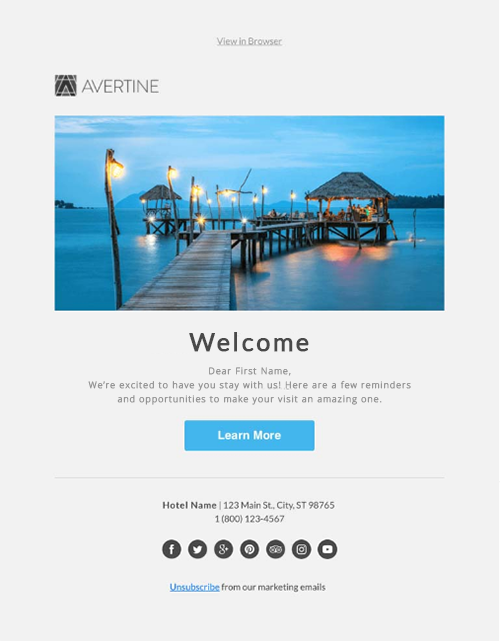 Post-Stay OTA Winback:
One of the main goals of email marketing is to generate more direct bookings and a key tactic is converting your OTA guests into direct bookers. In order to do so, we recommend sending all OTA bookers an automated OTA winback campaign offering them an exclusive incentive to come back and book direct. Templates should highlight a clear offer and explains all of the wonderful benefits of booking direct.
We miss you: Have an email template ready to easily and quickly encourage guests to return to your property.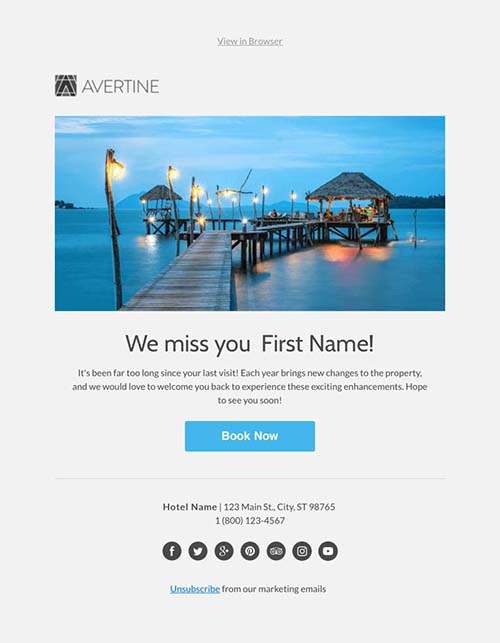 Transactional:
All new reservations, cancellations, and changes to an existing booking require an email template that is both on-brand and easy-to-read. Keep these templates clean, clear and focused.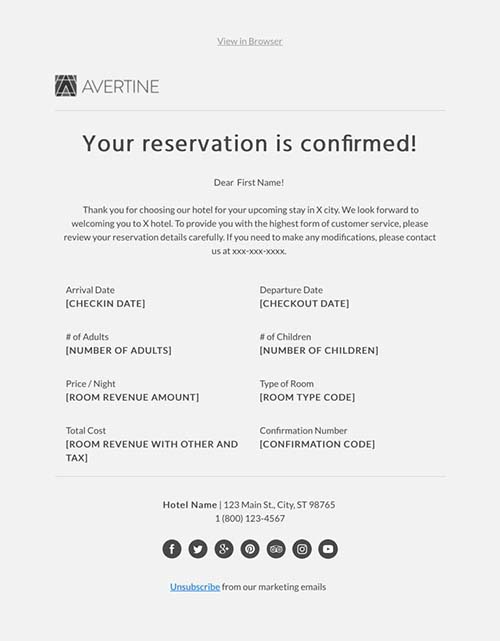 Guest Consent Double Opt-In:
With the GDPR in full effect, having double opt-in email template at the ready is a smart way to gain express consent from your subscribers and stay within compliance of this new legislation.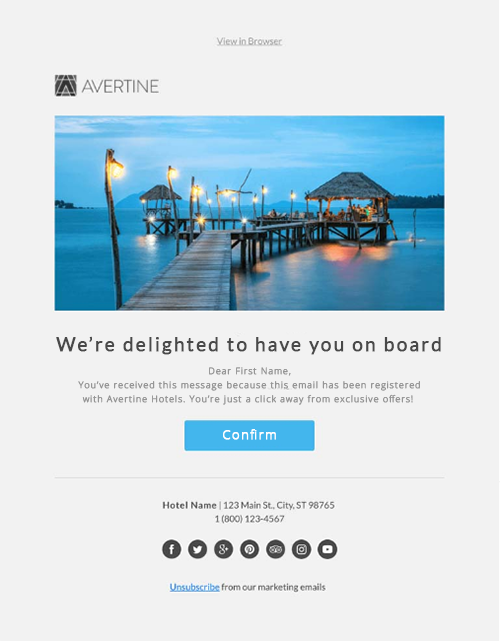 How to improve your email marketing today
Email templates are just the tip of the email marketing iceberg. Click here to download our Email Marketing Strategy Guide, the industry's most comprehensive email resource for hotel marketers.
Here's a preview…
COPY AND CONTENT
The content of your emails is more than just images and text. The email's tone of voice, choice of words, and layout also help to convey your message. When designing your campaign template, include plenty of white space. This helps with readability and allows users to focus on the content, which should be direct and compelling. A good test is to have a colleague quickly glance at the email, reading only the headlines, to see if it makes sense. Your audience should get the gist of the email, even with just a cursory glance.
Also, keep in mind that many people will be opening your email on a mobile device, so you need to design and test not just for desktop, but also for phones and tablets.
Insights that drive results
Subscribe now to get the latest content