GDPR: A hotelier's guide, part 4 — double opt-in best practices
Double Opt-In Best Practices
The EU GDPR will come into force immediately on 25th May 2018.
Here's what you, as a hotelier, need to know.
In our fourth and final part of our month-long GDPR blog series, we're focusing on Proof of Consent. Proof of Consent requires companies to have the explicit consent of EU citizens and residents before using their personal data in any way, including sending them email marketing campaigns. To help you obtain the explicit consent of your database, we're sharing a few double opt-in best practices.
With double opt-in, a user needs to proactively confirm his/her subscription. This usually requires the user to click a link in a subscription confirmation email that is sent immediately after they ask to join your email list. If the user doesn't click on this link, they shouldn't receive your email if you want to be GDPR compliant.
Regardless of GDPR, a double opt-in approach is still highly encouraged. It will help you create a healthier list by preventing bad email addresses from being added to your database. In addition, double opt-in is better for your sender reputation and email deliverability.
Top tips for creating the perfect double opt-in process
1. Make sure your email looks and sounds great
Treat your confirmation email like a branding exercise. Your confirmation email should be interesting, well-designed, and align with your brand.
That said, avoid going too crazy. These emails need to serve a very basic purpose, so overly busy templates are not ideal.
Check out this great double opt-in email example from Chipotle. The email gets to the point, is simply designed, and adds a touch of their personality.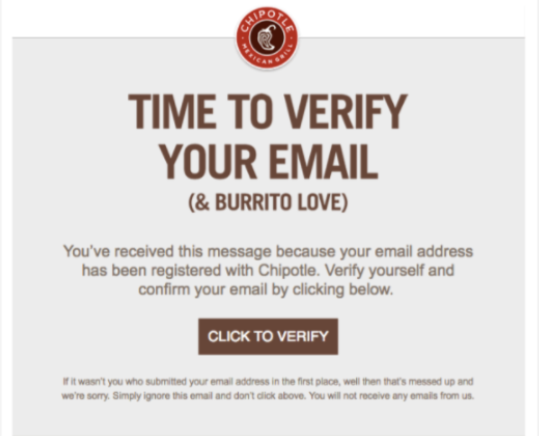 2. Offer incentives
Incentives can be a great way to encourage people to sign up for your emails. Maybe you'd like to entice people by offering a discount or special offer in the body of the email so it is accessible whether they opt-in or not. Maybe you'd rather give new subscribers the opportunity to receive exclusive content and special updates in the future. You can incentivize new subscribers in any way you'd like; just be sure it makes sense for your hotel.
In the examples below, Qbic Hotels and Puma incentivized their subscribers with 15% off their next booking and purchase, respectively.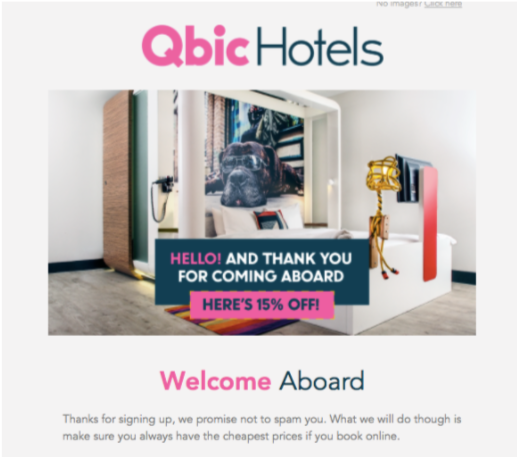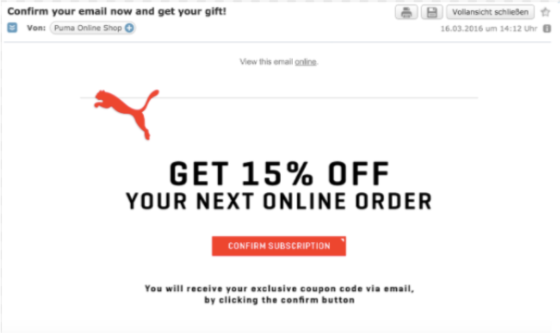 3. Clarity is key
You want your opt-in email to be crystal clear. Anything vague or too cluttered is unlikely to be acted upon. If recipients don't open your email and click on that confirmation link, it doesn't mean they're outright refusing to comply with your confirmation request, but it may mean that your email is unclear.
The subject line: Use a subject line that conveys urgency and necessity. It can be as straightforward as "Confirm your email with ABC Hotel" or a little clever like, "Your exclusive offer is ready, but first you must confirm!" Test subject lines until you find something that consistently works for you.
The message: Remind them that they only get your content if they confirm their subscription. You don't need to be wordy. You just need to state that you're delighted they're subscribing and that this last step will bring fantastic, relevant content to their inbox.
The call to action (CTA): Ensure your call to action is bold, obvious, and easy to click.
For example, Belmond did a great job with the email below. They expressed their joy to have this recipient on their email list, shared what they will be receiving in return, and ended with a clear and simple CTA button.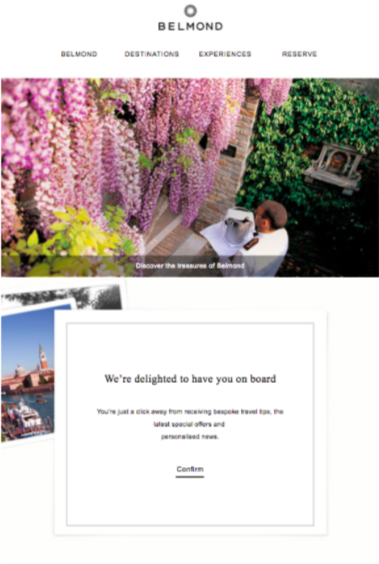 In summary, with or without GDPR, Revinate sees this as a great opportunity to clean up your database and confirm you are only communicating with people who actually want to hear from you. Here's to compliance and even better marketing ahead!
To learn more about GDPR and practical tips for marketing, check out the first three parts of our GDPR Hotelier's Guide series:
Insights that drive results
Subscribe now to get the latest content