Happy Birthday! The Campaign Made Just For You
What are birthday campaigns?
Everyone has a birthday. No matter what you like to do on your special day, birthdays are worth celebrating. As a hotelier, you can stand out in a crowded inbox by leveraging peoples' love for birthdays with a targeted birthday email campaign.
The benefits of birthday campaigns
Guests today prioritize personalized experiences and love when they are treated as individuals. Birthday campaigns are one of the most personal campaigns you will send since they speak directly to guests with birthdays.
Globally, birthday campaigns produce great results, but unfortunately, many hoteliers are neglecting to send them. Our Revinate Marketing customers see an average 29% open rate and 3% click-through rate (CTR) on birthday campaigns. Split by region, here are the results:
Americas:

29% open rate, 1% CTR

EMEA:

31% open rate, 2% CTR

APAC:

24% open rate, 5% CTR
Easy setup
It may seem like birthday campaigns require a lot of work to set up and personalize, but if you capture accurate data through your PMS, creating this campaign is a breeze, especially if you're using marketing automation. With automation, you minimize the work while driving impressive results for conversion and brand reputation.
To drive more direct bookings, incentivize birthday recipients with a package discount. Some packages might include discounts or vouchers to on-property restaurants or your spa, for example. Use the data on your customers to help determine the best offers to ensure you're only sending suggestions that your guests might actually interested in.
When to send
Hoteliers have two choices when it comes to sending birthday campaigns: They can send during the guest's birthday month or on the actual day. Take a look at a few examples from Revinate Marketing customers:
The month of:
The Shakina Urban Spa offers 25% off any spa treatment during the entire birthday month.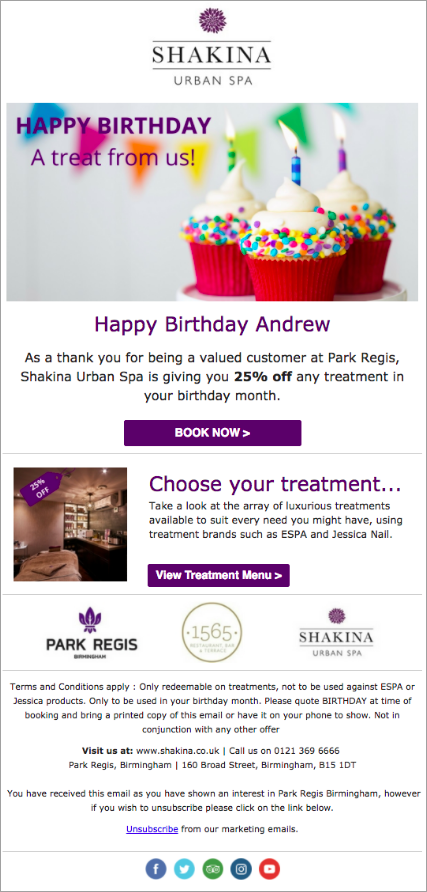 Abbey Beach Resort sends a $25 dinner voucher valid at their restaurants.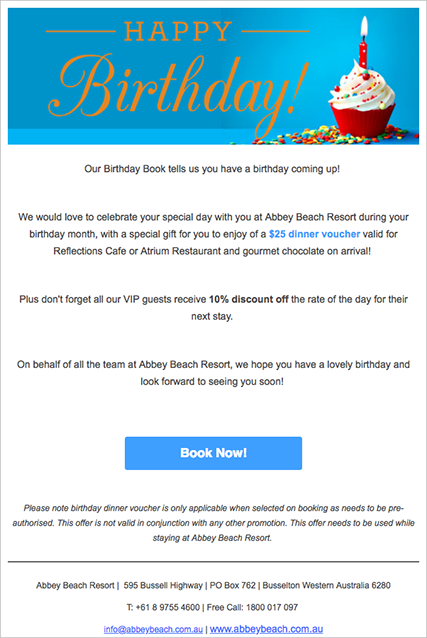 The day of:
The Papandayan and Shanti Maurice Resort & Spa offer a 10% savings on the guest's next booking as a birthday gift.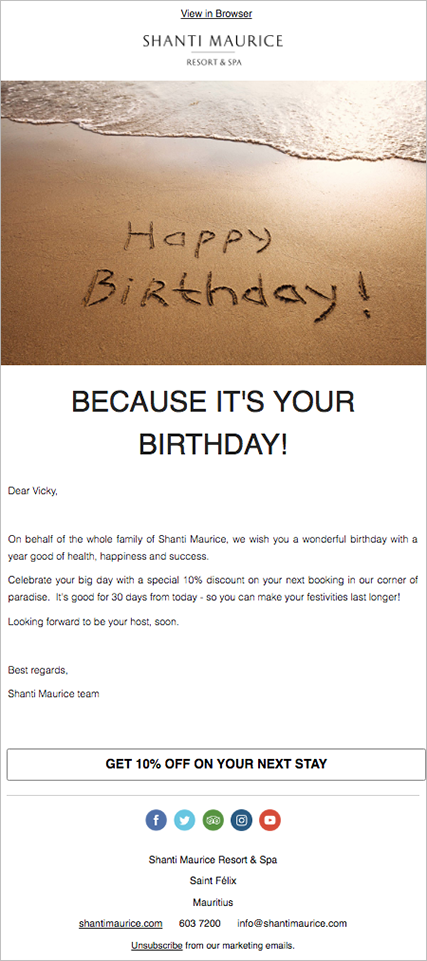 Although both options are available to our Revinate Marketing customers, the engagement differs between send times. When the campaigns are sent at the beginning of the birthday month, the average open rate is 25% and CTR is 3%. Engagement increases when the campaigns are sent the day of the birthday to a 33% open rate and 6% CTR, on average. Therefore, I suggest sending these campaigns the day of the birthday as the CTR is almost twice as high and conversion is 100 times better. And who doesn't like receiving mail on their actual birthday?
Generate better results with birthday campaigns
To sum up, birthday email campaign is one of the most underutilized yet highly engagement-worthy email marketing campaigns. At a time when personalization triumphs all, birthday campaigns are an easy way to make your guests feel special. To learn more about all the various types of email marketing campaigns you can be sending to drive engagement and revenue, reach out to Revinate to chat.
Insights that drive results
Subscribe now to get the latest content