Top tips for your hotel welcome letter
Hoteliers sometimes think that all guest communication aside from face-to-face conversation stops the moment guests arrive on property. This shouldn't be the case.
It's actually incredibly important to maintain communication with your guests during their stays to ensure that they have everything they need. It's also an opportunity for you to send upsell offers.
One of the best ways to maintain this connection is through your hotel welcome letter. Luckily we have some tips for creating a strong on-property hotel welcome email you can follow to help you enhance the guest experience.
What you will see here
6 ways to ensure your hotel welcome letter is great
There are many types of hotel email marketing campaigns, and you need a different approach for each. Here's what to keep in mind when it comes to your hotel welcome email.
1. Let them know they can count on you for help
Your property becomes your guests' home throughout their stays. Beyond letting them enjoy the rooms and facilities, you have plenty of options for ensuring that they're enjoying their stays with you. You can do this, from the moment they step into your property, by highlighting your support team's availability should they need help or have questions.
Each property has its slightly different availability. Make sure to include yours in your hotel welcome letter. Be sure to include where and when your guests can reach you, FAQs, and any other services available on your property that they can benefit from.
Below is a great example from The Powerscourt Hotel in Ireland. The property included a short but sweet welcome message, clearly mentioned their guest relations team's availability, and included offers guests could enjoy that are easy to book via the link in the campaign.
Subject line: [GUEST NAME], welcome to Powerscourt Hotel, Resort & Spa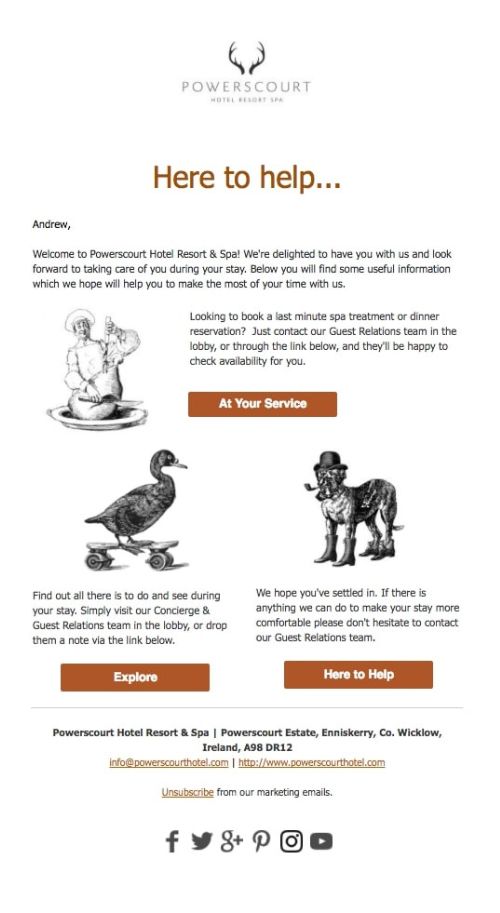 2. Offer a special treat in your hotel welcome letter
On-property hotel welcome emails are a great way to instantly reward your guests, drive traffic to outlets, and increase email captures. They're also great tools for your teams to collect guest data at check in.
This campaign by The Dutch in The Netherlands is a great example. It incentivized guests with a complimentary drink they could get at the bar with a secret code. This tactic helps make guests feel exclusive.
Also, the hotel has specified which times the offer was available, which can be a great way to drive traffic to your outlets during slower times. If you're interested in creating innovative campaigns, this is a great example.
Subject line: Hi [GUEST FIRST NAME], we forgot something.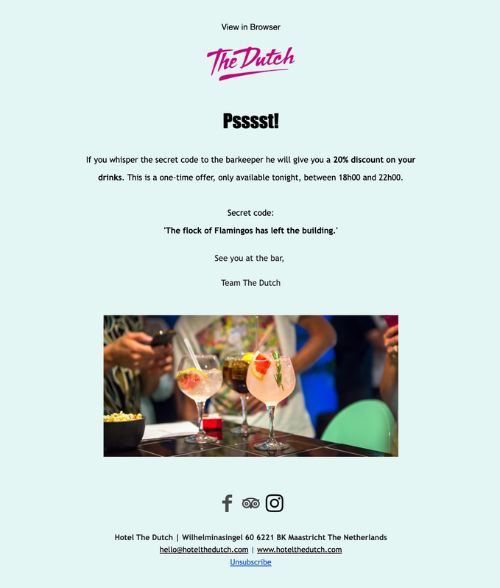 3. Include attractive offers from your property or location
It's essential to highlight various services that your property offers, but don't forget to also shine a spotlight on your location and everything there is to do.
Are there any museums, parks, or other attractions nearby? Any special occasions taking place during your guests' stays that they might enjoy? This information can help your guests create their travel itinerary while staying with you.
Check out the examples below to see how you can do this. Eden Hotels in the Netherlands didn't have to include much in their campaign — they simply added the iconic Amsterdam canal houses and boat, followed by tips and information that their guests might need.
Subject line: Welcome to Eden Hotels Amsterdam!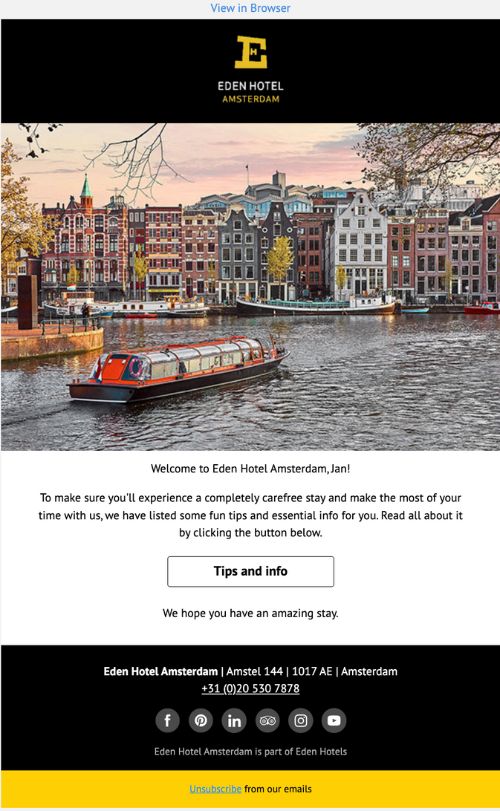 4. Showcase images from your property and facilities
It's true what they said about a picture being worth a thousand words, and you can use this to your advantage in your hotel welcome letter.
As highlighted in Revinate's Email Marketing Certification course, imagery is a key part of the anatomy of a successful email. In fact, a study from Vero that analyzed more than 5,000 email campaigns shows that campaigns with images have a 42% higher click-through rate compared to campaigns without. It's a simple yet effective way to showcase your property.
Here's an example in a hotel welcome email from The Down Hall Hotel & Spa in the UK. The email opens with a stunning image of one of their facilities. Keep in mind that you don't need to include images of guestrooms — guests receiving the welcome letter have already booked. It can also eliminate confusion should the room they're staying in be different from the image.
Subject line: [GUEST FIRST NAME] [GUEST LAST NAME], you've arrived!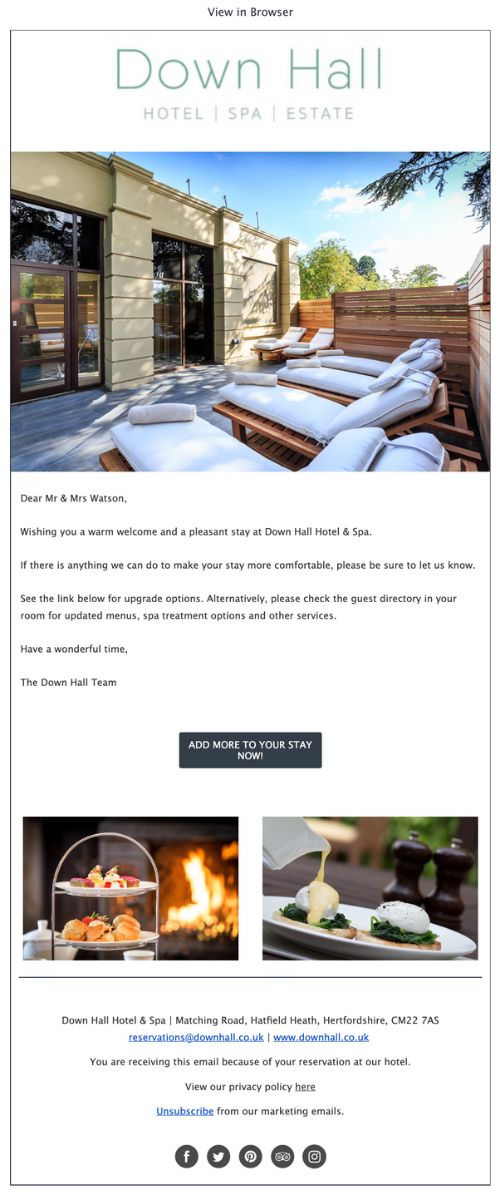 5. Invite guests to special events via your hotel welcome email
Do you have a party celebrating Lunar New Year? Or special packages at your restaurant for breaking fast during Ramadan?
Include that information in your hotel welcome email. It gives your guests a chance to celebrate a special occasion with you during their stays.
Below is an example from Ellenborough Park in the UK. During Jubilee weekend, they invite guests to a royal garden party. They sent this campaign based on who would be staying with them during Jubilee weekend.
Subject line: Celebrate the Platinum Jubilee at Ellenborough Park!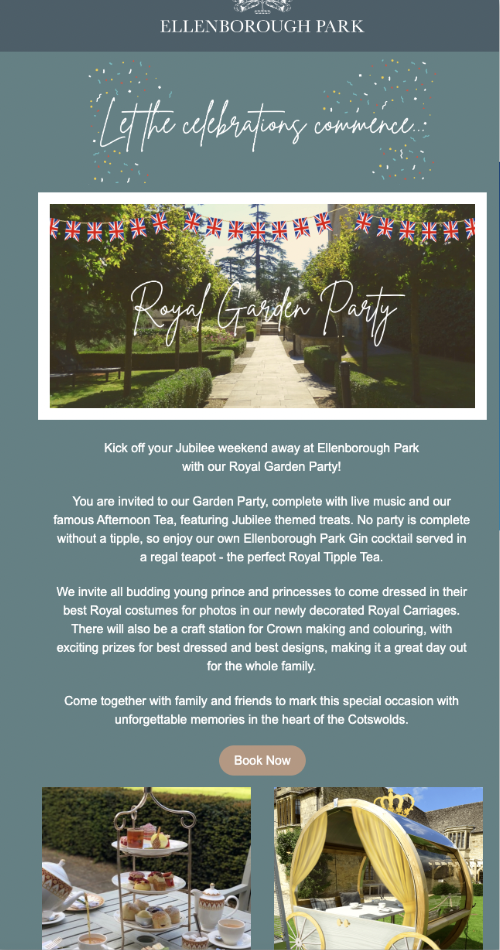 6. Promote relevant upsells
Finally, your hotel welcome letter (or a separate campaign) is a great way to include upsell offers that help to drive additional revenue. There are plenty of upsell offers that you can experiment with, including early check-in/late check-out — the top upsell offer in 2021.
The Serrano Hotel has a great example for a late check-out upsell campaign. It gives your guests extra time to enjoy their vacations.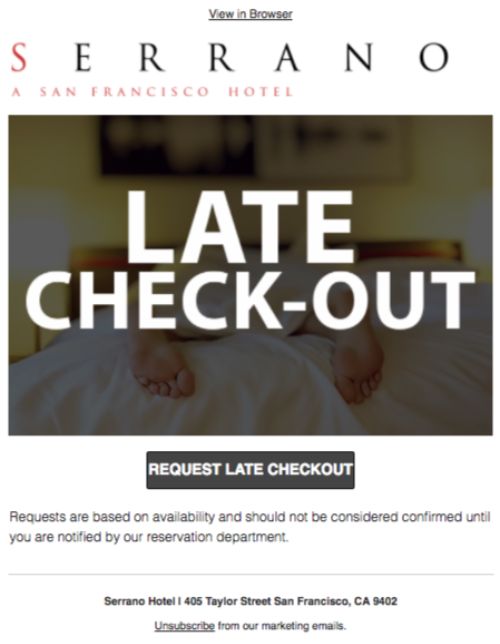 Start sending a better hotel welcome letter to your guests
As you can see, your hotel welcome letter is a great way to enhance your communication with guests and drive additional revenue. We hope these tips and examples will help you create your own messages.
If you want to learn more, we're here to help. For more email marketing best practices, check out our Email Marketing Certification for Hoteliers course.
Insights that drive results
Subscribe now to get the latest content