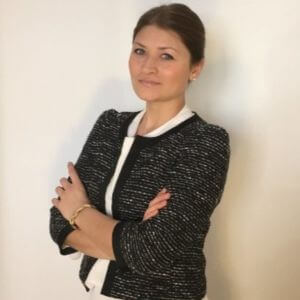 Meet the customer
"With Revinate, we finally have a solution for modern guest marketing that leverages data and provides the reporting and analytics we need to continually measure success and improve."
Madeleine Rohde
Head of Marketing
The brand
Based in Garrel, the MOA Group GmbH manages Mercure Hotel MOA Berlin and Hotel Heidegrund in Garrel, Lower Saxony. The Mercure Hotel is one of the biggest Accor franchisees in Germany and regularly pilots new technology and services with Accor.
The challenge
Head of Marketing Madeleine Rohde wasn't fully empowered to drive revenue at Mercure Hotel MOA Berlin and Hotel Heidegrund. While the hotels were both high-quality properties with great reputations, she didn't have the marketing tools at her disposal to make the most of the hotels' tremendous potential.
"Our email campaigns were developed using an antiquated email solution. Not only were we not able to leverage guest data for segmentation, but we didn't have reporting to track guest behavior or campaign results," Madeleine explains.
Similarly, the hotel staff were hungry for guest feedback, but didn't have a solution that would collect guest sentiment and put it in the hands of the right departments, so that they could hear, first-hand, what guests loved and where there was room for improvement.
Madeleine adds, "Quite simply, we had no way to operationalize feedback at the hotels, so we weren't leveraging it at all. There was lots of room for improvement, but we weren't on top of it."
The solution
In October 2021, the MOA Group GmbH became a Revinate customer. The group's switch to Mews for their PMS created the opportunity to implement Revinate, much to the delight of Madeleine, who was eager to take marketing to the next level at the hotels.
With Revinate Marketing, she finally has a platform that enables her to design and personalize campaigns based on guest segments. For leisure travelers, she focuses on the experiences available at the destination, sharing what's new, specials, and exclusive offers.
With average open rates at 50% and CTR at 13%, it's clear that the messages are resonating. For MICE segment campaigns, she focuses on delivering value for organizers. She shares what's new for meetings and provides resources for easy planning.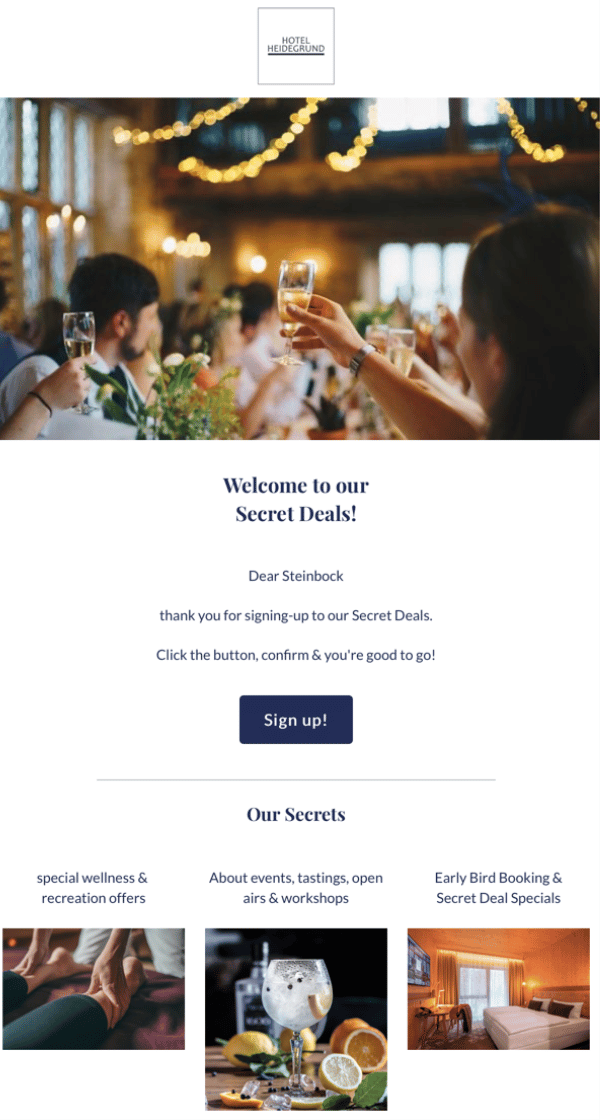 With Revinate Marketing, Madeleine can leverage data for segmentation, like booking window, to send emails at just the right time. With longer lead times, she knows that her job is to inspire guests, so that the hotels are top of mind when the time is right to book.
MOA Group GmbH leverages automation features in Revinate Marketing for an always-on revenue generation solution.
At Hotel Heidegrund, for example, four automated campaigns, Secret Deal (featured to the right), OTA Winback, Birthday, and Loyalty, have driven close to €100K, with no work involved after the initial setup. Similarly, upsell campaigns are successfully driving revenue by making it easy for guests to add services and amenities before they check-in.
With the ticketing system in Revinate Guest Feedback, the hotels can quickly send feedback to different departments that need to be aware of issues or bright spots in the guest experience.
Madeleine says, "Revinate doesn't just give us feedback. Rather, the solution provides an easy way for us to action that feedback to ensure it's used to improve the guest experience. In fact, reporting from Revinate is used to measure the group's OKR process."
The results
Today, MOA Group GmbH has a single solution for easily driving revenue, tracking marketing success, and improving the guest experience. And, with actionable reporting and ticketing systems, all stakeholders have the data and insights they need to measure success, learn from what's working, and improve.
Madeleine sums up her experience with Revinate, saying, "With Revinate Marketing and Guest Feedback, we can deliver a consistent guest journey, from booking to check-out and beyond. And, in the process, we have driven more revenue than we ever thought possible."
Key KPIs and successful strategies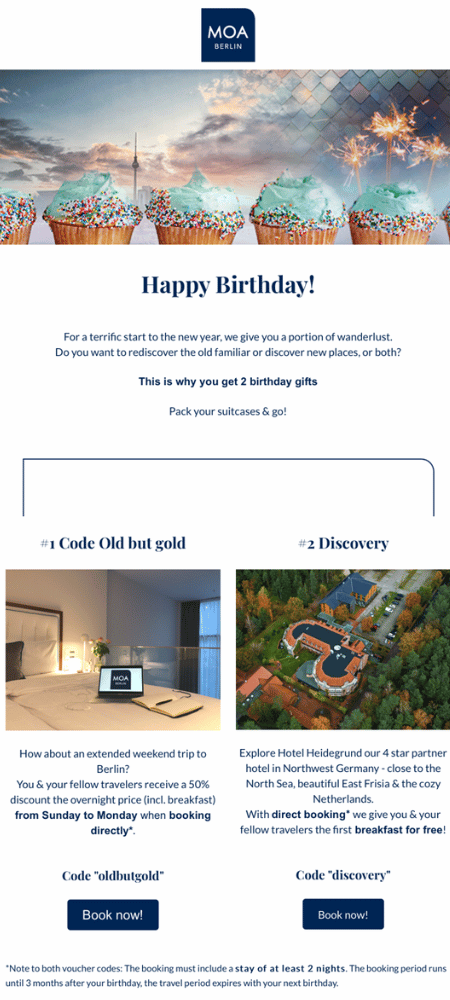 Mercure Hotel MOA Berlin
Average campaign revenue: €3,500
Average open rate: 34%
Average click through rate: 4%
Email Health: 60% in the last 6 months (+8% since go-live)
Upsells revenue all-time: €19,898
Automated campaigns:

OTA win-back: €14K
Birthday campaigns: €7K (featured to the right)
Hotel Heidegrund
Average campaign revenue: €3,000
Average open rate: 50%
Average click through rate: 13%
Email Health: 75% in the last 6 months (+10% since go-live)
Upsells revenue all-time: €17,272
Automated campaigns

Double opt-in secret deal: €48K
OTA win-back: €14K
Birthday campaigns: €30K