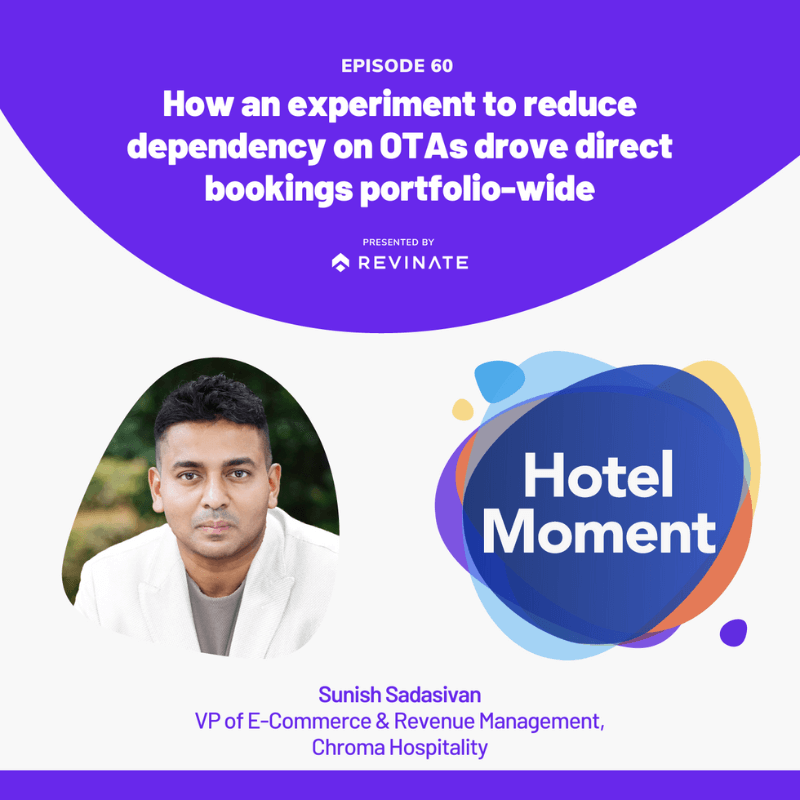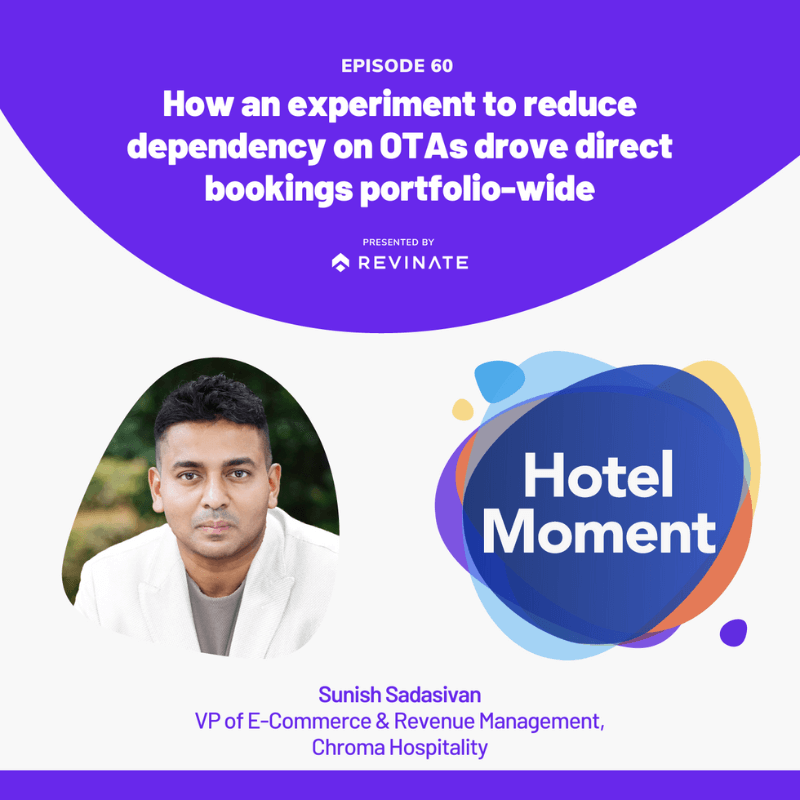 The Hotel Moment podcast — episode 60
How an experiment to reduce dependency on OTAs drove direct bookings portfolio-wide
In this week's episode of the Hotel Moment podcast, Karen Stephens, Revinate's CRO, speaks to Sunish Sadasivan, Vice President of E-Commerce & Revenue Management at Chroma Hospitality, as he shares the story of how their hotel reduced their reliance on OTAs for a period of time. Sadasivan dives into the results of the experiment and offers a refreshing perspective on the importance of direct bookings.
Tune in to learn how to pinpoint where you're losing the most business, pivot, and successfully compete in the online booking landscape.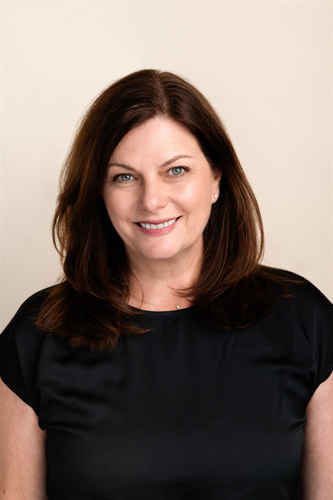 Meet your host
Karen Stephens is Revinate's Chief Revenue Officer and runs the sales, marketing, and customer success teams. She has more than 20 years of experience in the industry alone.
On the Hotel Moment podcast, Karen speaks with leaders to draw out their experiences and insights. She is also a Francophile and Prof K — a coach, a mentor, a guide to the people who work with her.
Transcript
Karen: Hello and welcome everyone to the Hotel Moment podcast. I'm your host, Karen Stephens, the Chief Revenue Officer of Revinate, and today I am delighted to be joined by Sunish, who is the Vice President of E-Commerce and Revenue Management at Chroma Hospitality. Welcome Sunish.
Sunish: Hey Karen, good morning.
Karen: Good morning. I am so excited to have you on the podcast today.
You know, a lot of hoteliers, we always aspire to move more and more bookings direct, and I cannot wait to share with our audience your story about how you did that 100% across the board. So, I cannot wait to dig in. It's big stuff. But before we do that, first of all, where are you calling in from Sunish? Where are you based?
Sunish: Well, I'm based out of the Philippines, Manila, and I've been living here for the last 12 years. It's a beautiful city to live in.
Karen: Wonderful. And can you tell us a little bit about Chroma Hospitality?
Sunish: Well, Chroma Hospitality is a homegrown Filipino brand of hotels. It's owned by 1 of the biggest conglomerates in the Philippines called Filinvest, who are into real estate and all that. And we are the hospitality arm of Filinvest. We manage around 7 to 8 properties in the Philippines at the moment and a few brands.
One is our 5-star brand, which is called Crimson Hotels and Resorts, under which we run a property, a city property in Alabang, which is part of Manila. Then we also run 2 resort properties, 1 in Cebu, and 1 in Boracay. Both are really nice 5-star resorts. Some of the, I think even celebrities in the country like to live here.
Even during the pandemic, almost every week there were celebrities staying at Crimson Boracay, as an example, right? And then we have a 3-slash 4-star brand, which is called the Quest Brand, under which we have another 4 properties. And we also manage a golf course in the Philippines, which is called Mimosa Golf Course.
I'm very proud to say that since 2016, when we took over this golf course, it's the first time and the only golf course in the Philippines to have its own app and booking engine for the golf course where people can go and book their own golf, book directly, and do everything on the app itself.
So it was all done in house by me and the team.
Karen: That is fantastic. You don't often hear about hotel companies doing their own technology build, so very cool. All right. Well, I'm excited to jump into the topic at hand, but before we do that, I have 5 questions I ask all my guests, so if you'll indulge me, I'll ask you a couple of questions to get us started.
Sunish: Sure. Absolutely.
Karen: Okay. So the first question, when did you start working in the industry and do you remember your very first day on the job?
Sunish: Yeah. It was, I think it was the year 2001 and I would say it, I was quite nervous. I didn't know what to expect. I was not sure whether the 3 years of hospitality management, and the trainings which I got, were enough to prepare me for that. But obviously, it's been a long journey, from that unsure day at the front desk, working as a front desk agent, 22 years back to where I am today.
I think it's a long journey and it's a fulfilled journey.
Karen: Wonderful. You know, it's so cool. We have so many guests that started their careers in the front desk or in the restaurant, all the way through. So it's exciting to have another person who started that journey. That's great. So the second question is, what is the most uplifting moment so far in your career?
Sunish: Well as a hotelier, especially in revenue management, and e-commerce, there could be many because there could be a moment where, we achieved the biggest revenue, for example, in the company, right? In 2018, we crossed 2 million dollars in online revenue, but in 2019 we even further crossed it and went beyond 3 million dollars, right?
Only in online revenue. But obviously, I think it was during the Covid period that it was that uplifting moment. Because what happened in 2020 is that our online revenues and everything, which you can really revenue manage as a Revenue Management Vice President, were all gone. So there were no opportunities for us.
And then suddenly in 2021, the company, which our main company Filinvest, they were launching their own REIT (Real Estate Investment Trust). So it is called FILREIT and it gave me an opportunity because they came to me as an expert and said, "Why don't you head this project for the whole digital marketing?"
So I created their website. I created all their ads. It was just a period of 3 months in which we had to do everything because within the next 60 days, the REIT was supposed to be launched. And there was a period of a 7-day window–within that 7 days, you have to make sure that it's all sold out, right? People are buying it. And we were able to reach 27 million people in the Philippines within a period of 30 days after the website was launched, and everything was launched. And the product got oversubscribed. And it was good because I thought that I could only do these things for hospitality because I've always been in hospitality.
I'm a hospitality guy, right? Who just went into tech at some time because of e-commerce.
Karen: Wow, that's so cool. What an interesting problem to have when you're oversold. You're wondering if it's even gonna work, and then the next thing you know, you're like, you know, 27 million people. Wow. That's very cool.
Okay, so this is more on a personal level. So what is your most striking experience so far in terms of a food experience, or a stay, or a holiday that you personally have taken in the Philippines or elsewhere?
Sunish: I guess in the last few years, I could have said India, but again, I've only experienced India when I was very young. I think in the many years of travel, especially in Southeast Asia, I would say Vietnam. Whether it's the food, the culture, whether it's having a simple drip coffee in the morning, or at 7 in the morning having a hot pho, which is the hot noodle soup, which really amazes you because every sip you take, you have a different herb you can smell. Or 3 in the morning after having drinks, going over to a 90-year-old woman who gives you a piece of bahn mi, which is the bread from Vietnam with different fillings in there and which tastes the most amazing in the world, right?
So, that's why I would say Vietnam, even today, because I've been living outside Vietnam for 13 years. 13 years back, I used to stay in Vietnam. In fact, my wife is even Vietnamese. My kids all carry Vietnamese passports. I have 3 boys. Even today, I think, every 3, 4 months, we go to Vietnam just to experience that again, right?
Karen: That's wonderful. You know, it's ironic. This week while we're recording this, members of our sales team are in Hanoi for a conference, and the first thing our Vice President of Sales said to me was, "The food lives up to the hype. It's amazing." So, that's gonna be on my list. That's fantastic.
Okay, now you alluded to this question before when you were talking about your luxury brands, the properties that you have, so the fourth question: have you met any celebrities while you've been in the trenches in hospitality?
Sunish: I'm not sure if for everybody, he's a celebrity, but for me, he is. Mr. Bill Heinecke. William Heinecke, the Founder and Chairman of Minor Hospitality, or the Minor Group, the one who heads Anantara and those, I used to work for him in the year 2007.
I was managing the Revenue Management for all of the Anantara and the Naladhu properties. There were 3 properties at that time. One of the most luxurious properties in Maldives at this time, and I was managing the Revenue Management for the 3 islands together. And over those times, I met him a few times.
He used to come in his private helicopters from Thailand or from Sri Lanka. Because one of his partners, Mr. Rajakarier is Sri Lankan as well. So why I would say he is a celebrity—the way he carries himself, and the story he has, which really inspires me as a hotelier, right? Because him coming in the 1960s to Thailand, with $5,000 in his pocket, starting an office cleaning company as American, cleaning up the offices by himself, and by 1976 or 79, he started The Minor International Group with a few hotels. And today he has more than 100 hotels.
I think he has a few other businesses as well under that. I think even ice cream brands and all that, go all over Thailand, you will see those, right? And now he's even spreading across with different brands. So that's why I would say that he's one of those guys.
I even remember today, it was Christmas Eve–December 24, 2007. And I just finished sending out my next 3 months forecast as a Revenue Manager for the group. I was sending out the 3 months forecast for the Maldives properties, and I thought that, "It's Christmas Eve," and almost everybody who used to work with me in the corporate office, the ones who used to receive it, including the GM and everyone, was either European or America, and they were all going to celebrate Christmas.
So I didn't expect that anyone will reply to me, but 7:30 that evening, I get within 3 minutes of sending it out, I get an email from Mr. Heinecke asking me why this date has this type of occupancy, why this date has this type of ADR, and what do you think is gonna happen in the next month with the forecast being below by 20%?
What are we going to do about that?
Karen: So attention to vission and attention to detail.
Sunish: Yes, absolutely. And add to that, it's Christmas Eve. And so, so you would really think that's a kind of vision which brings people to places, or brings companies to places.
Karen: To great places. Wow, that's a great one. That's a great one. Okay, last question. Who are the women at work you have been most inspired by?
Sunish: I guess, again, that I would go really to my current workplace because I would really say it'll be our President and Chairperson of Filinvest Group, which is Mrs. Josephine Gotianun Yap. She is heading a very big company because the company is into real estate. The company is into development, the company is into hospitality.
Actually, hospitality is like 3% of their entire business. Only. They even own banks.
They, we have East West Bank with almost, 400 or 500 branches within the Philippines already. Plus they're also into power generation, so they developed their own power, so they're one of the power developing companies in the Philippines as well.
So knowing her for the last 12 years, knowing even the Crimson Boracay, our most luxurious property in Boracay, which I was talking about. I still remember 12 years back coming into the company, and sitting with her in meetings from my first week at work talking about what her vision for Boracay is, how she was talking about at that time about Boracay, right?
Boracay's group of young people traveling together, and how she would like that Boracay people to come in. So that's why she wanted, for example, 2 bigger size of twin beds in the room instead of smaller twin beds. So that, 2 friends could share in case there are some coming in. And so that's just one example, right?
With her vision with FILREIT, putting the buildings into a REIT, a real estate investment trust, to make sure the revenue is always flowing into the business, especially in the periods when Covid came in, right? So I'm very proud to be in this company during a period like Covid because we did not have to, whether it was hospitality or whether it's any other fields, not a single field, we did not have to really ask anybody to be out of the company.
For example, hospitality was the most affected one. So what happened is that even in our case, from Chroma, for example, I had to just send some of my team members over to other parts of Filinvest, right? But they made sure that not a single person was losing their job. And that's why I think it's very important to have someone like Mrs. Josephine Gotianun to be in that leadership to make sure that we were safe, and we were taken care of. And we never felt that we would be not saved during a period like that.
Even 2020, December 2020, I think 1 thing was that, Covid was affecting us, and the business was not there. There was a little bit of business which came to our properties in December because a lot of locals wanted to travel at that time. Fortunately, the Covid during that time was a bit controlled in the country, so at least domestic-wise, you could travel with the test and all that.
So at Crimson Mactan, which is another one of our resort properties, we had this, a lot of people coming and staying over and all that. And that is the night, it was the 17th of December I think, or the 16th of December 2020 that, we had 1 of the biggest typhoons in the country, and that typhoon destroyed the resort—80%.
Even my country manager, my boss, James, wanted to go. He was staying there with his family. And fortunately, he came out of his villa, which was right on the edge of the ocean, 5 minutes before the whole roof rolled down.
So it was so bad, and 70% of the resort went down. I still remember 4 o'clock in the morning that day, Mrs. Yap was calling me already on the phone. She was calling everybody in hospitality.
She was putting together people from the Filinvest side, which was her office side, right? All the communication people, she was setting them up so that they can help us to make sure that—because roads were closed, going to the resort, everything was closed, but she was there making sure that everything is well coordinated.
She sent people over. She was coordinating all of these things by herself. So you could see someone with that big position — she's someone who's even bigger than the CEO of a big company, the chairperson, and she's having that responsibility. I think that's where I salute her as a woman, and I'm very proud that we have a woman head who is managing this company, right?
Right from the top.
Karen: Wonderful. Wow. She just sounds like a powerhouse, so, and a compassionate powerhouse at that. So that is, that's a fantastic answer. Okay. Let's switch gears a little bit here and let's talk about the competitive booking landscape. So in your role, you're focused primarily on maximizing revenue, of course, but can you paint a picture for me from your point of view of what the environment is like today?
We're post Covid today, finally. How do you feel about the competitive booking landscape?
Sunish: I think we have seen a much better picture over the last 12 months because, 2020, we would always talk about that. "Oh, this Covid is gonna be there for 6 months." 6 months, 6 months. It continued up to a stage where the Philippines was closed to business, both domestic as well as international. So the only kind of business as a hospitality company or hotels we could get was the quarantine business coming in, which was obviously not enough in terms of both ADR as well as occupancy wise to make sure that the hotel scale really runs at full GOP levels and all that.
But obviously the last 12 months to 18 months, we have seen things improving as the Philippines economy is improving. We have seen that Covid is very much under control. We, over the last 6 to 9 months, I think, we haven't worn any masks in the public or anywhere else, right?
But in terms of the business, I think, we have seen that the domestic business has continued to be very strong. And over the last 6 months there is international business starting to come in.
But if I look at the picture over the last 4 months, I think we could say we are at a level of 60% to 65% of where we were in 2019.
But again, 19. 19, if you go back, 2019 was the best year for most of the hotels in Southeast Asia, not only for the Philippines. For us, obviously, it was the best year for us as a hotel group, so if we say that we have reached 80% already, that means we are already at a very good stage. We are already at 2018 levels, which are very good.
So in terms of the market we would say we are already seeing that most of the wholesalers have started giving back their rates to the online.
So that has started again, which means that there is demand already out there. We are also seeing that demand has been mostly taken over by the OTAs because OTAs are becoming strong again.
There's a lot of advertisement dollars, which have been put into by both Expedia, Agoda, and Booking.com. So obviously if you look at that, yes, the demand business is coming back. So everybody is starting to be in a competitive way already. All the hoteliers have started to put in their ad money already.
So I can see that everywhere, even for us. I think we have started putting in the ad money already for all of our hotels. At almost 100% of where we were in 2019.
Karen: Okay. So you mentioned something, I assume most of our listeners are hoteliers, or know something about hospitality, but you mentioned a little nugget in there about wholesalers making rates available online. So can you just give the 30-second description of what the issue is and why that's a problem for hoteliers?
Sunish: I think it started with metasearch engines. Everybody has to understand what is metasearch, because when you talk about metasearch, many years back when there were only hotels and OTAs, it was much easier. Because you would look at 5, 6, 7, 8, 10 OTAs and you can already compare and say, "Okay, this is where my rates are. These are all my rates."
But around 2016, 2017, metasearch became very prominent. So metasearch are people like, Kayak people like HotelsCombined, Wego, and all that. Even Google has become a metasearch almost now. And one of the main things which they do is that they take their rates from thousands of sources. And this could, anybody who has an API connectivity to one of the big agents and one of the big metasearch engines will be able to take their rates, whether it's contracted, a travel agency rate, whether it's an OTA rate, doesn't matter.
So for example, your contractor rate will be $70. Your online rate is $120. Does not matter because somebody could be taking the contractor rate given to the wholesaler and selling it to one of these agents who has a big API connectivity to one of the metasearch engines. And there you go. Your rates are gonna appear at $80, $90, versus your online rate on your brand website at $120 on Booking.com, Agoda, or anywhere else.
Everybody's gonna see that big disparity, right?
So when did it become bigger? It became bigger from 2019 onwards. These big agents like OTAs, like Expedia, Agoda, Booking.com, they said they're losing all their direct business to these metasearch engines. So they were putting direct connectivity as well, and nobody was buying them.
They were losing out. So what they did, they started buying from the wholesalers.
So if you think about all the bigger wholesalers in the picture, which is Hotelbeds, GTA, who has also become Hotelbeds, DOTW, Miki Travel, all of them are today having an API connectivity to Agoda, Expedia, Booking.com, everybody.
So today you don't know where your rates have been sold.
Karen: Right. And I think that's the crux of the issue because those wholesaler rates go out and they're resold, unbundled, repackaged, and sold on different APIs. Of course, you have to have parity clauses, and all of your contracts if you wanna distribute online, you have to maintain parity with your own website.
You're not even in parity with your own website against the vendors who are telling you to be in parity. So it really has become a spaghetti junction of a mess, and I think a lot of hoteliers feel that pain no matter what market they're in. So tell us, what was your approach to kind of unwinding that? It sounded like you started with 1 property, but please take our listeners through how your approach was to kind of combat that issue.
Sunish: Sure. Absolutely. Well, I'll start with 2019 because that's when it really started becoming very big for us because we started seeing our online revenues growing by huge percentages. So 1 thing which we were seeing was that, even though the numbers are growing, the profitability was not growing because we were giving big amounts out there as commissions.
Commissions were big in Philippine pesos. We were paying millions every month in commissions. And when we look also at the offline picture, we were seeing that offline agents were also growing with that. And we were saying, how are offline agents growing when you look at the overall Philippines distribution? It's mostly online, which has been distributed. So, which means that most of that business, which has been purchased on an online platform. So why is it that offline is also growing by exponential numbers? And then we started doing more and more test bookings. I created in 2019 a department under e-commerce, which was called the disparity department.
So the disparity department, I had 2 people—1 supervisor, 1 agent working in that, to make sure that they could check on different IP addresses. They were given all the tools, and the only thing they do for all of our 6, 7 properties is sit down there and make sure that wherever they see parity, either they take screenshots or they can do test bookings together with me.
So I'll help them to do the test booking with my own credit cards, and then making sure that we take it forward to both the sales team as well as to OTAs who are connectors. So that was 1 thing for 2020. With all those things happening, we had to close down the parity divide.
And obviously 2021, we started seeing that the business was slowly coming in, and by 2022, the 1st quarter, the business started to come in very strongly, especially from the domestic market. But then we started also seeing that some of our markets where they have Chinese rates given to agents, those Chinese rates are starting to produce already.
And the sales team was saying, "Oh my, Chinese agents are producing this much, that much!" I'm like, "Where is your Chinese agent producing from? When the, all these customers who are coming in are Filipinos? Why? Why are the Chinese agents selling to them?"
So I went to some of these Chinese agent sites and started doing test bookings. And these, all these bookings started coming out. As you know, already, it's all wholesalers. It's a big mess, right?
So 1 day, I could not take it anymore because you see a disparity from Agoda, and then you send the screenshots to Agoda and say, "Why? Why are you selling this rate? You have not been given this rate. You should be selling at this pricing, because I give you this pricing. You're selling 10% cheaper than that." "Oh, that's because Booking.com is selling at this price." I go to Booking.com and ask them, "Why are you selling at this price?" They say, "Oh, because Expedia is selling this price."
To Expedia, ask them, "Why are you selling this price?" "Well, that's because Agoda is selling that price." So they were all putting it on each other. So 1 day we said to each other, we took a collective decision in the corporate office, only at the revenue management and e-commerce level, we did not inform anybody else.
We said, "Let's do this. This is the hotel where we exceed the most parity. Close all channels, 1 after the other based on 1-strike policy."
So pre-Covid we used to do a 3-strike policy.  3-strike policy was, number 1, you send them a small email with screenshots and all that. Number 2, send them a warning letter. Number 3, close them out for 30 days. But in this case, I said, "Everybody, no need to say send warnings. Do a test booking if Agoda, Expedia, or anybody has that problem, close them. Close them."
So 1-strike we started closing. The number 1 to close was I think Booking.com. Number 2 was Expedia. fortunately, most of the bigger wholesalers, the ones who distribute like Hotelbeds, GTA, Miki Travel, DOTW, all these guys are also managed by my central e-commerce team.
Because in 2017 when all these problems started, the test bookings, most of those bookings were coming from there. So we took all of that from the sales teams and put it under the 1 umbrella, so we were able to close all of them. I think within a period of 6 days of that week, we started it on a Monday, by Friday evening, I think, or Saturday morning we were, we closed out every online channel, which was there.
Now what happened with that? I'm sure you're gonna ask me —
Karen: That's the question.
Cause a lot of hoteliers are thinking, "Man, if I closed all of my e-commerce channels, if I closed all of my OTAs, Oh my gosh." So tell us what happened.
Sunish: Yeah. Yeah. I know at the Direct Booking Summit, DBS, I showed them, step by step what happened, right? I think it's a podcast, so it'll be difficult for me to show all that, but I'll just keep the basic idea of what happened over that first week.
I think from the time we closed Booking.com to the end of that, I think we lost close to 65 to 70% of our online revenue for that week.
So even our brand business, which was, I think at that time, our brand was doing 40% of the total online revenue for that hotel, and rest of the 60% was coming from the OTAs. The brand went down to 28% or even more. So obviously we were saying that even the brand went down.
And then 2nd week we started that, the brand started to go up. Brands started to go up to 38, 40%. By week 2, so that means we, we got back that demand. But there you start seeing that, that Billboard Effect, right? Because that's where I also tell everybody in the group as well as any hoteliers, that at the end of the day, as an independent hotel company, or even someone who's running smaller hotels, you cannot manage to be without that distribution.
You still need the OTAs, because you need that Billboard Effect. Because what happens is that when people look for, you look for, let's say hotels in Boracay, and then they look at all the hotels, and then they see 2 interesting hotels, and 1 of them is us, for example. They go to TripAdvisor and check it out.
Then after that, they will go to your own website and check it out whether you are running a special promotion or something like that.
And if they don't find anything good there, that is a time they may go back and book on their best channel, which could be anything, right? So that's why you need the Billboard Effect.
So I know by the end of the 2nd week, on the last day of the 2nd week, on that Saturday, we almost reached 50% of the total online business. The 3rd week when we closed entire everything, we reached almost 70% of the online revenue we got back, and everything of that 70% came on our own brand website, which also meant that we had to also increase our ads.
So we had to make sure that our Google ads, our Facebook ads, our Instagram ads, everything was at its maximum.
So that gave us the picture that if you are able to penetrate in your ads, make sure that people are able to see your hotel when they're looking for it. They are able to do retargeting to them.
Then in that case, you have a chance to get that business. That's number 1.
Number 2, obviously, we did a study, right? And I think it's a study also done by people that like trips and all that. And it's something which was found is that 50 to 60% of the business, which is undercut. That means every time somebody looks for your hotel, and then they see a rate undercut, 60% of the time that undercut is between 5 to 7% only.
So then I started looking at it like this. "Why not make sure that your brand business, brand website is always at 5 to 7% gap to all the OTAs?" So automatically give the OTAs 5 to 7% higher rates, and keep your brand at that level. So automatically 60% of your major problem, you're able to resolve it immediately. That was number 1.
Number 2, which is something which I did not know until 2022, I learned it recently, is that you cannot look at every disparity as same. The reason why I say it, when there is a disparity on a Agoda, when there's a disparity on Expedia versus Booking.com, you have to look at each one of them in a different way because you have to see when you get the most disparity on Booking.com, is that the time that you lose the most business on direct, or is it when on Expedia or on Agoda?
So after that study we found out that, for example, when Trip.com or Agoda was showing disparity, same percentage of disparity versus Booking.com, Booking.com, if there's a disparity, there's a 80% chance that your direct business will be affected.
Karen: Interesting.
Sunish: But when it's on Trip.com and Agoda, it's only I think 30 or 40%.
Karen: So that has to do with website traffic, right? That has to do with eyes. Is that your assumption there?
Sunish: I think it's got to do with which one of these agents has the most trust with the consumers.
Karen: Okay. There you go. So, yeah. Okay.
Sunish: Yes.
Karen: That makes sense. So I'm curious, you said that you increased your marketing spend, so in fact you shifted the cost of sale, right? You went away from commissions and you decided to move that over into more of a direct marketing, which nowadays, Google, Facebook, Instagram, these are channels that, you know, even 10 years ago might not have been that effective, right? The OTA was really the only show in town. and of course, Billboard Effect was huge then. Now I think less so. I definitely understand what you're saying, but I'm curious of how that stacked up that increased marketing spend stacked up.
As compared to the commissions that you were paying before, was it about the same? Was it less? Like, what was your experience there?
Sunish: I would say it's around only 40 to 50% of the total spend on the commissions before that.
Karen: And when you're talking about millions in commissions, that's significant.
Sunish: Absolutely. Absolutely. It's significant because yes, if especially if you are running 1 of the luxury properties, I would say that in some of our luxury properties, we could do on Google search and display ads, we could do 30 times our ROI. So every 100 dollars spent, you could make $3,000.
It becomes more difficult for us in smaller properties with a smaller ADR.
So obviously to make that balance out, especially if you're running a group automatically. You have to really balance it out in such a way that you cannot go overboard with properties where the ADR is very low. But with properties where your is very high, the more direct business you can get, the better.
There's some hotels where our single booking, 1 booking could be $1000, sometimes even $2,000. If your $2,000 booking, you're paying 15%, that's the lowest you can say, right? 15% commission.
That's $300 you spend on commissions. Do you think you need $300 to generate that one booking online?
Karen: It's crazy, you know, so we, Revinate, obviously has an email marketing CRM platform and I know, I'm not sure if you use the CRM, but the point I was gonna make is that, our most savvy hotel groups use the guest data that they have in their own CRM to find lookalike bookers across Facebook and Instagram.
So these are folks that you already know of, you already know their preference,  and that's just one way, you know, there's a lot of ways to skin a cat and getting those direct bookings. But that was 1 of the more clever things that we've seen because, you know, it's a flat, it's a flat fee for the platform.
It's not commission based, so you can get more and more creative. but it's definitely very curious, particularly with high ADRs of how expensive the one booking can be.
Sunish: Yeah, I agree with you.
Karen: Yep. So any last comments? It sounds like what I'm taking from you is if you're gonna do something like this, you have to be patient, you have to be brave and be patient.
You have to be able to ride the waves. Are there any other pieces of advice that you would give to a hotelier that's sitting out there thinking, "You know, I think I might give this a try." One, one shot and you're out.
Sunish: Yeah, absolutely. I think the last thing I would really say is that which I believe in myself is that, always give your customers a reason to book direct.
Maybe I can end with one of my last trips, right?
I had a small family trip recently where I was staying for a few nights, and then I thought, "Next 2 nights, I will go and extend somewhere else."
So I went around the city, right? I walked around. There were some nice hotels nearby, some 4 stars, some 5 stars, some luxury ones. I went to all of them, right? I walked in as a walk-in and they said, "Oh tomorrow for 2 nights, I'm not looking for this suite or room, or floor room or something." And before I went in, right, I did not just walk in. I went online, I checked them out, and I also checked their rates on Agoda because Agoda is very prominent in that city. And then I went in and I asked them all, "So what's the rate?" All of their rates were at least 25 to 30% more expensive than what was on Agoda. And when I said to them, and almost everybody, I said to them like this at the front desk, "Oh, but I can buy this on Agoda." I showed them my phone at this price. "Oh, yes. If you are a member on Agoda you get a special price."
Karen: I know this is a podcast, so I wish people could see my face. It's like, wow. Driving loyalty to an OTA instead of to your own property while you're standing in the property?
Sunish: Yes. And the best part is I ended up booking my stay at Agoda for the extension nights. I went, and stayed there. They still treated me as a VIP. No need to be booking direct. Maybe if I had booked directly, maybe they would've let me open the champagne, but I don't know. But then, when I was checking out, they gimme the bill. I looked on top and just to see which company it was, where I booked from, and it was not a Agoda. It was a bank. So basically that rate did not even come from Agoda, it came from a bank.
Karen: So, and that owner probably ended up paying north of 30% on that booking between all, between the discount, the upgrade, the commission. So, there you go. All right. Well, hopefully the owners are not aware that you were there. Thanks so much, Sunish. This has been a very informative discussion.
So if our listeners are interested in learning more about Chroma hospitality, where should they go? What's the url?
Sunish: Well, they can go to www.chromahospitality.com.
Karen: Fantastic. Beautiful Properties in the Philippines. You heard it here first and book direct. Thank you so much for the discussion today. I loved it.
Sunish: Thanks Karen. Have a nice day.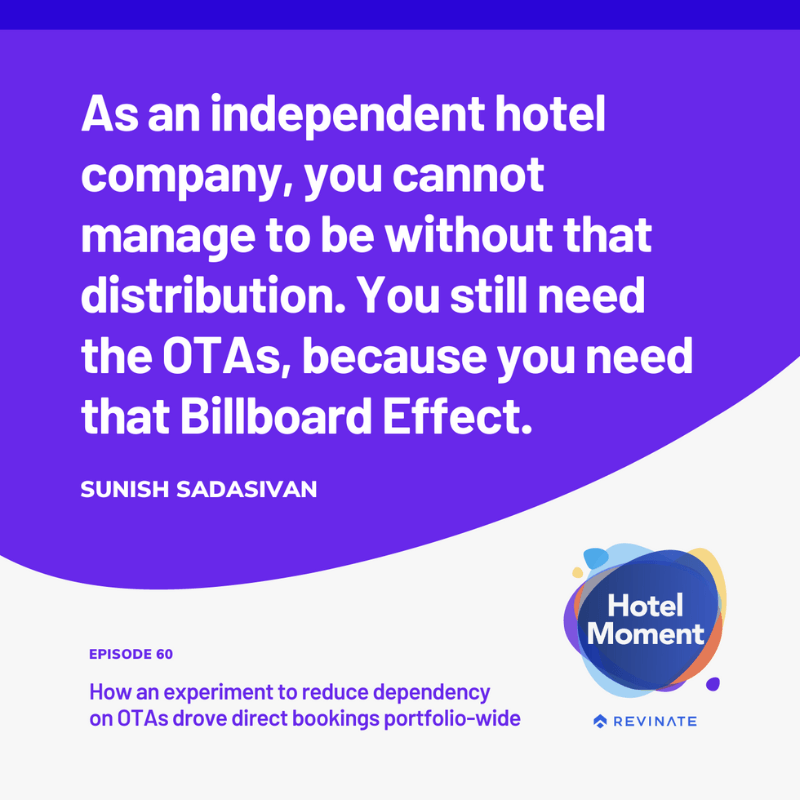 Do you need OTAs?
Make direct booking irresistible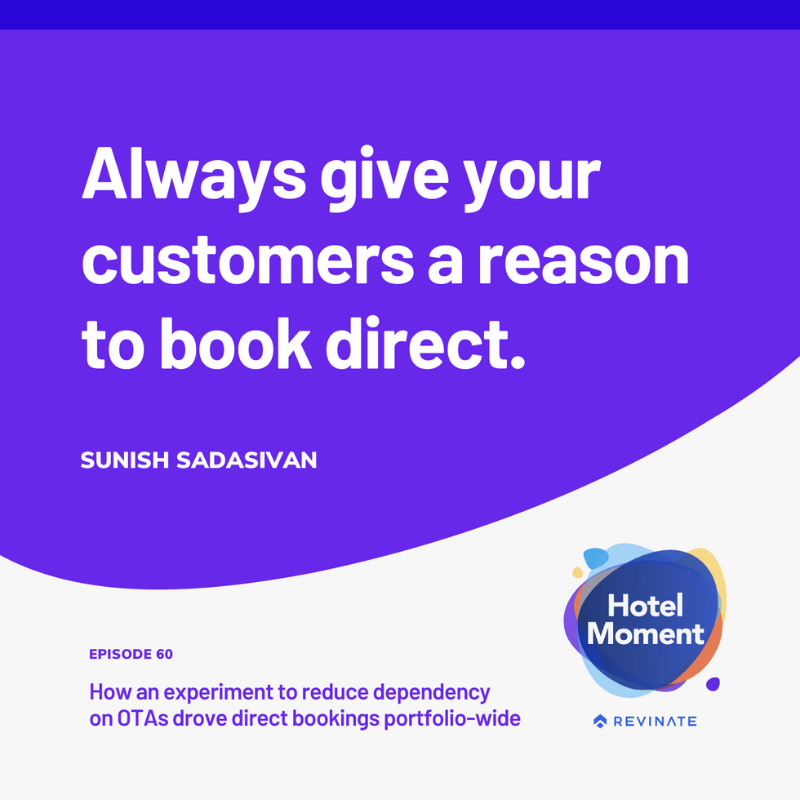 How are you increasing direct bookings?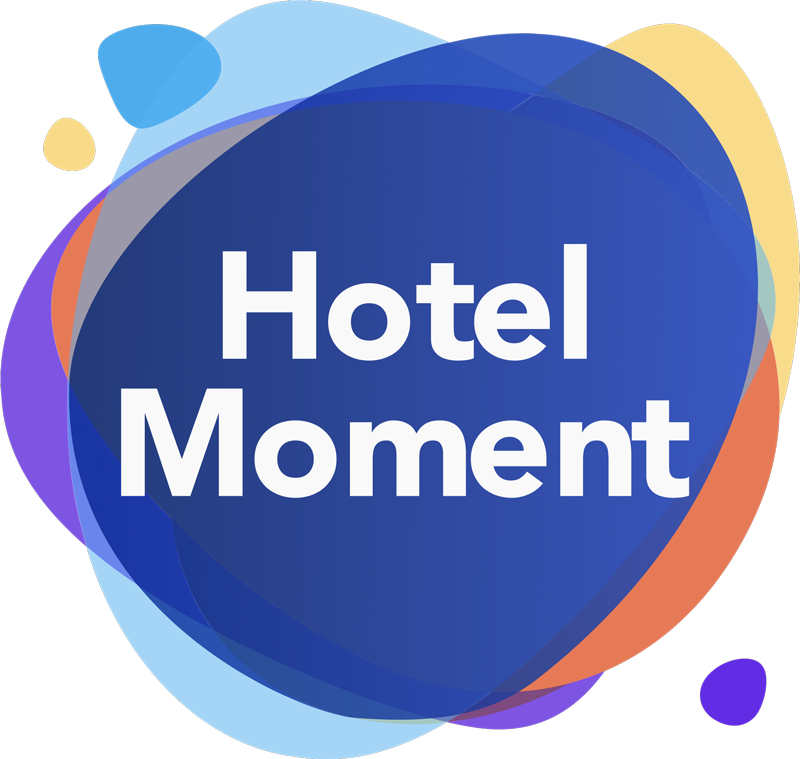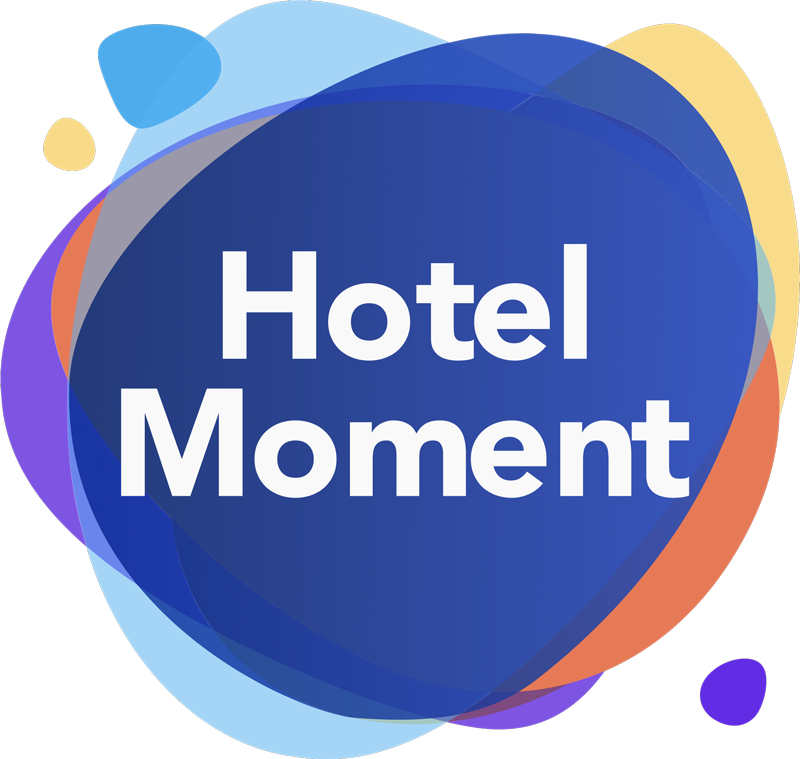 Be the first to know when a new episode drops