4 Lunar New Year campaign examples you need to see
The year of the Rabbit is just around the corner, and it's time to start getting ready for the celebration. Luckily, there are plenty of ways to do this with email campaigns.
But how do you stand out from the crowd? What kind of eye-catching subject line should you use? And what promotions should you include in your emails?
If you need some inspiration, we're here to help. Take a look at these 4 real-life Lunar New Year email marketing examples from our customers to kick off your campaign planning.
Lunar New Year email marketing examples from Revinate's APAC customers

Subject line: The Lunar New Year lions return, Summer EXP's last month and a preview of Valentine's Day
Preview text: A weekend of Celebration at the Windsor
Segment: Leisure guests who don't have blank email addresses and haven't unsubscribed
Why do we love this campaign?
Here's a great idea to stand out from the crowd: Combine your Lunar New Year email campaign with another offer. For example, Valentine's Day is not long after Lunar New Year. If your guests can't celebrate Lunar New Year with you, perhaps they can join you for Valentine's day as well.
The Windsor in Melbourne took this approach to not only inform their audience of the special arrangements that they had on-site for Lunar New Year, but also gave them a reminder that they could extend the celebration by booking a stay for Valentine's Day. And this campaign was cleverly targeted toward leisure guests.
This year, you have even more time to extend this type of offer as Lunar New Year isn't until January 22nd.
2. InterContinental Singapore (Singapore)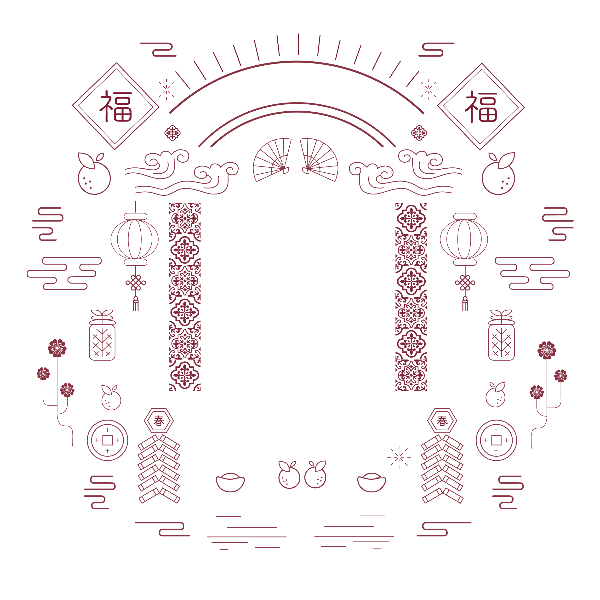 Subject line: Wishing You a Blissful Lunar Niu Year
Segment: Have made reservations
Why do we love this campaign?
Who doesn't love a gif? InterContinental in Singapore showed just how effective a bit of animation can be when they sent a simple, yet engaging Lunar New Year greeting to guests who had made reservations.
This is an example that you can easily follow. And if you leverage a solution like Revinate Marketing, you can browse unlimited interactive images or add your own to make sure the media elements are on-brand and eye-catching.

Subject line: FLASH SALE: $88 NETT PER NIGHT
Preview text: You do not want to miss out
Segment: 

Email #1, Marketing partners
Email #2, January Active Newsletters, double opt-in, guest location in Singapore, email domains aren't from OTAs
Why do we love this campaign? 
We've always emphasized the importance of segmentation, and Hotel G Singapore did an amazing job of using this tactic with their Lunar New Year campaign. They sent the campaign twice, both to highly segmented groups.
By using hyper-segmentation, Hotel G Singapore ensured their offers were sent to the right audience at the right time, which directly contributed to the campaign's success.
Remember, segmentation can improve the overall campaign performance by up to 533%. It's a good idea to keep this in mind for your future email campaigns.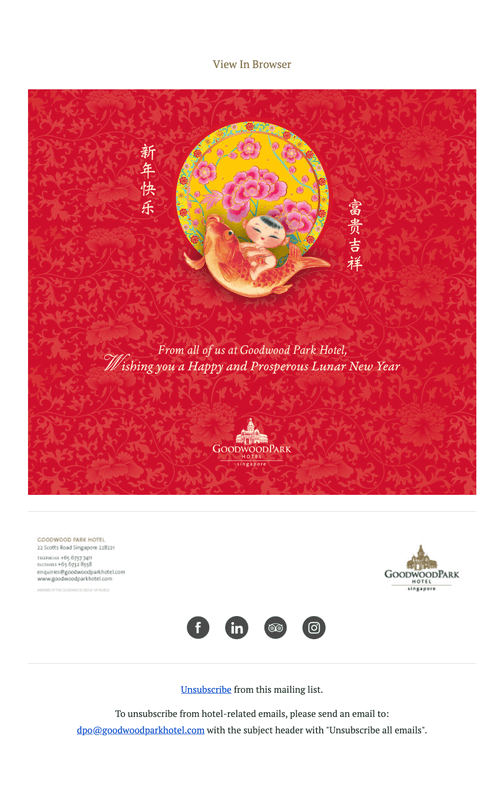 Subject line: Gong Xi Fa Cai!
Segment: Guests who've completed double opt-in who are newsletters subscribers and/or are on the marketing communications direct email list
Why do we love this campaign?
Here's another short and sweet example, this time by Goodwood Park Hotel. This campaign was crafted to reach a lot of people, not only those who made reservations, which is what InterContinental Singapore went for.
Sending your database list a virtual card is the easiest way to reach out to them during key dates such as Lunar New Year. You can also send a follow-up message with offers to those who open the first email, using that as a filter in your segmentation.
Start crafting your own Lunar New Year email campaigns
We hope these Lunar New Year email campaigns are helpful for you as you start crafting your own messages. Just remember to segment your database — and don't shy away from combining multiple offers.
If you'd like to see more campaign examples, including some more generic ones from our global customers, view our inspirations page. Want to learn more about how you can use email marketing to boost your direct bookings? Explore our marketing solutions.
Insights that drive results
Subscribe now to get the latest content