APAC hoteliers: Compare your hotel marketing and guest feedback performance against industry benchmarks
Revinate's annual benchmark report just launched. And this year, we're delivering it in a fresh format that includes an analysis of over 655 million emails and more than 30 million guest reviews from 2022.
Now, we've reviewed the data to bring you actionable insights to boost your direct revenue and provide excellent guest experiences.
With our 2023 benchmark report, you'll be able to evaluate your hotel marketing and reputation management performance, plus you can compare yourself with your peers. Here's a sneak peek covering 5 key takeaways to improve your hotel marketing and guest feedback game.
What you will see here:
1. APAC continued to have the strongest ratings of any region in 2022
Just like in 2021, APAC continued to be the region with the strongest average hotel rating in 2022. One country that stood out was the Maldives. It had an average hotel rating of 4.73. This micro-region was able to fare well during the pandemic by relying on its ultra-luxury resorts, which achieved average ratings of 4.8.
Interestingly, APAC hotels didn't receive as many guest reviews compared to the global average. The lone exception was New Zealand, which received an average of 67 reviews per month in 2022.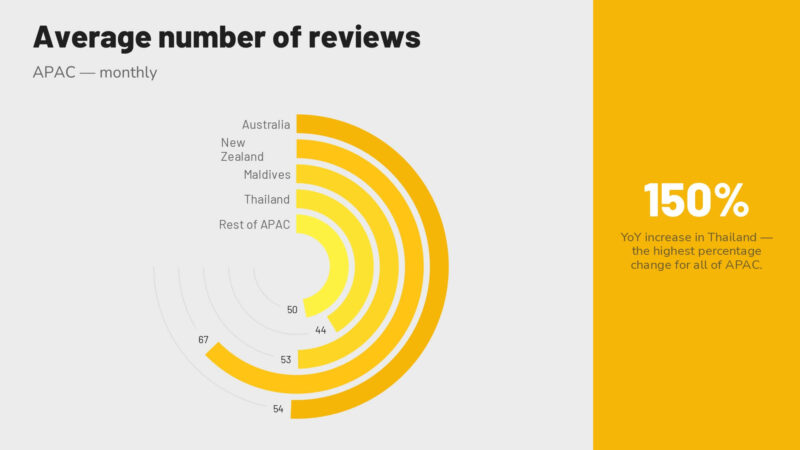 3. Responding to reviews is just as important as receiving them
Compared to other regions, APAC was the last to open its borders following the pandemic. Each micro-region had its own timeline. Several countries in Asia started opening their borders to international tourists pretty early on, such as the Maldives in July 2020 and Thailand in November 2021. They were shortly followed by Australia, and New Zealand started opening their borders in the middle of 2022. Lastly, China is expected to finally open their borders in 2023. Even so, there was an increase in the average number of reviews across every micro-region in APAC compared to 2021.
We all know reviews are crucial for both travelers and property owners, as they can directly impact booking decisions. But it's also important for hotels to respond to them. The Maldives did an exceptional job of this, achieving an average review response rate of 73.35% in 2022. Though Australia, New Zealand, and the "Rest of APAC" micro-regions didn't perform quite as well as the Maldives in terms of replying to reviews, the average review response rate was still higher than the global average response rate.
Many hoteliers are quick to take action by addressing negative reviews, but you shouldn't forget about the benefits of responding to positive reviews.
If you need some guidance on responding to reviews, check out our blog posts that will help you address negative reviews and acknowledge positive reviews.
Gathering reviews can also help you get the acknowledgment that you deserve. Crown Champa & Resorts in the Maldives took their guest feedback game to the next level by using Revinate Guest Feedback to read all reviews and insights from guests and keep tabs on them. The result? The property was awarded 3 Traveler's Choice Awards by Tripadvisor.
4. Automation is the ultimate answer to the continued staff shortage
Overall, there was a 107% increase in the number of emails from APAC hotels in 2022 compared to 2021, which you can see below. That's a lot of emails, but leveraging the right types of campaigns can ensure it's manageable.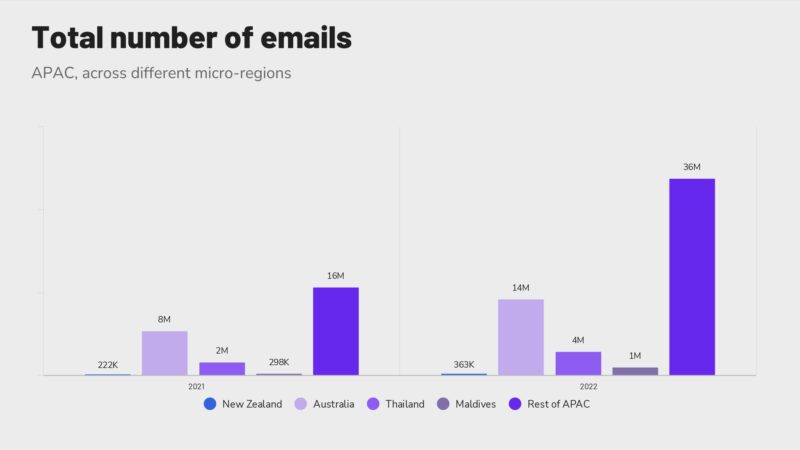 This is where automated campaigns come in. Because they're easy to set up and require very little maintenance, they can help you combat the effects of a staff shortage. Automated emails also perform incredibly well.
Automated campaigns had higher average open rates than one-time campaigns for all of APAC. This region was led by Australia, with a 62.5% average open rate and a 14.9.% average click-through rate. New Zealand was next, with a 60.7% average open rate and a 15.4% average click-through rate. However, the conversion rates showed room for improvement.
The key to improving your conversion rates is segmentation. Take a closer look at your guest data to create targeted emails, and then send them to specific segments. Your guests will appreciate more personalized messaging that fits their needs.
5. Sending more upsell offers drives additional revenue
In 2022, APAC hotels only accounted for 5% of global pre-arrival emails with upsells, which was a lost opportunity.
While it's easy to associate upsells with pushy sales tactics, this isn't always the case. When it's done right, upselling is actually a great way to drive direct revenue while providing guests with offers they'll appreciate.
Before including upsell offers, make sure that they're tailored to your customers' needs. It's important to make sure that they are personalized and relevant to them. Are your guests staying with you for a romantic Valentine's Day getaway? You could offer a romantic dinner at your hotel restaurant or a simple, yet stunning decoration with a bottle of wine in their room.
For more upsell best practices and examples, read our guide on upselling techniques for hotels.
6. Don't be afraid to experiment with email marketing
We've always championed sending personalized messaging, but there are other ways you can experiment with it, including A/B testing and drip campaigns. A/B testing is still rather new to APAC hotels. But it was used by New Zealand, Australia, the Maldives, and the "Rest of APAC" micro-regions.
With A/B testing, you can determine which variation of the 2 campaigns performs better. In many cases, that means the underperforming variation will bring the overall performance metrics down. But the better-performing version will inform you about what works, and you can apply what you learn to future campaigns.
The same thing goes for drip campaigns. The Maldives was the only micro-region with enough measurable data from using automated drip campaigns. Their automated pre-arrival campaigns had better average click-through rates and conversion rates than standard campaigns.
Given how successful automated drip campaigns are with the other regions, APAC hotels have a good opportunity to improve their conversion and engagement rates by using them. Don't be afraid to try experimenting with both A/B testing and drip campaigns. Doing so can help you find out what subject lines work best for your guests or what type of content to include in your communications as you prepare to welcome guests to your property.
Are you ready to enhance the guest experience and drive direct revenue?
We hope these takeaways from our 2023 benchmark report can help you to elevate your hotel marketing and guest feedback strategies. But this is just a taste. You can find much more in our new 2023 benchmark report.
If you want to learn more about how hotels like The Lancemore Group and The Slate boosted their direct revenue and drove delightful guest experiences, book a meeting with us today and learn more about our solutions.
Insights that drive results
Subscribe now to get the latest content