EMEA hoteliers: See how your hotel marketing and guest feedback performance compare to industry benchmarks
Revinate's annual benchmark report recently went live. And this year, it's packaged in an entirely new format that includes an analysis of more than 655 million emails and more than 30 million guest reviews from 2022.
Now that we've reviewed the data, we're ready to bring you actionable insights to boost your direct revenue and provide excellent guest experiences.
Our 2023 benchmark report will help you evaluate your hotel marketing and reputation management performance and compare yourself with your peers. Here's an inside look at 5 key takeaways to improve your hotel marketing and guest feedback game.
What you will see here
1. Making significant changes can impact your hotel rating
Average hotel ratings in EMEA were somewhat lower than for the rest of the world. But the highest average rating was led by ME/Africa at 4.26.
Why the lower ratings? Since 2021, gas and energy prices have skyrocketed. Those increases, coupled with a few other factors, are also affecting household expenses. In fact, the EMEA region's economy is expected to stall in 2023.
Some of these challenges are likely affecting average hotel ratings. The UK is one of the countries seeing this the most, as the rising energy costs were particularly notable there in 2022 — their average hotel rating of 3.98 reflected this. It's clear that this challenge has had an impact on hotel operations and guests' purchasing decisions.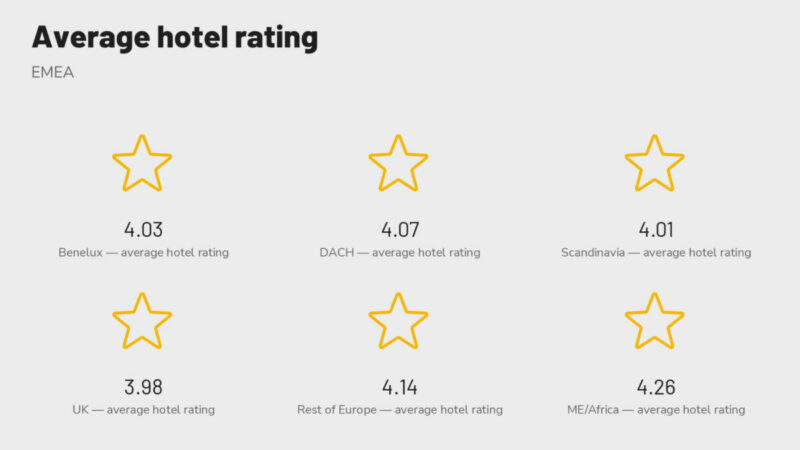 Many hotels will need to review their cost-saving strategies, but remember to be mindful of your guests' expectations and experiences. If there's anything we can learn from the pandemic, it's that being transparent with your guests and staff can take you a long way. Sending pre-arrival emails with a short and sweet message to your guests reminding them to turn off the lights and dial down the heat when they're not in use can help you cut costs without diminishing the guest experience.
2. Responding to reviews is just as important as receiving them
Even with the challenges of inflation and energy costs, Europe is expected to have the fastest recovery within the industry. This area saw more than 477 million international arrivals in January-September 2022, which was a remarkable 68% of total global arrivals. The Middle East is also expecting to return to pre-pandemic levels in the near future.
Even though EMEA is culturally diverse and consists of many micro-regions, it had a high average number of reviews in 2022. The micro-region that stood out was BENELUX, with an average of 101 reviews per month.
We all know that reviews are crucial, as they can directly impact booking decisions. But it's also important for hotels to respond to them, something EMEA could focus on more given only 2 micro-regions had an average response rate higher than the global average. Remember, your guests are now going to do more extensive research before choosing a property, especially knowing there may be some limitations or extra fees due to economic challenges.
While many hoteliers are quick to take action by addressing negative reviews, you shouldn't forget about the benefits of responding to positive reviews. If you need some guidance on responding to reviews, check out our blog posts that will help you address negative reviews and respond to positive reviews.
Gathering reviews can also help you gain the acknowledgment you deserve. For example, GCH Hotel Group, which has properties all over Belgium, Germany, and Austria, saw a 24% increase in review ratings by leveraging insights from Revinate Feedback. The hotel group renovated their hotel based on guests' suggestions, and the results paid off.
3. Automation helps combat industry challenges
Overall, automated campaigns performed better than one-time campaigns in EMEA. But most of the EMEA micro-regions outperformed the global averages for the open rates, click-through rates, and conversion rates for both one-time and automated campaigns. The UK really stood out from the pack when it came to automated campaigns, with a 64.1% average open rate, a 19.8% average click-through rate, and a 0.7% average conversion rate.
With the ongoing staff shortage within the industry, automation is a key solution. Automated campaigns are easy to set up — you can then run them in the background based on guests' information with very little maintenance.
As you incorporate automated campaigns, remember to keep an eye on the conversion rates. You can often improve them through segmentation. Take a closer look at your guest data to create targeted emails, and then send them to specific segments. Your guests will appreciate the personalized messaging that fits their needs.
4. Upsells directly contribute to additional revenue
In 2022, many EMEA micro-regions utilized emails with upsells to boost their revenue. And the "Rest of Europe" micro-region had the highest portion of pre-arrival emails with upsells. It's clear this micro-region knows just how valuable upsells can be, and they should keep up the great work this year.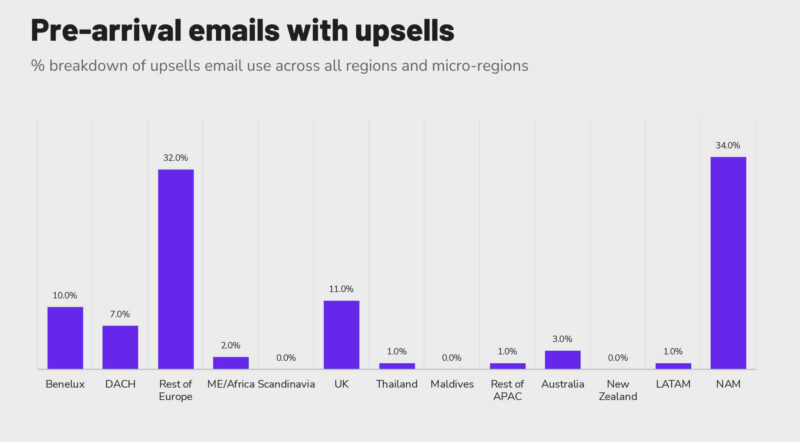 While it's easy to associate upsells with pushy sales tactics, this isn't always the case. When it's done right, upselling is actually a great way to drive direct revenue while providing guests with offers they'll actually appreciate.
But before including upsell offers, make sure that they're tailored to your guests' preferences. Are your guests staying with you for a Valentine's Day getaway? You could offer a romantic dinner at your hotel restaurant or a simple, yet stunning decoration with a bottle of wine in their room.
For more upsell best practices and examples, read our guide on upselling techniques for hotels.
5. Personalization and segmentation improve conversion rates
Thanks to personalization and segmentation, EMEA increased its average conversion rate from 0.3% in 2021 to 0.4% in 2022. The region with the highest conversion rate was Scandinavia, with 1.1%.
As previously mentioned, EMEA is a region with many cultural differences. This is where using hyper-segmentation can take you a long way. By segmenting your campaigns based on language, location, and guest preferences, you can send the right message to the right audience, which helps to increase conversion rates.
A great example is Landgoed de Holtweijde, in the Netherlands. The property sent out this campaign to invite guests to their region for the fall season. They sent it to their newsletter database and leveraged language filtering to hyper-segment the campaign. The same campaign was sent a few days later to those who didn't receive the first one. The result? A total of 376 room nights booked!
Are you ready to enhance the guest experience and drive direct revenue?
We hope these takeaways from our 2023 benchmark report can help you to elevate your hotel marketing and guest feedback strategies. But this is just a taste. You can find much more in our new 2023 benchmark report.
If you want to learn more about how hotels like IPP Hotels and iNua Collections boost their direct revenue and drive delightful guest experiences, book a meeting with us today to learn more about our solutions.
Insights that drive results
Subscribe now to get the latest content