What is first-party data and why is it important for hoteliers?
Before guests arrive at your hotel, they already have one clear expectation: to enjoy their stay. But each guest has their own needs and demands. How do you keep up with all of them while making sure your guests are satisfied? By simply getting to know them. The best way to do that at scale is with first-party data.
But what is first-party data? What makes it different from other types of data and why is it significant for you? In this blog, you will learn about first-party data and why you should start collecting and activating it.
What you will see here
What is first-party data?
First-party data is data that you acquired directly from your guests (and potential guests). This data has been collected by you directly from the people in your audience, and is therefore unique.
There are three main categories of data: first, second, and third-party. All three are obtained in distinct ways and have differing levels of accuracy, relevancy, and dependability.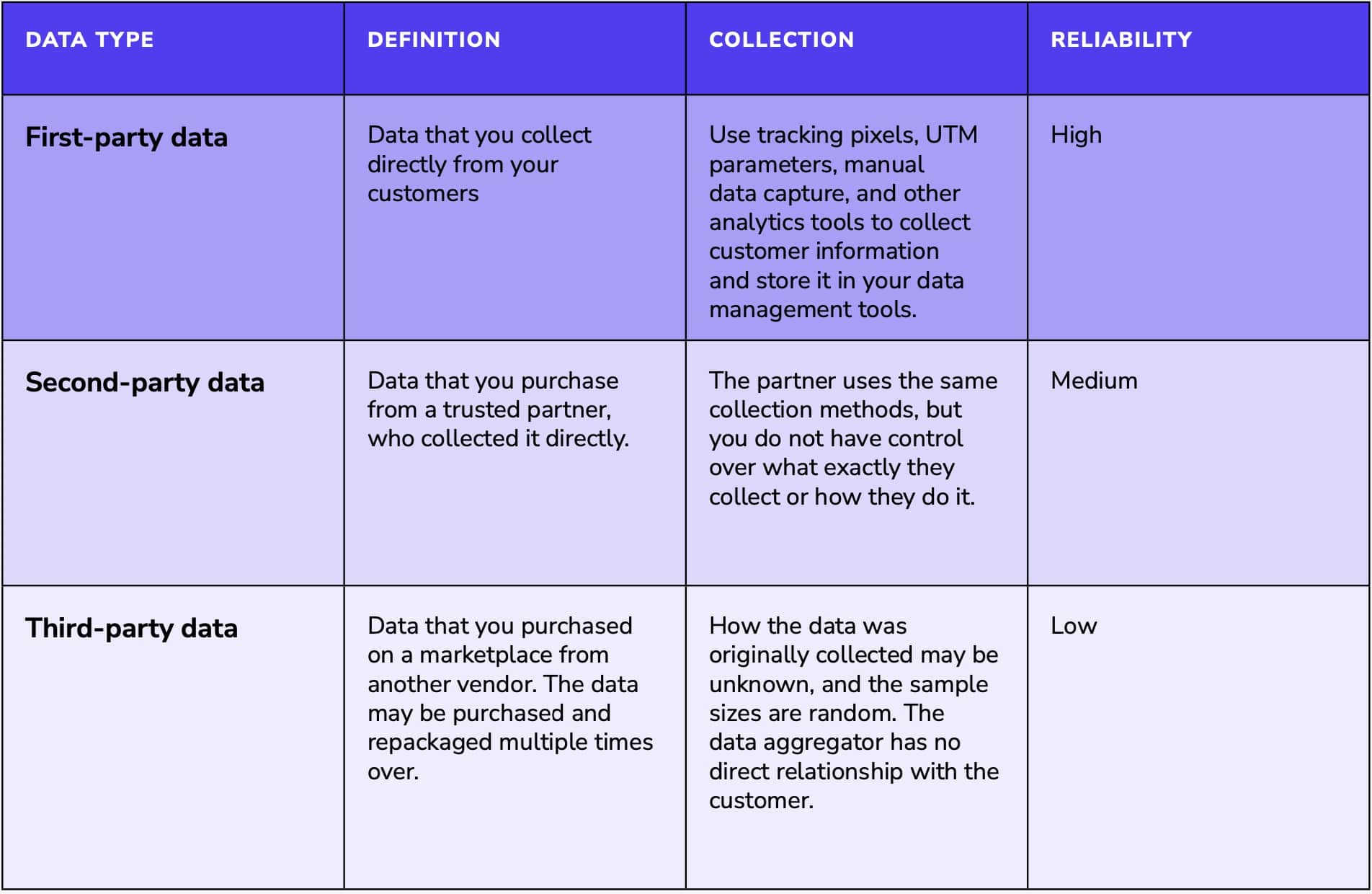 Third-party data may be out of date or incomplete, or it may not be relevant to your audience. Since first-party data comes straight from your customer base, it offers the most accurate and reliable picture of your guests' profiles. This translates into higher performing marketing campaigns.
According to the Boston Consulting Group, businesses can see a 2.9x revenue lift and a 1.5x increase in cost savings.
Examples of first-party data hotels can leverage
You already interact with lots of first-party throughout the guest journey. When collected and segmented, this data will help you create targeted offers. Even the most basic segmentation, like age and gender, can have a huge impact on your return on investment. By targeting and segmenting their campaigns, marketers can experience an ROI growth up to 760%.
Some common examples of first-party hotel guest data include:
Email addresses and contact information
Email capture is one of the most important piece of data to collect, as you need it to continuously send marketing communications to your guests
Demographic information
This includes, but is not limited to age, gender, location, and language
Stay data
Your guests' booking information. This includes, but is not limited to booking channels and dates, number of nights, purpose of stay, room type, and average room rate.
Guest preferences
Do your guests prefer a non-smoking room? Do they have food allergies? Or‌ do they want to include breakfast in their stay? These are only a few of the examples of guest preferences. Collecting guest preferences can be helpful in creating upsell offers.
Why first-party data is more important than ever
First-party data isn't new. But why is it important for you to get in the habit of collecting and activating them now?
For years, businesses have been able to rely on third-party data to send tailored messages to customers, giving them personalized offers and ads. In 2021, $22 Billion was spent on third-party data. This became the accepted practice due to cookies. Cookies are tiny files that websites save on web browsers, allowing them to keep track of what pages you view, where you click, and whether you've logged into the site or not.
However, many cookies — in particular, the third-party cookies used to collect third-party data — overreached and compromised consumers' data privacy. People have become more aware of their data rights and are pushing for more control, so well-known tech companies are taking steps to shield user privacy. Mozilla has already blocked third-party cookies and
Google and Apple are doing the same.
People aren't afraid to vote with their dollars: in fact, 77% of consumers said transparency around data use impacted their purchasing decisions.
Governments are stepping up as well. 137 out of 194 countries now have data protection laws in place — some notable ones include GDPR in the European Union and CCPA in California.
Under these regulations, your guests can provide and withdraw consent to their data usage at will. And they have the right to know how their data is being stored, processed, and used at all times.
But just because privacy standards are increasing, doesn't mean personalization isn't important. People still want to receive personalized offers.
With a first-party data strategy, you can balance the need to protect customer data privacy with your ability to create meaningful and relevant messaging with personalization.
How to generate more revenue with first-party data
Simply put, a first-party data strategy will help you earn more money. According to a survey by Sojern, 81% of hoteliers saw revenues lift after implementing their first-party data strategy. It also helps you deliver excellent guest experiences, with 57% of respondents in the same survey reporting increased guest satisfaction.
You can do it too. We have actionable advice and strategies to help you generate more revenue with first-party data collection and activation in our new guide, "The complete guide to first-party data for hoteliers." Get the guide here.
If you want to read more about hoteliers across the globe that leveraged first-party data to solve business challenges, take a look at EOS Hospitality, iNua Collection, and the Lancemore Group's success stories.
Insights that drive results
Subscribe now to get the latest content