3 excellent Black Friday campaign examples for hotels
They're coming! The best 2023 Black Friday offers and discounts are landing in your email inbox soon. Chances are you will find one or more offers that will draw your attention and encourage you to make a purchase.
Good news — many of your subscribers feel the same way, especially for hotel stays. If you haven't already begun drafting your own Black Friday email campaigns, we have three examples from real hoteliers to inspire you.
These samples will help you get your creative juices flowing, and aim for the results you're looking for. Take a look at the examples below and get your pens ready!
What you will see here
An inaugural Black Friday campaign by AutoCamp, US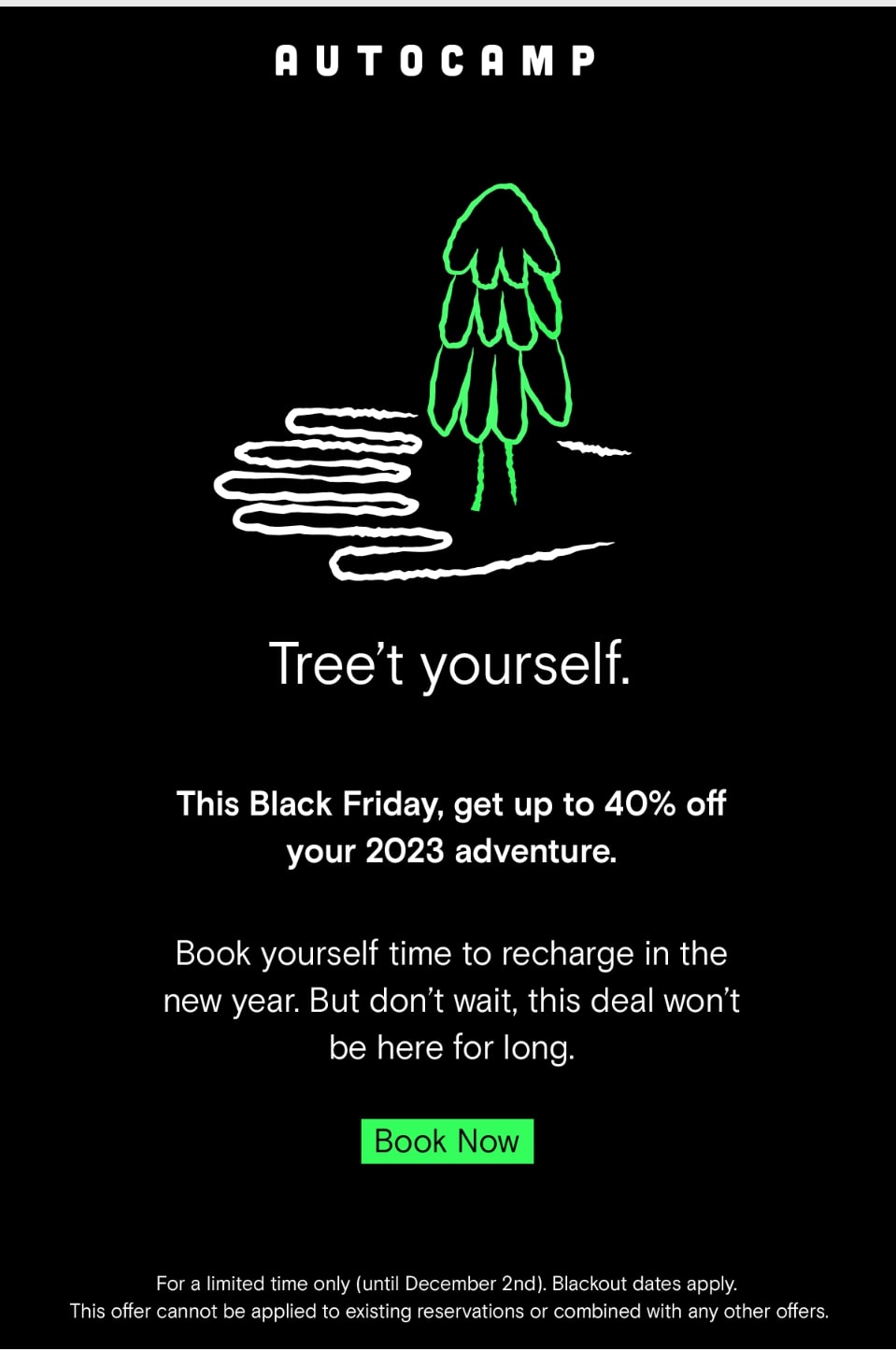 Subject line: It's Here: Our First-Ever Black Friday Offer
Why we love this campaign: Autocamp did a great job of generating excitement with this simple, yet attractive campaign. Isn't that tree graphic cute? Noting that it's their first-ever Black Friday offer in the subject line makes guests feel like they are in on a secret, and AutoCamp creates a sense of urgency by highlighting its limited-time nature.
AutoCamp included guests from multiple property databases, since Black Friday is a smart time to cross-sell. Introduce your guests to other properties in your group, and give them an offer they can't say no to.
Segments:
Reservation not made via OTA
Contacts are included in any property lists within the hotel group
Results:
Open rate: 48%
CTR: 4%
Room nights booked: 377
Getting ahead of the game with The Stafford London, UK

Subject line: Early Black Friday Offer at The Stafford London
Who says you need to wait until Black Friday to send out your Black Friday campaign? Take a look at the Stafford London. They sent out an early Black Friday campaign, and it paid off.
By launching this campaign, the Stafford London managed to get a jump on the competition during Black Friday, beating the rush of emails. Even though the campaign was sent out earlier than expected, it ran through the traditional shopping weekend dates and Cyber Monday. The Stafford London also highlighted their free cancelation policy, making it easy for guests to say "yes" to this deal.
Segments:
Reservation not made via OTA
Contacts are included in general, travel, corporate, or food and beverage list.
Results:
Open rate: 40%
CTR: 3%
Room nights booked: 283
Irresistible discounts from Cave Hotel & Golf Resort, UK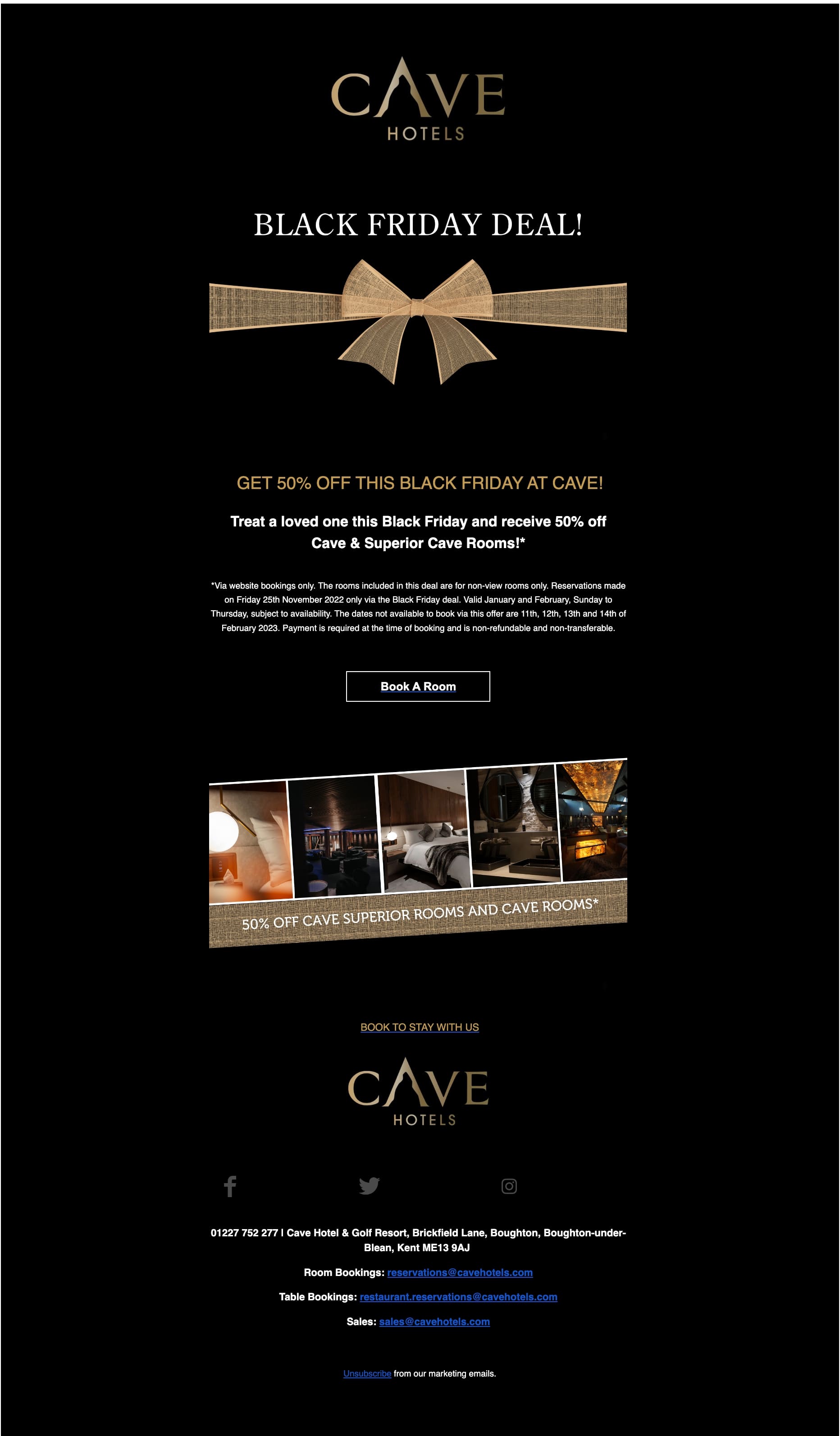 Subject line: 50% OFF AT CAVE THIS BLACK FRIDAY!
Everyone loves a discount. Save your best discounts for direct bookers, and you'll keep them coming back. In this campaign example, Cave Hotel & Golf Resort offered a major treat to their guests: 50% off Cave and Superior Cave rooms. And this offer can only be redeemed via their website.
In contrast to the previous promotion, this one was sent out only a few days before Black Friday to stress the importance of timing. You can still put together your Black Friday campaign and get in on the action. And short-running campaigns can create urgency, reminding guests that these offers won't be around forever.
Segment:
All subscribed list
Results:
Open rate: 42%
CTR: 7.6%
Room nights booked: 65
Are you ready to deliver results with your own Black Friday hotel email campaign?
We hope these Black Friday campaign examples have sparked your creativity and you're now ready to start writing your own. Don't be afraid to experiment with your offers and segments to find what works best for your property.
If you'd like to see some additional ideas, take a look at our webinar, "Mastering the holiday season for hoteliers: Winning strategies for Black Friday and beyond," hosted by Customer Success Manager Rhocelli Wright, and John Bollinger, Senior Deliverability Manager. It's available on-demand and is filled with even more examples, templates, and best practices. Or check out these other creative holiday email campaigns. If you're interested in learning more about how you can use email marketing to boost your direct bookings, explore our marketing solution.
Insights that drive results
Subscribe now to get the latest content