4 strategies to light up your hotel holiday email campaigns (with examples)
The holiday season is nearly upon us, a time of anticipation and excitement, magic and memories. It's also a time when your guests eagerly await exciting seasonal email offers to hit their inboxes. Your hotel holiday email campaigns offer more than just festive cheer, however — they can drive substantial website traffic and help you harness invaluable guest data.
When it comes to holiday marketing, Black Friday stands at the peak of the mountaintop, with 141 million emails sent in 2022. In addition, research reveals over two-thirds (68%) of holiday shoppers admit to a heightened focus on emails from businesses during the Christmas season. These facts underscore the immense possibilities hotel holiday email marketing provides during this season.
The challenge for hoteliers is that you're not simply competing with other accommodation providers, but also with an enticing array of other business promotions. The key to standing out from the crowd lies in achieving high email deliverability. And to maximize profitability, you also want to leverage your campaigns to drive direct revenue.
Below you'll find a cornucopia of strategies and real-life examples from Revinate's global customers. Use them as inspiration for your own campaigns, helping you pave the way for a holiday season that's not only merry and bright, but a revenue-boosting success.
What you will see here
Let your CTA be a guiding star
You want your subscribers to take action after reading your hotel holiday email, so you need to encourage them to do so with a compelling call to action (CTA). Think of a well-crafted CTA like a guiding star. It provides a clear pathway for your recipients to navigate, sending them straight to the ultimate destination: your hotel or resort.
Research shows email campaigns with clear CTAs have a high click-through rate (CTR) of approximately 3-5%. To achieve these higher rates, convey your message succinctly, ensuring that the desired action is unmistakable. Use power words and impactful language, including terms like "now" or "today" to ignite a sense of urgency and inspire immediate action.
Tailoring your CTAs to the user and the required action is equally important, with personalized CTAs performing 202% better than basic CTAs. Different segments of your audience have different needs, and crafting customized CTAs for these subsets can significantly boost your conversion rates.
Checklist for your CTA:
Keep it simple
Use power words to drive action
Personalize it according to your offers and audience
Make it prominent and easy to spot; don't be afraid to use contrasting colors
The campaign examples below all show clear use of effective CTAs.
Ring in the New Year with View Sydney
View Sydney, APAC, New Year's Campaign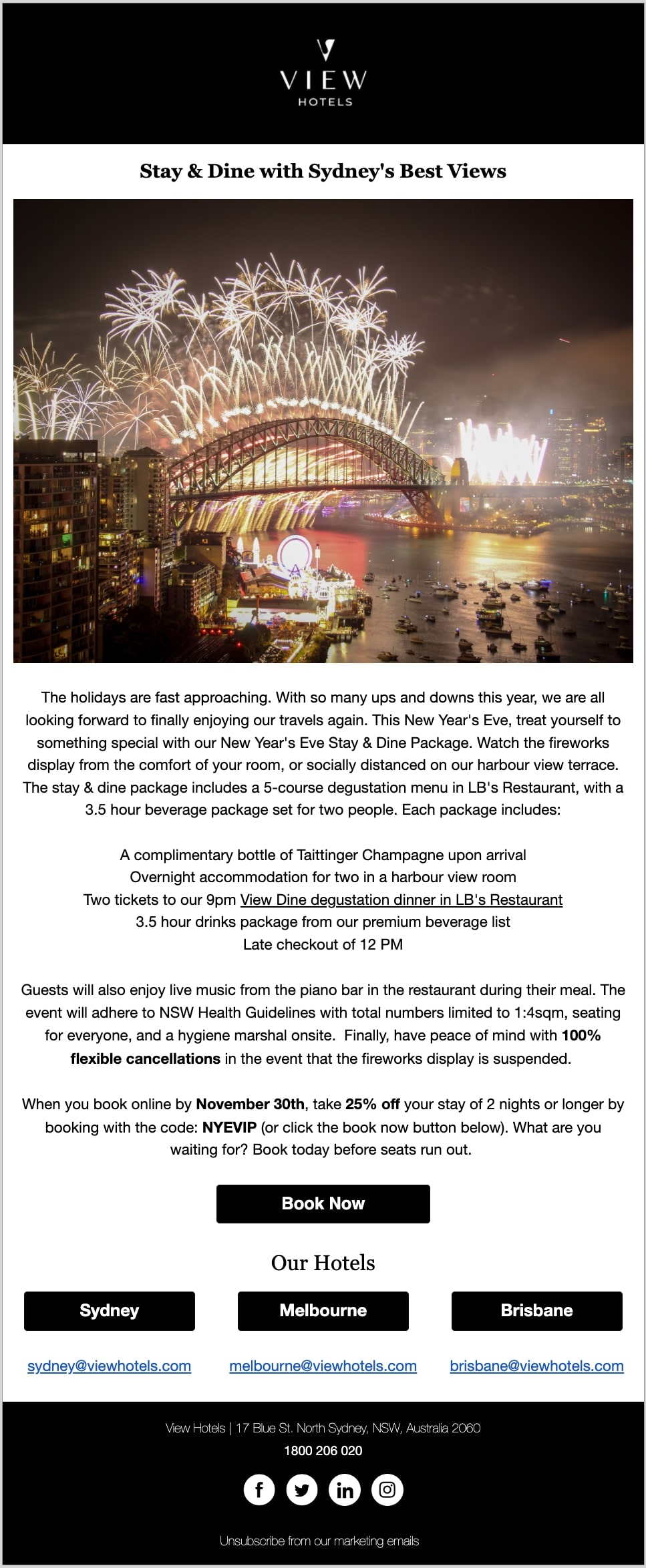 Subject line: The Ultimate NYE Experience
Average open rate: 30%
Average CTR: 6.4%
Room nights booked: 74
Segments:
Stay date between December 2020 and February 2021
Holiday magic begins at The Stafford London
The Stafford London, EMEA, Black Friday Campaign

Subject line: Early Black Friday Offer at The Stafford London
Average open rate: 40%
Average CTR: 3%
Room nights booked: 283
Segments:

Reservation not made via OTA
Contacts are included in general, travel, corporate, or food and beverage list
Kick off the holiday season in style with AutoCamp
AutoCamp, NAM, Black Friday Campaign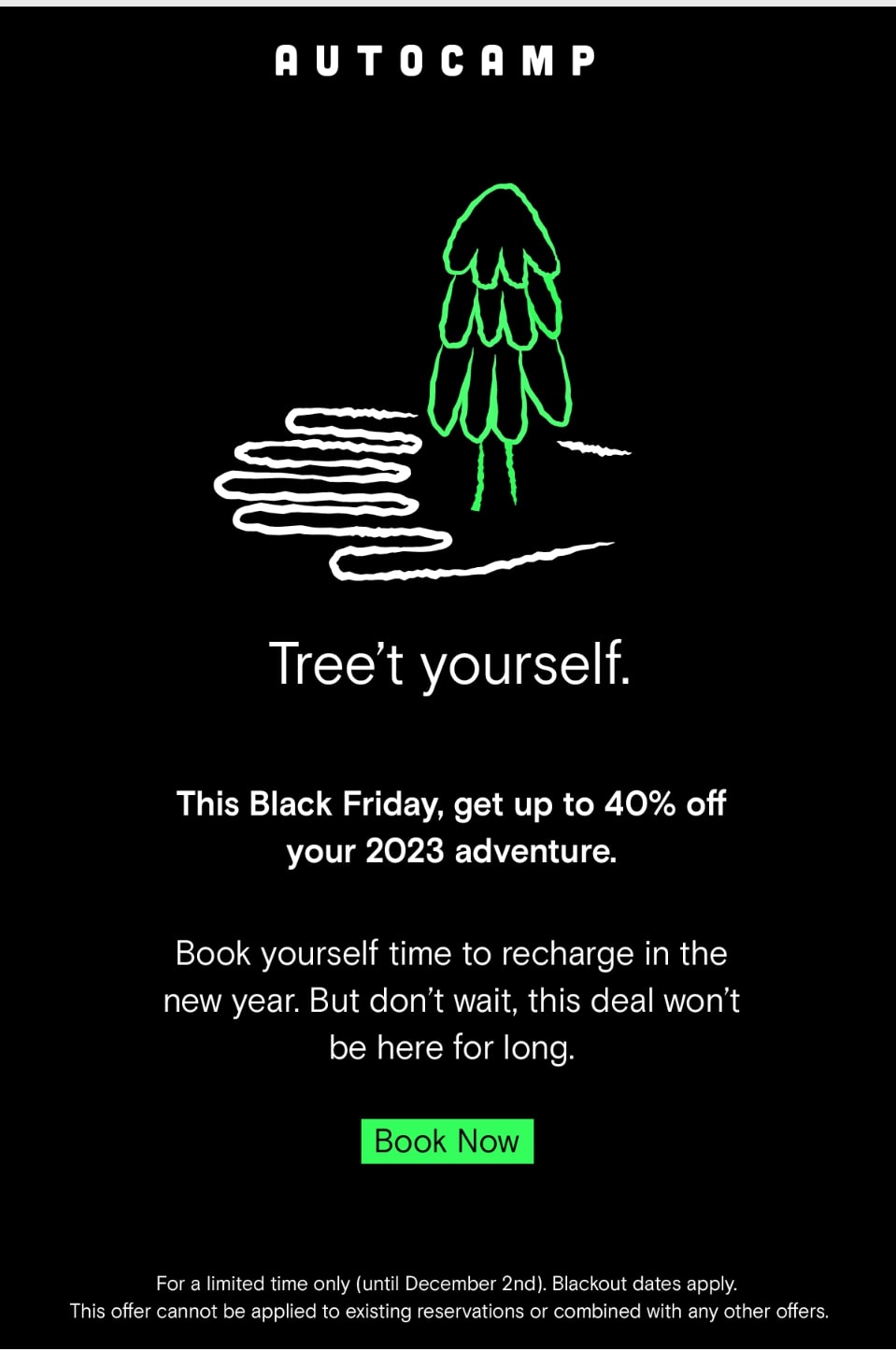 Subject line: It's Here: Our First-Ever Black Friday Offer
Average open rate: 48%
Average CTR: 4%
Room nights booked: 377
Segments:

Reservation not made via OTA
Contacts are included in any property lists within the hotel group
Craft a merry message with segmentation and personalization
To unlock the full potential of your hotel holiday email campaigns, a crucial strategy stands out like the shining star atop a Christmas tree: segmentation and personalization.
Segmentation is your trusty sleigh, ensuring you deliver personalized presents to the right chimneys at just the right time. According to research from McKinsey, over half of your customers expect you to offer them targeted promotions specific to their needs, whether it's a room with a cozy fireplace, a fine dining experience, or snow-filled activities. In addition, tailoring your offers to the unique desires of each segment results in a remarkable 760% increase in revenue.
Not every offer is right for every potential guest, of course. What's most important is using segmentation and personalization to stay connected with visitors through regular, consistent communication that includes holiday newsletters and festive event announcements. This way you make sure that those who've shown interest in your property don't slip through the cracks.
Casa de Campo Resort & Villas' employed laser-focused segmentation for their New Year's campaign and did a remarkable job. Check out the campaign results and segments below.
Celebrate the season with Casa de Campo
Casa de Campo, LATAM, New Year's Campaign
Spanish version:

Subject line: ¡Celebre nuestros éxitos del 2022!
Average open rate: 38.4%
Average CTR: 1.2%
Room nights booked: 34
Segments:

Countries in LATAM + Mexico
Total number of stays is one or greater than one
No future stay
Interested in newsletter and events email communications
Subscribed to several active lists
English version:

Subject line: Celebrate our 2022 milestones with us!
Average open rate: 38.8%
Average CTR: 1.4%
Room nights booked: 19
Segments:

Countries are main English-speaking markets
Total number of stays is one or greater than one
No future stay
Interested in newsletter and events email communications
Subscribed to several active lists
Offer the magic of unique holiday experiences
One surefire way to make your holiday campaigns shine is by offering your guests something truly unique and magical. As the calendar turns to the New Year, today's holiday guests are showing a resounding preference for exclusive experiences that will create cherished memories in their hearts. And the bonus is they're willing to pay more for them.
According to a study commissioned by GetYourGuide, nine out of 10 travelers are eager to spend their time on novel experiences that allow them to enjoy their destinations through an authentic lens. Hotels can cater to this desire and ignite the holiday spirit among customers by creating offerings and holiday packages that transport guests to the celebratory heart and soul of your destination, promoting festive feasts, special seasonal activities, or one-of-kind holiday adventures.
An even better idea comes from The Hoxton and the Fullerton Hotel. Rather than choosing a single promotion, they each created campaigns that provide multiple options, sharing a list of attractive offers guests can choose from for some holiday fun. Creating campaigns such as these helps set you apart from the competition.
The Hoxton offers guests a trove of holiday fun
The Hoxton, EMEA, New Year's Campaign

Subject line: New Year's Eve plans = SORTED
Average open rate: 41%
Average CTR: 0.5%
Room nights booked: 416
Segments:

Subscribers from November 2022 (This email was sent December 2022)
Wifi sign-ups in several Hoxton properties in the UK
Gift voucher sign-ups in the UK
Website – update sign-ups
The Fullerton Hotel shares exclusive options for festive fun
The Fullerton Hotel, APAC, Christmas Campaign

Subject line: Wrap Up the Year with The Fullerton Ocean Park Hotel
Average open rate: 61.3%
Average CTR: 7.3%
Room nights booked: 25
Segments:

Exclude bookings from OTAs
Subscribed and double opt-in
In mailing lists
Unwrap the gift of direct bookings
Next to summer, the joyful frenzy of the holidays is one of the busiest times of year for hotels and resorts. As a result, it's the perfect time to encourage potential visitors to put you at the top of their holiday wish list by making their bookings directly with your establishment.
When customers book directly with your hotel, you avoid those "Grinchy" third-party commissions and enjoy the gift of higher profit margins. You also gain access to guest data that delivers valuable insights for fine-tuning your marketing strategies. And perhaps most importantly, you foster stronger relationships, enabling you to craft those personalized experiences that transform one-time guests into enthusiastic advocates who happily return year after year.
To make a persuasive pitch, your hotel holiday email should glisten with the promise of the best rates and exclusive offers. Present tempting discounts and loyalty program perks. And make it clear to your guests that booking direct isn't just a transaction — it's the beginning of a special holiday journey filled with warmth, personal touches, and magical memories.
Cave Hotel & Golf Resort offered customers a special holiday gift: up to 50% off their next stay at the property when they booked directly on the website.
Cave Hotel & Golf Resort spreads holiday cheer
Cave Hotel & Golf Resort, Black Friday Campaign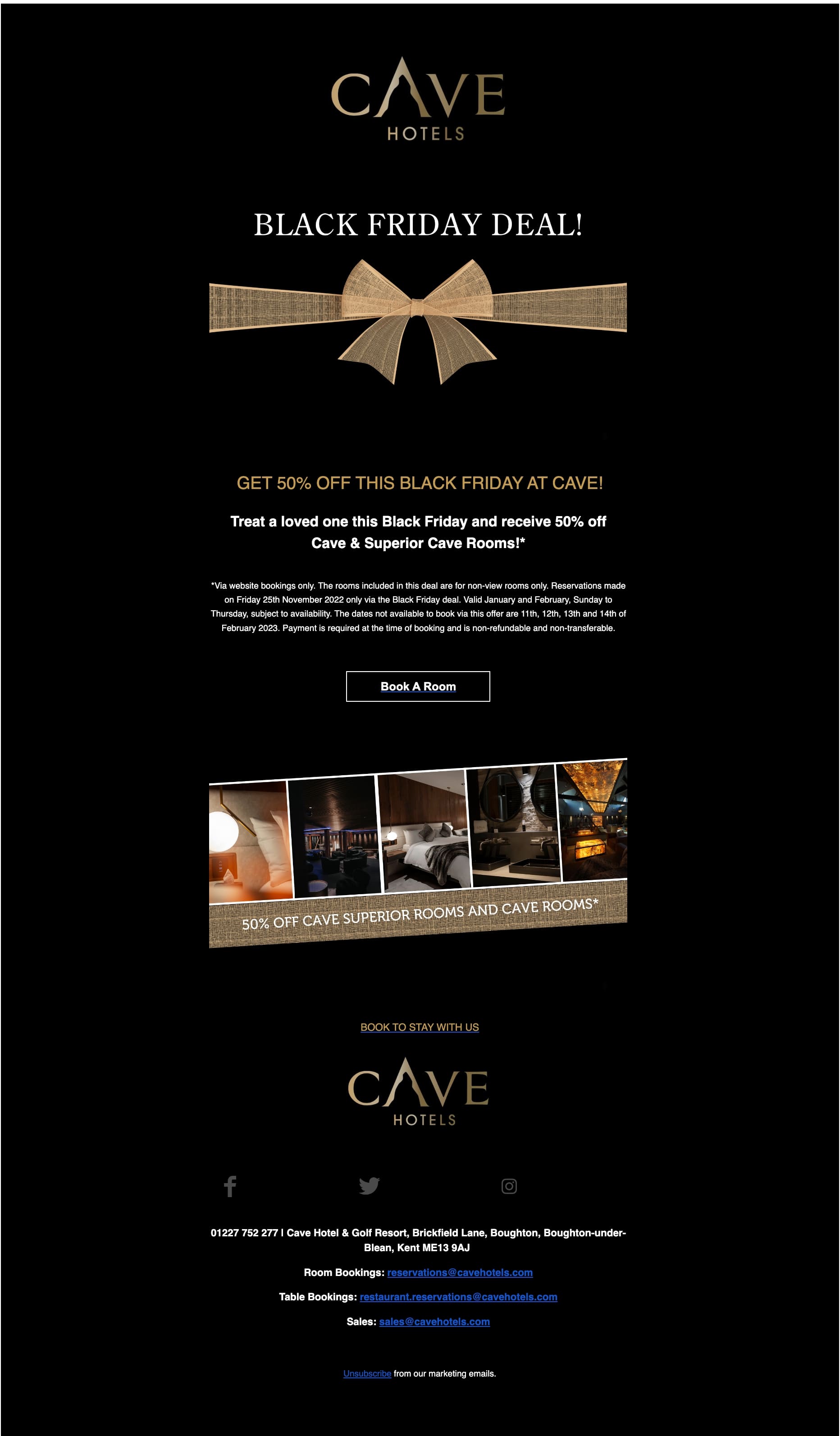 Subject line: 50% OFF AT CAVE THIS BLACK FRIDAY!
Average open rate: 42.1%
Average CTR: 7.6%
Room nights booked: 65
Segment:
Start your own hotel holiday email campaign
Ensure this holiday season is joyful and prosperous. Learn more about email marketing best practices for hoteliers in our guide: The basics of hotel email marketing.
Insights that drive results
Subscribe now to get the latest content