Email Marketing: A new hotel loyalty program
Hotel Guest loyalty is one of the most powerful tools hotels have to defend themselves against OTAs, competition, and rising distribution costs. Many hoteliers perceive that the only way to drive hotel loyalty is through points and rewards redemption programs.
However, today's travelers are changing and their attitudes towards loyalty are shifting. If you want to know what really creates guest loyalty in 2018, look no further than personalization.
Divided Views
A recent study by Oracle, which surveyed 13,000 consumers globally and 500 hotels in 9 countries, found a large discrepancy between how hoteliers view loyalty programs and how guests actually feel about them.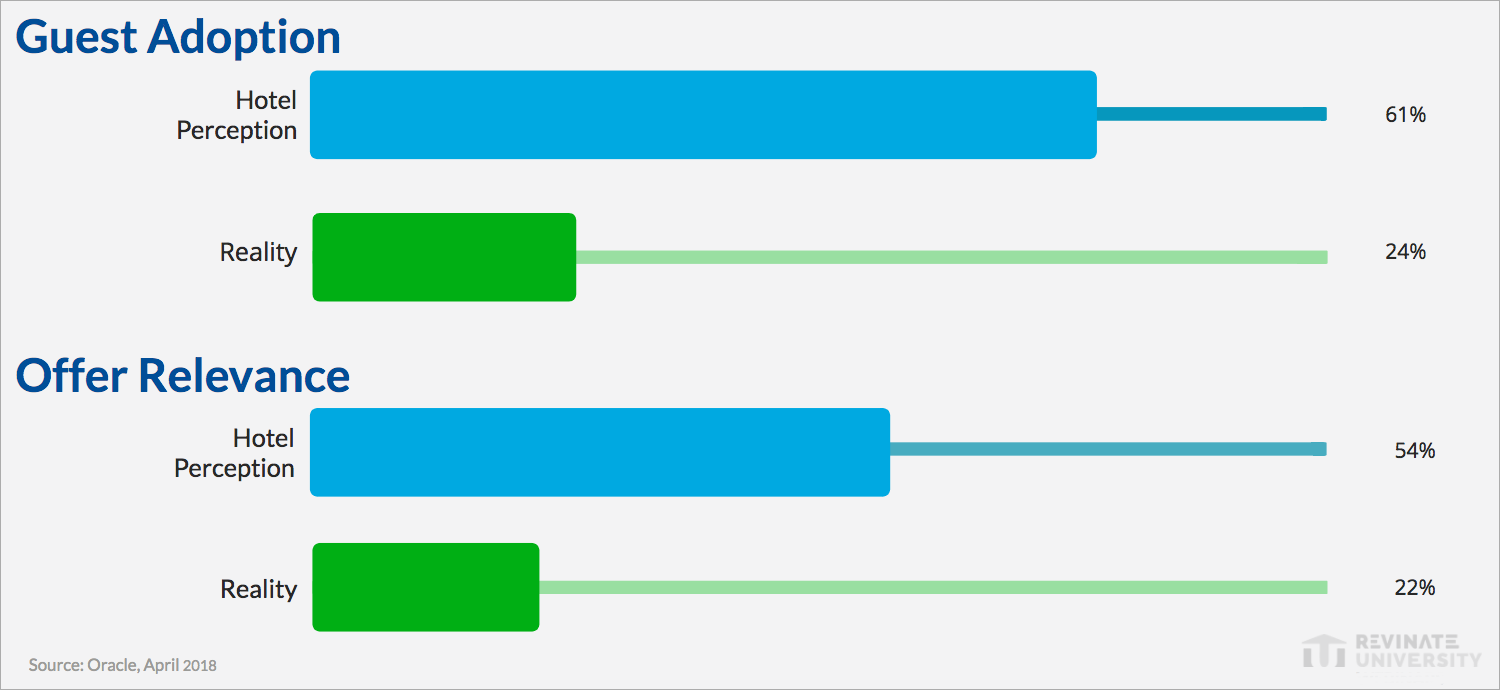 61% of hoteliers believe guests will sign up for loyalty programs. The truth is only 24% of guests actually sign up. Moreover, 54% of hoteliers think their guest offers are relevant, but only 22% of guests actually think the offers are of value to them.
Evolving loyalty
Despite this, loyalty is not dead – it's simply evolving. 30% of 25-34-year-old millennials still sign up for loyalty programs and remain loyal. However, 73% of those surveyed said they prefer membership programs that are not dependent on points and instead focus on personalization, activity, and engagement.
Approaches to loyalty marketing
Depending on the size of your hotel group, you have to choose the type of 'loyalty' offering that works best for you and your guests.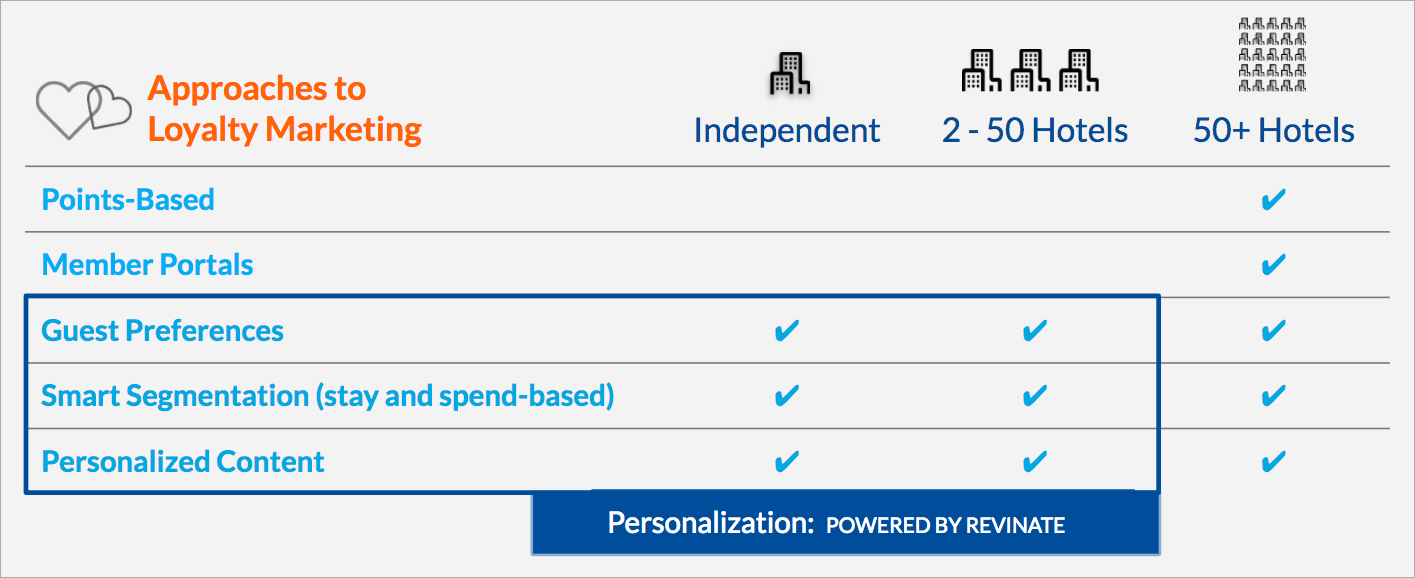 If you're part of an enterprise group, points-based system and guest portals may make sense. For independent properties and smaller groups, however, this option is costly, cumbersome, and doesn't inspire loyalty among guests. Instead, small and mid-sized properties and groups should focus on creating personalized experiences, offers, and communications that appeal most to guests.
Personalization
If you're thinking about where to begin with personalization, first consider the complete customer journey. PMS data and email marketing automation make it easy to send relevant campaigns to the right person at the right time.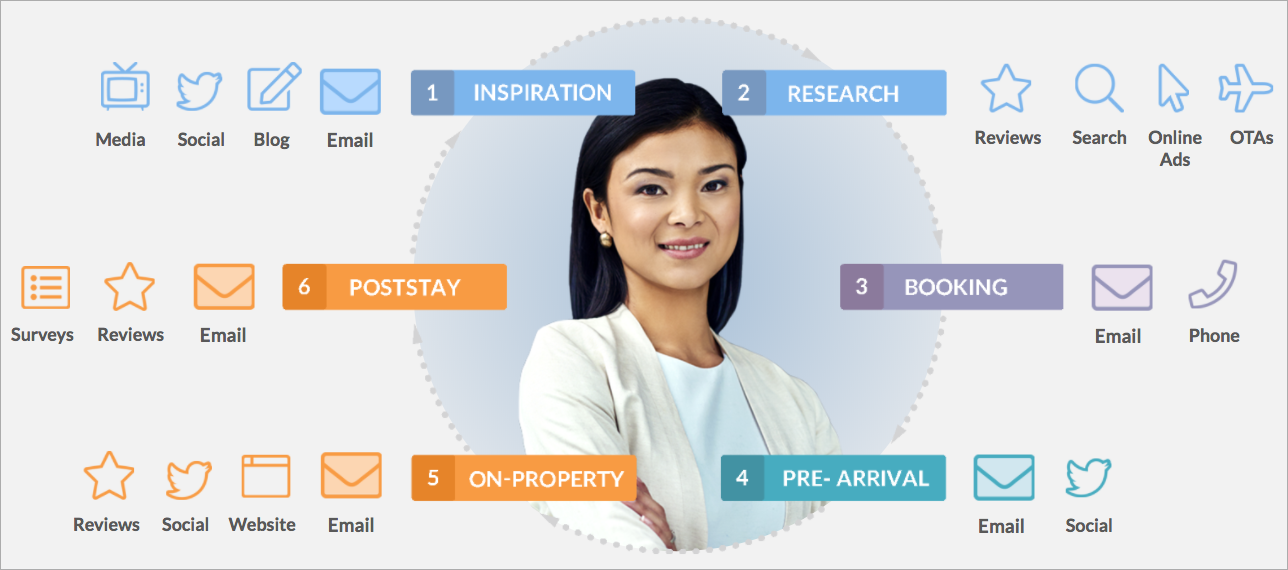 For example, an on-property welcome email would look different for a guest who has stayed five times versus a guest who is visiting you for the first time.
Revinate Marketing makes personalization easy by:
Unlocking the most loyal guests stored in a hotel's PMS and grouping them into dynamic segments (see example below).

Automating personalized content throughout the customer journey, i.e. pre-arrival upsells, on-property welcome letters, and post-stay winback campaigns.
Below is a campaign example in which a customer sent a flash sale offer to loyal guests who have stayed two or more times. These guests are rewarded for having already done something instead of receiving points to redeem later on. Instant gratification is a key component in inspiring guest loyalty.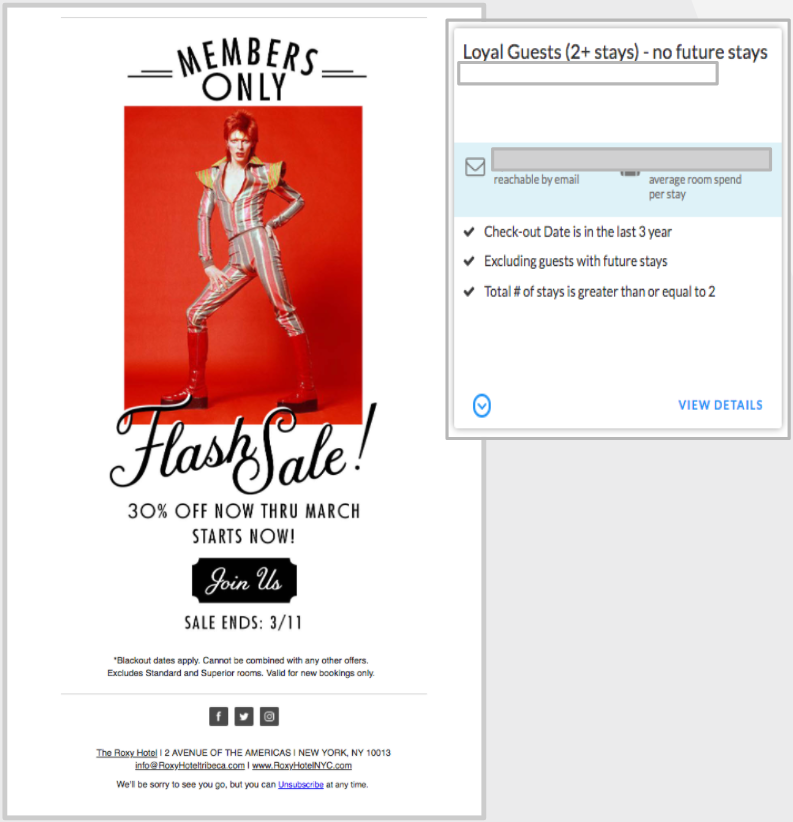 Revinate makes loyalty easy
To put it simply, personalization is the new loyalty. Unique and relevant experiences will keep guests coming back again and again, not necessarily a loyalty card in their wallet.
If you're not already using Revinate to increase direct bookings with smarter email marketing, please reach out to learn more. We're always here to chat! To see the complete webinar for Personalization is the New Loyalty, click here.
Insights that drive results
Subscribe now to get the latest content