Top Tips For Your On-Property Welcome Email
On-property emails may be the most underutilized form of guest communication. All too often we hear that hotels aren't taking advantage of this important opportunity to welcome guests with a personalized email message.
Since on-property emails are sent the day of arrival, you're able to set the tone for your guest's stay and ensure it's off to the best possible start.
Here are the top tips I share with my customers to help optimize their welcome emails and enhance guest communication, beyond sending one to begin with!
1. Images of your hotel and facilities
An email is a reflection of your hotel, so of course, you want it to look amazing. Including a few beautiful images of your hotel and/or its facilities in the email will get guests excited about their stay and what's to come.
One thing to keep in mind with images is to avoid using pictures of guestrooms. Remember, the guest is already on-property so there is no reason to sell them on your inventory. Also, you don't want to be in a situation where a guest is troubled by the fact that the room in the email is a lot nicer than the one they are currently staying in.
Take a look at an example below from the Down Hall Hotel & Spa. It opens with an alluring image of their property and gives guests a preview of their dining options.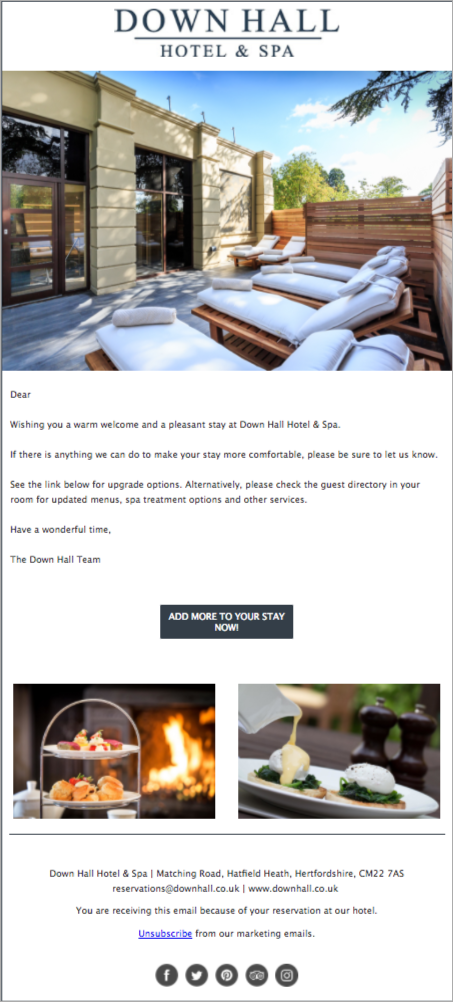 2. Keep it short
By keeping it short, you're making it easy for guests to consume only the relevant information they need.
Stick to this on-property email checklist so you're not adding any extra fluff:
Set the tone for a memorable stay ("At Your Service")
Encourage engagement through an exclusive offer or call-to-action ("Explore")
Wish the guest a great stay and provide contact information should they need anything ("Here to Help")
The Powerscout Hotel did a great job completing the on-property email checklist in the example below.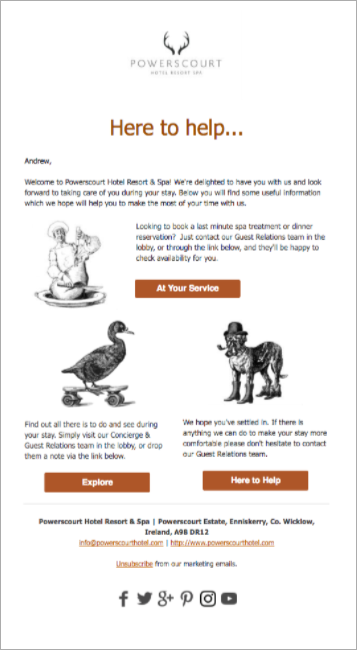 3. Personalization
Welcome your guest and make them feel special by using their name in the subject line and email body. To up the personalization factor, use guest data to ensure your promotions align with their interests.
For example, if a past guest is returning for another visit, ensure the email says "Welcome back." This small detail will make all the difference because it shows guests you are paying attention and catering to them.
In the example below, Hotel Murano personalizes their on-property email not only by addressing the guest, but also signing off with a staff's name.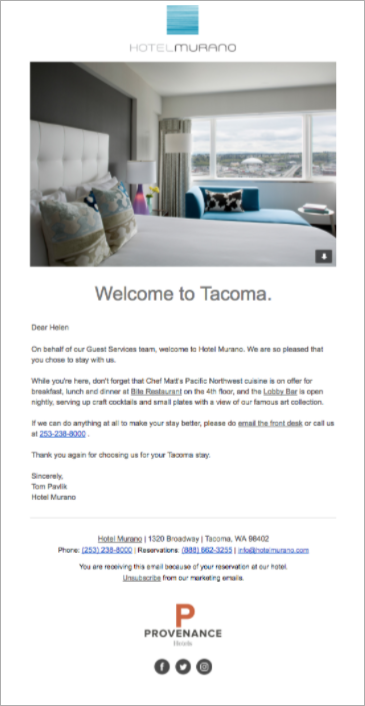 4. Include an exclusive offer
What's better than starting off a vacation by saving money? By sharing exclusive offers and special discounts, you're incentivizing guests to pay a visit to your restaurant, spa, and other amenities.
The Limerick Strand Hotel offered several dining specials and discounts at their restaurant and bar in the example below.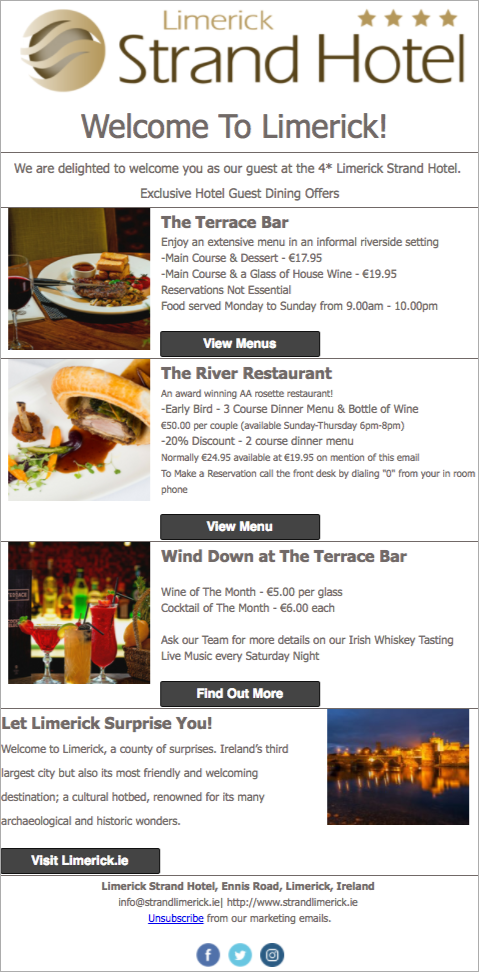 5. Promote events happening at your hotel
You are your hotel's biggest fan, so transfer all that excitement to your guests. Talk about all the events going on at your hotel during their stay so guests have more reason to stay on-property.
The Serrano Hotel sent this email to all on-property guests to promote happy hour at their restaurant. It also includes a plug for their weekend brunch and a restaurant voucher offer when guests choose to 'go green' by opting out of housekeeping services.

6. Endorse the destination
In addition to what's happening at your hotel, provide resources for events and activities taking place in the city where you are located. Many things contribute to the overall guest experience, and the city is a big reason why guests visit.
Clink Hostels does a great job encouraging guests to explore the city. They link to city guides that share Amsterdam's hottest spots and events happening at the hotel.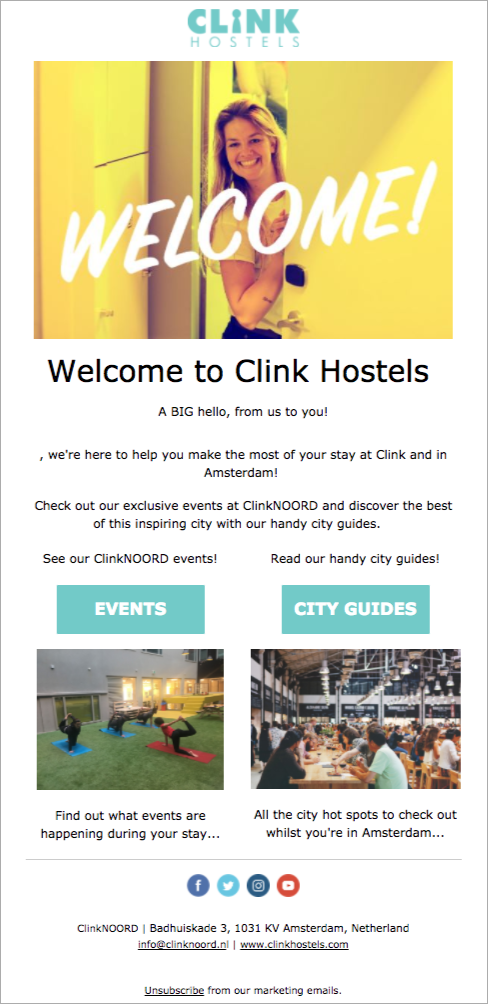 7. Promote upsells and upgrades
Last but not least, you should treat this email as an opportunity to drive additional revenue. Promote upsells that will enhance this particular guest's experience and encourage a late check-out to stretch their vacation just a little longer, like this example from Serrano Hotel to all on-property guests: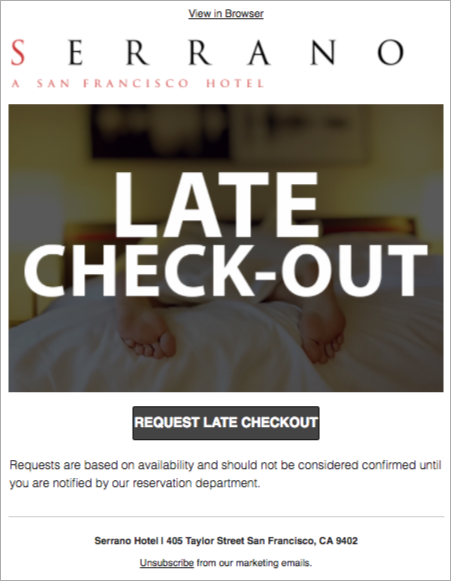 Don't miss out! On-property emails are one of the easiest yet underutilized ways to set the tone for a memorable guest stay. Details matter and Revinate is here to help so contact us today. Follow these guest communication tips and you'll be well on your way to converting your customers into loyal guests.
Insights that drive results
Subscribe now to get the latest content