5 tested examples to recover lost revenue from hotel website and cart abandonment
Have you ever wondered why potential customers flock to your website, eagerly explore amenities, begin the booking process, and then simply vanish before confirming their reservation? Even more disappear before ever reaching the booking engine.
These phenomena are known as website and cart abandonment. And they cause more than a mere frustration. They're missed opportunities for maximizing revenue and securing guest loyalty.
We've created a guide with an in-depth look at the causes and impacts of abandonment alongside ten tested strategies for recovering revenue. Read on for a sneak peak.
What you will see here
Why hotel guests click but don't book
Hotel shopping cart and website abandonment occurs for various reasons, including unexpected costs, a change in plans, a glitchy website, or simply distraction on the part of the shopper.
For example, a traveler may browse your website and choose a room, but abandon the booking when he realizes additional resort fees are involved. Similarly, someone may visit your website and leave without booking because she finds a more appealing offer on a competitor's website.
To counteract these losses, hoteliers often invest in advertising to attract more website visitors, or rely on online travel agencies (OTAs) to fill rooms, both of which can be costly, and yield a low return on investment.
But there's another more cost-effective and often overlooked option: recapturing users who left your website and reclaiming the bookings that were left behind.
Abandonment campaigns drive profit and loyalty
Today's customers crave personalization and they're willing to reward it. Zendesk reports that 90% of customers are inclined to spend more with companies that offer personalized service, with 68% expecting tailored experiences.
Cart abandonment campaigns can give customers the personalization they are looking for by incorporating visitor data in customized ways. These campaigns create a perfect recipe for loyalty by catering to potential guests' immediate interests and conveying a genuine concern for their experience.
To delve deeper into this topic, here we explore five proven examples from Revinate customers on how they successfully recovered revenue from abandoned bookings.
A well-curated customer database that's brimming with relevant guest details forms the cornerstone of effective marketing. And your abandoned booking data shines bright here. It offers exceptional value because it provides insights into a potential visitor's specific interactions with your website just before sharing their email address or engaging with your booking engine. This detailed knowledge helps you more precisely segment and personalize your campaigns.
In this example, Grand Geneva Resort & Spa identified individuals who expressed interest in a golf getaway, but either left the website or didn't complete their booking. The resort used data-driven hyper-personalization as the linchpin for crafting a tailored campaign, successfully weaving visitors' prior interactions into their message. This not only helped them recover abandoned bookings but allowed them to establish a meaningful connection with potential guests by aligning with their personal interests.

Why do we love this campaign?
This is a great example of utilizing a captured interest.
The property informed potential guests of the upcoming warm weather, creating a sense of urgency.
Achieved a 50% open rate and 2% click-through rate.
According to a Demand Gen Report, applying the power of lead nurturing can boost hotel business' sales by up to 20% in comparison with non-nurtured leads. These nurturing touchpoints serve a dual purpose. First, they help keep your hotel front and center in the minds of potential guests. And second, they deliver valuable information about guest preferences and behaviors, leading to more granular segmentation and personalization in your campaigns.
La Jolla Beach & Tennis Club is achieving great success with their ongoing campaign that uses warm and cold lead data in conjunction with abandonment data. When a lead contacts a reservation agent but doesn't make a booking, the agent categorizes the lead as either warm or cold.
Warm leads indicate initial interest but don't immediately book. The automated campaign sends this potential guest a concise reminder email an hour after their call, encouraging them to secure the best rate by booking online or calling. This tactic yielded over 275 room nights in the past year.
On the flip side, cold leads — those who didn't book for unknown reasons — trigger a different follow-up email. One that emphasizes the resort's amenities and urges them to contact reservations. This approach successfully transformed cold leads into 130+ room nights booked within the last year.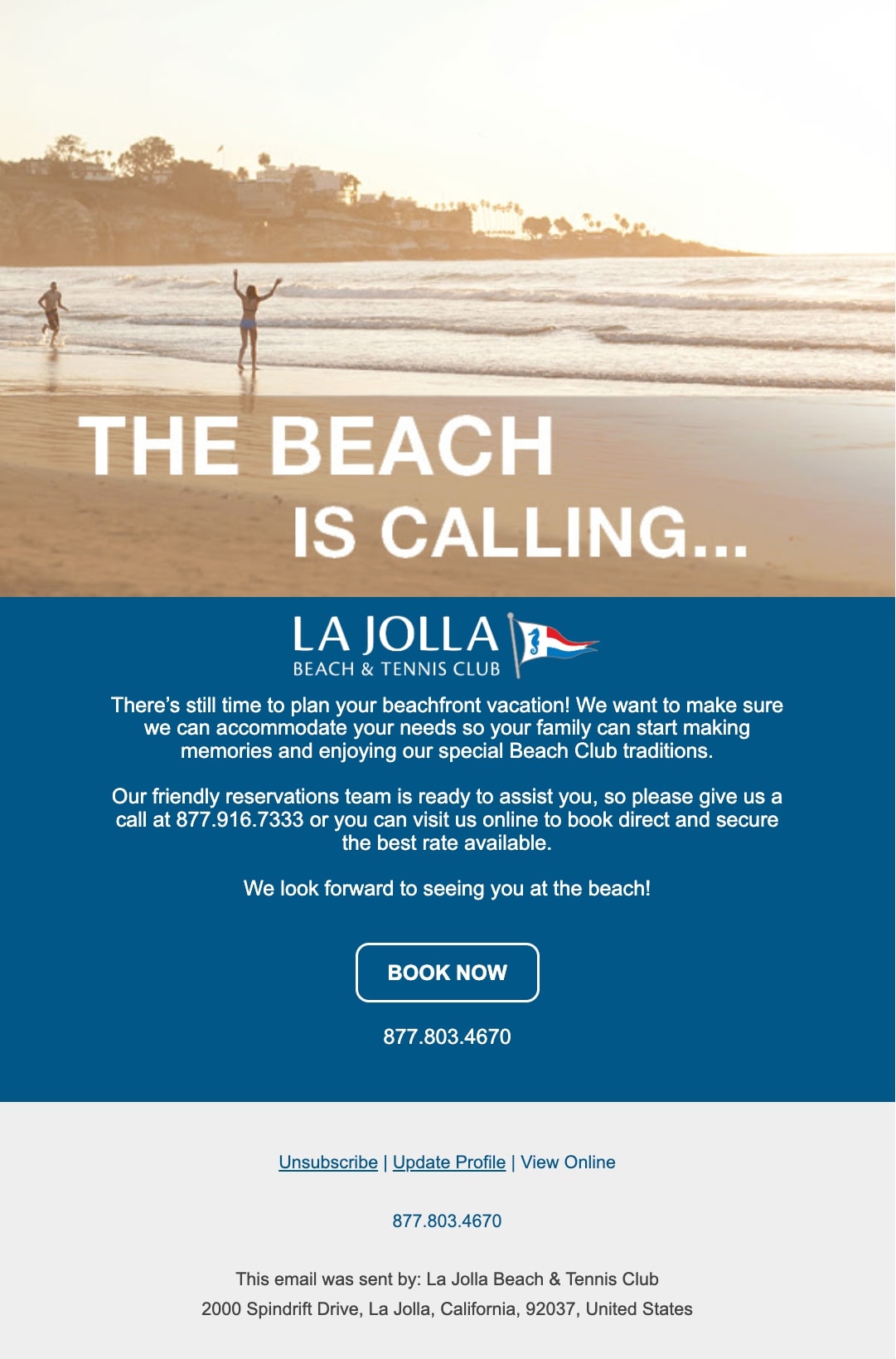 Why do we love this campaign?
La Jolla Beach & Tennis Club gets their potential guests excited about what's waiting for them at the property.
Warm and cold lead nurture emails are sent based on agent designation.
11% conversion rate
A well-timed pop-up campaign can be a powerful tool for capturing email addresses from abandoned website visitors. Research shows that pop-up campaigns boast an average conversion rate of 11%. How does it work? When a guest is on the verge of abandoning your site, a strategically timed pop-up window can create a pivotal moment encouraging reconsideration.
Even if website visitors aren't ready to proceed, your pop-up message can include an embedded form to capture their email address, like this exit pop-up from Old Edwards Hospitality Group. This simple technique, when used in conjunction with insights into the visitor's previous page views, keeps the door open for customized engagement that may entice them back in the future.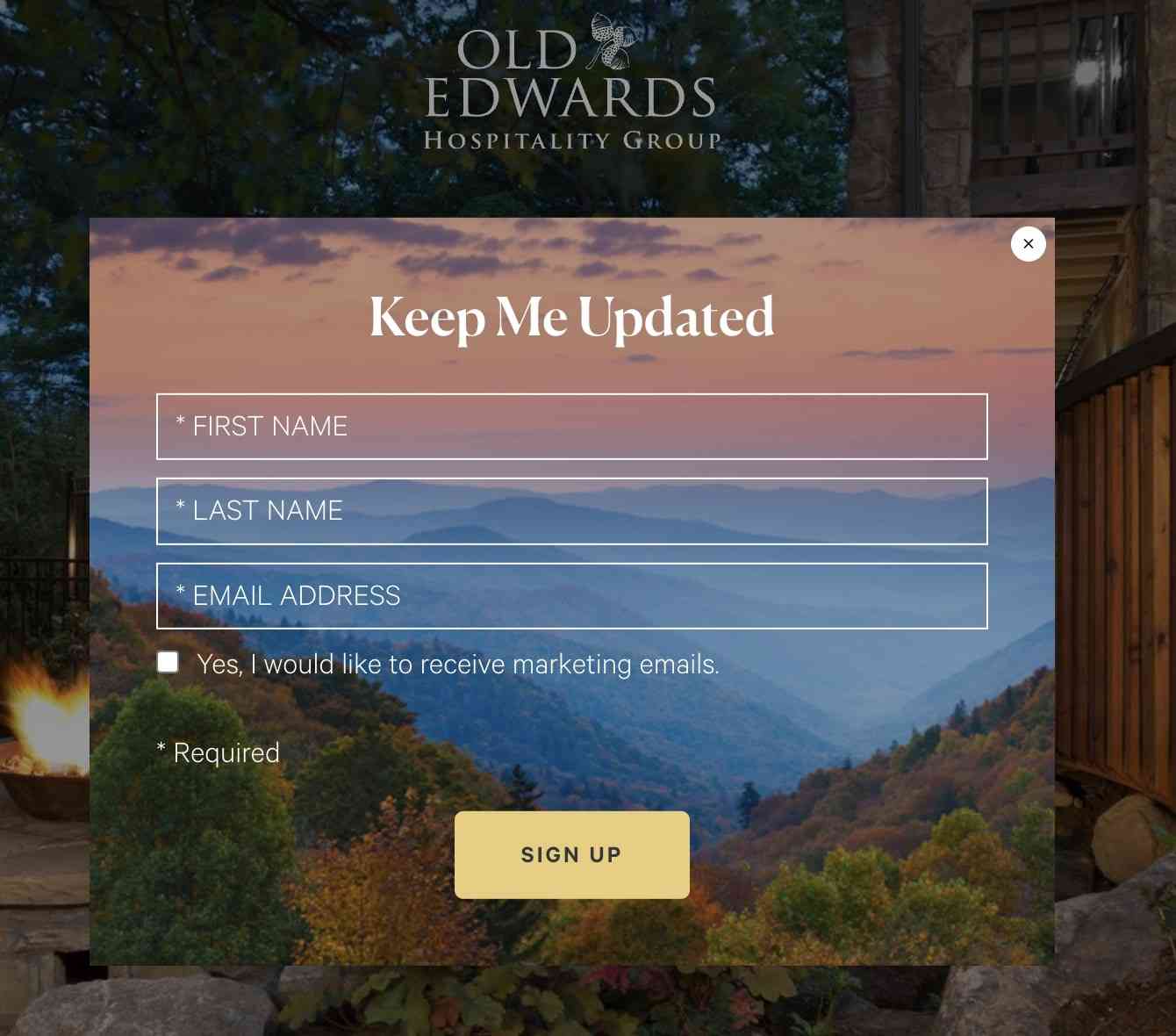 Why do we love this campaign?
Once potential guests hover near the exit button, the pop-up is triggered to entice them to leave their data so they can receive updates.
They keep their pop-up form simple, avoiding buzzwords and cluttered visuals. They only ask for the most essential information — a visitor's name and email address — to stay in touch.
With Revinate, it's easy for them to remain privacy compliant.
Win back guests with a "We Miss You" campaign: Calabash Grenada, the Caribbean
OTAs can provide a valuable "billboard effect" for your hotel, extending your reach to a wider audience of potential guests who may otherwise be unaware of your hotel. However, it's essential to strike a balance in this relationship. Because you don't want OTAs overshadowing your own direct booking efforts.
Research from Cornell Business underscores the significance of this approach. Their findings reveal that 65% of guests who ultimately booked directly with a property had previously visited an OTA platform, and 18% of these bookings occurred on the very same day as their OTA visit.
In this example, after Calabash Grenada benefitted from the OTA billboard effect, they used a strategic "We Miss You" campaign targeted at former OTA bookers with the goal of turning them into direct, loyal guests. They deployed compelling descriptions, tempting offers, and complimentary upgrades to entice potential customers to book direct next time.

Why do we love this campaign?
It gives guests a taste of their future vacation.
Calabash Grenada included several options — spanning spring, summer, and fall — for their guests to choose from in their "We Miss You" campaign.
65% open rate; 5.6% click-through rate
Use guest feedback to fuel abandoned revenue recovery: The Landmark London, UK
Harnessing the power of guest reviews and feedback is a vital strategy for building enduring guest relationships and increasing the likelihood of future direct bookings. Research shows that when hotels respond to reviews, they receive 12% more reviews and their ratings increase, on average by 0.12 stars. And 79% of customers are more likely to book a higher-rated hotel when choosing between two similar properties.
Furthermore, integrating feedback data with your abandonment data helps you craft an innovative approach to rekindling lost bookings. Consider the potential impact on your previous satisfied customers if they receive a personalized email such as: "Remember your last 5-star stay with us? Get that feeling again. Book direct for 15% off."
Timing is key. Sending your offer immediately after a potential customer has abandoned the booking process can be the tipping point that convinces them to complete the reservation.
In this example, The Landmark London gets to know their guests by encouraging them to complete a brief survey in their newsletter subscriber welcome email. This not only helps them personalize future experiences, but also provides valuable insights into preferences and interests they can use to reclaim lost income from shopping cart and website abandonment.

Why do we love this campaign?
You gain valuable data directly from your guests.
The Landmark London keeps the campaign simple and doesn't overwhelm subscribers with too many questions.
74% open rate, 33% click-through rate
Do you want to learn more about how the Landmark London generated £2 million in sales with Revinate Marketing? Read their success story here.
Ready to recover lost revenue from cart and website abandonment?
With an alarming cart abandonment rate for hotels of 80%, and website abandonment rates converting only a fraction of traffic into bookings, the potential revenue that's left on the table is significant. In fact, for every five potential guests who begin a reservation, four vanish without completing it.
Don't let these opportunities slip through the cracks. Discover everything you need to know about recovering revenue from hotel shopping and website abandonment in our new guide, top 10 strategies to recover abandoned revenue from website and cart abandonment.
Insights that drive results
Subscribe now to get the latest content