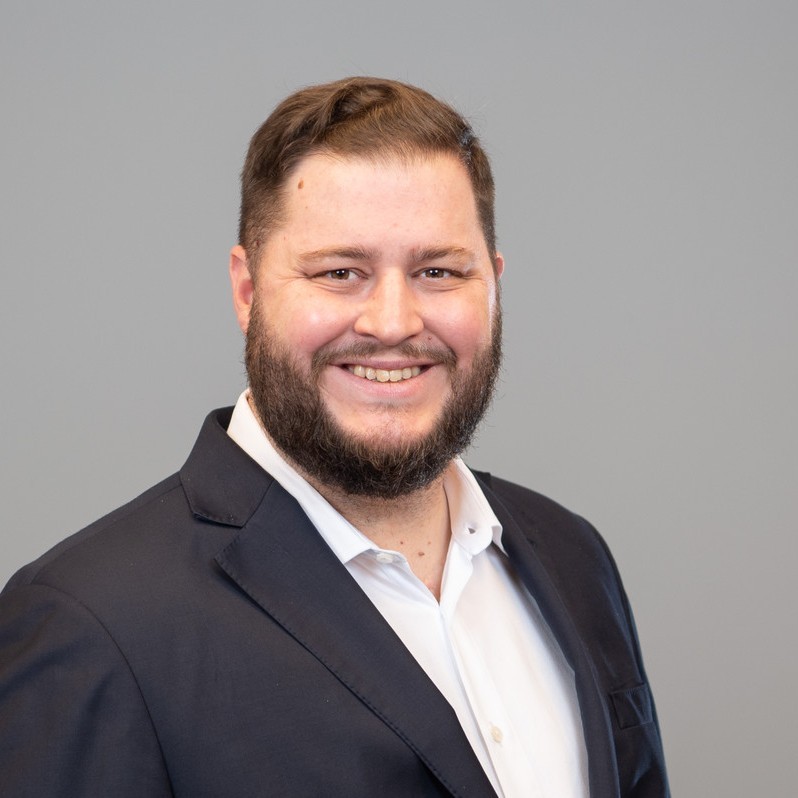 Meet the customer
"In this type of market, you need to leverage any advantage you have. For us, Revinate is that advantage. Because we can easily reach our database in a highly personalized way at just the right time, we can drive repeat business, positively impact the customer journey and increase loyalty with no acquisition costs."
Ben Ferry
Area Director of Sales and Marketing at IHG Hotels & Resorts
The brand
IHG® Hotels & Resorts is one of the world's leading hotel companies, with around 325,000 colleagues working across more than 100 countries to deliver True Hospitality for Good. But IHG's strength goes beyond providing great hospitality for guests on property. In fact, IHG's corporate vision is to build a digital advantage. This focus on digital goes beyond the stay and impacts how IHG connects with guests across their entire journey.
The challenge
With the hospitality industry still recovering from the pandemic and STR predicting that the Australian hospitality market won't recover until at least 2025, IHG's vision to build a digital advantage is proving critical to success as its hoteliers are forced to think creatively about how best to deploy resources. The hotel market, especially in Australia, is incredibly competitive, with 5-star luxury hotels competing for guests who traditionally stay at 4-star hotels. As a result, Benjamin Ferry, one of IHG Australia's Area Directors of Sales and Marketing, knew that his hotels wouldn't be successful unless they found a new digital strategy to compete.
The solution
Prior to Revinate, Ferry's area of hotels had been using multiple vendors and platforms to communicate with guests. While the group was able to get the job done with platforms that didn't seamlessly share data or sync with the PMS in real time, the process could be resource-intensive and time consuming. Most importantly, the results weren't as effective as they could be. When Ferry saw that Revinate Marketing was able to offer the functionality that he needed to communicate with guests and drive direct bookings in a one-stop-shop, he made the switch.
With Revinate, Ferry was able to do more than just consolidate tools. Revinate introduced agility, sophistication and ease-of-use to the guest marketing process. As the industry recovers, the hotels are able to ensure consistent communication with guests throughout their journey, thanks to Revinate's automated emails, which sync in real time with the PMS.
Ferry says, "In this type of market, you need to leverage any advantage you have. For us, Revinate is that advantage. Because we can easily reach our database in a highly personalized way at just the right time, we can drive repeat business, positively impact the customer journey and increase loyalty with no acquisition costs."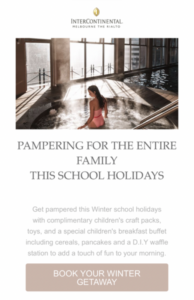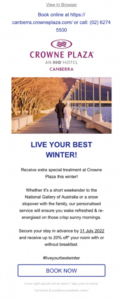 Some particularly successful marketing campaigns from Ferry's hotels, which span NSW, QLD, ACT, and VIC, leveraged Revinate's advanced segmentation features. One targeted past guests from specific locations with a special offer for a winter stay. Another targeted family travellers and encouraged them to visit during the school break. The latter campaign achieved an impressive 44% open rate and 3% click-through rate.
Because Revinate was purpose-built to support groups with multiple brands, IHG Australia is able to centralize communication to guests while ensuring brand consistency with easy-to-use templates and tools. Revinate's automation functionality removes the manual work involved in sending pre-stay, on-premise, and post-stay emails, saving time and allowing staff to focus on more strategic tasks.
Ferry says, "Revinate is the most efficient and effective solution for guest marketing. We are so much faster and more agile today, which allows our marketing teams to spend time on furthering our strategic priorities."
The results:
In the last 6 months, Clusters of IHG hotels in Australia have been able to outperform their competition by using Revinate as a digital advantage. Because segmentation and personalization is so much easier with Revinate, the group has outperformed the industry average across all traditional email KPIs. Some include:
27% average email open rate, which is +8% better than the industry average
An average of 100 room nights booked per campaign (in the last 6 months)
3% average click rate, performing above the industry average

$31,000 as the average revenue per campaign (in the last 6 months)
To learn how you can achieve results like IHG Australia, reach out today for a custom consultation.