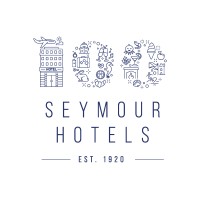 Meet the customer
"Now that I see the results, you can be sure that we will be investing even more energy and creativity into email marketing."
Olly Appleyard
Group Sales & Marketing Manager
The brand
Seymour Hotels is the largest and longest established hotel group in the Channel Islands. Founded in 1920, the hotel group is still proudly owned and managed by the Seymour family. On March 23rd, 2020, when the hotels would normally be preparing for a busy summer season, they were instead forced to shut down their properties due to Covid-19. The way the hotel group managed its recovery is a testament to the proactive marketing team and its deep history of providing great customer experiences.
The challenge
The effects of the pandemic on the hospitality industry are devastating. For the Seymour Group, the timing especially hurt because 2020 marked the Hotel Group's 100 year celebrations, with lots of activities and events planned. In addition, 2020 also marked the 75th anniversary of the Liberation of Jersey, where the Pomme d'Or is a focal point in the celebrations each year. But, showing its resilience and strength in the face of adversity, the small but mighty marketing team at Seymour Hotels used their resources, notably Revinate Marketing, to stay engaged with guests and ready themselves for the travel rebound.
The solution
As soon as the hotels closed their doors, the marketing team, led by Olly Appleyard, Group Sales & Marketing Manager, immediately went into planning mode. Within two days, the team used Revinate Marketing to reach out to their entire database of 30,000 people to provide clear details of the closure and help guests who had reservations on the books. They also launched most recently a Safe Stay Pledge commitment to reassure guests that they were taking all the necessary precautions before reopening to keep staff and customers safe.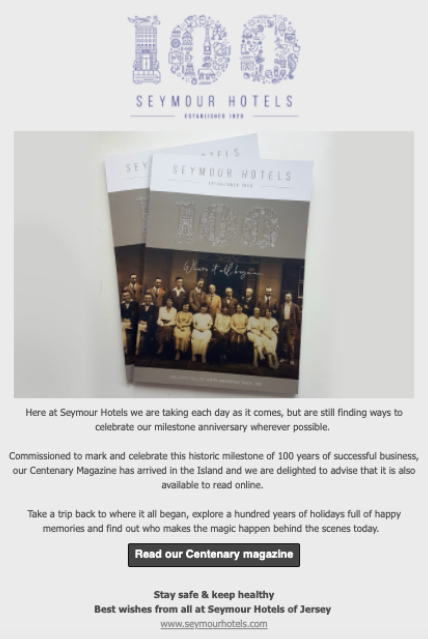 Open rate: 54.1%
CTR: 32.4%
Next, they looked at their Centenary celebrations and pivoted to ensure that past guests could continue to be part of the festivities. They turned their attention to the Seymour 100 website and, through email, asked past guests to share stories and memories from their own holidays. They received stories from as far back as 1954 and dozens of messages about the role the Hotels played in their lives. They also helped make the 75th Liberation anniversary a virtual event, emailing past guests a live link to participate in the celebration and speeches.
The results
Finally, with guidance from Revinate, the Group regularly engaged with past guests through email, segmenting the database to reach the right people with the right messages throughout the shutdown. In addition to informational emails that served to keep guests up to date on scheduled openings, the hotel also shared fun and engaging content, including sharing recipes for the famous Jersey Royal potato, grown locally on the island, to keep Jersey top-of-mind.
In fact, Olly and his marketing coordinator, Jamie O'Neill, sent 14 emails during the shutdown, with an average open rate of 37.9%. Olly admits that this period has been their most active with email and he regrets not making it more of a focus earlier. He says, "If I had realized just how powerful Revinate Marketing was in reaching our guests and getting them to respond, I would've devoted even more time to our email program. But now that I see the results, you can be sure that we will be investing even more energy and creativity into email marketing."
This month, Seymour Hotels is re-opening its doors at the Pomme d'Or Hotel and Greenhills Country House Hotel to local guests, who are, undoubtedly, ready to get out of their homes. While they are being pampered by staff, the marketing team will be hard at work, marketing to the UK database with a summer promotion that encourages guests to book a safe stay on the island. Since these guests have been hearing from the Hotel Group for months, we know that they are warmed up and ready to respond. Olly says, "As long as the ports are open and quarantine lifted, I'm extremely confident in our ability to drive additional revenue through email, thanks to Revinate Marketing."