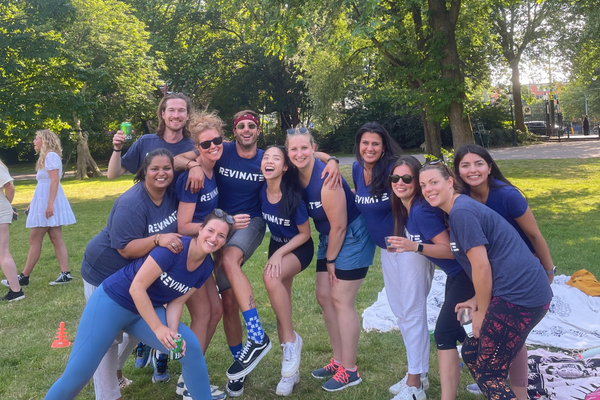 Revinate's remarkable growth shows no signs of slowing. In the past few years, the company acquired NAVIS, a voice channel conversion platform, and Go Moment, an AI-powered messaging solution.  And Revinate recently announced its global rebranding.
A sleek, new logo and a fresh website are only the cherry on top of the company's evolution. With more than 500 Revinators around the globe, Revinate is not only a champion within the hospitality industry, but also a champion of fostering a lively company culture.
Luckily, there are many opportunities for you to join Revinate. Here are 6 reasons why you should consider joining us.
1. You get to determine your career path
When you join Revinate, you're in control of your own career path. You'll have the freedom to work however you see fit as long as you remain in communication with your manager and your team members. Revinate is fully committed to our employees — we believe we will only thrive if you thrive!
Plenty of Revinators have spread their wings outside of their roles and dipped into other departments as well. Some employees even move into other departments if there's a fit. There are also a number of Revinator "boomerangs," the Revinators who came back after taking some time away from the company to pursue other opportunities.
Revinate is a fast-moving company, there are always new opportunities for our employees.
2. You can learn from hospitality industry experts
We have experts with more than 15 years of experience in our global offices. And they're eager to hear fresh ideas. Whether you just started or are an industry veteran, there's always room for Revinators to learn from each other.
We believe in developing rockstars and provide tools and opportunities to make it happen. This includes providing ongoing feedback, implementing recognition programs, and offering learning opportunities. Our annual events, including Go-To-Market Summits and Innovation Week, are a great way to connect with fellow Revinators.
3. We have strong company values
It takes sound values to create a truly exceptional company culture. This is why Revinate recently adopted 7 new values:
One Revinate
Built on trust
Expect amazing
Customer love
Make it simpler
Hungerness
Grounded in gratitude
We practice these values on a daily basis, which helps us to ensure that both our customers and employees are successful.
4. Company events are a blast
How do you feel about Halloween? Have you ever experienced King's Day in Amsterdam? Or Lunar New Year in Singapore? Well, we have plenty of events for you to experience. It's one of the perks of working for a global company.
Revinators don't shy away from celebrating various global key dates. We also have a lot of wonderful, homegrown ideas that become events organized by our very own employees.
5. You'll connect with people from all over the world!
With more than 500 Revinators around the world, and offices in Bend, Oregon, San Francisco,, Amsterdam, and Singapore, you will make connections for life at Revinate. It's definitely in our DNA to experience the diverse culture within the company and the industry.
And there are plenty of Revinators who've moved  to new continents. In 2022, Will Howes moved to Singapore to become MAE & Sales Manager, APAC and Dylan Cole moved to Amsterdam to become Managing Director of Sales, EMEA.
Throughout the years, Revinate has also welcomed many past Revinators back to the offices for visits. Once a Revinator, always a Revinator!
6. You can contribute to our award-winning products
Everyone in the industry knows that Revinate is a 4x HotelTechAwards winner. No other platform in hospitality has a modern, market-leading Guest Data Platform powering every major guest communication channel that's optimized to drive direct revenue.
Revinate enables hoteliers to market with precision, acquiring, and re-acquiring valuable customers at the lowest cost of sale, yielding the highest potential profits. It's why Revinate has become the cornerstone direct booking platform for hotels, enabling them to own the guest journey, become more profitable, and deliver personalized hospitality experiences.
Become a part of our growing team
If you love to travel and want to join a team that's obsessed about making travel experiences better by arming hotels with the solutions they need to create next-level experiences and better connections with guests, Revinate could be the perfect fit. View our current openings today!
Subscribe here for updates