5 ways to ensure your hotel is prepared for GDPR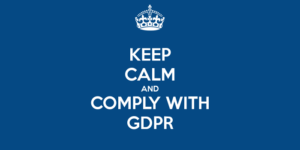 The General Data Protection Regulation (GDPR) is the most significant piece of European privacy legislation in the last twenty years and will have a huge impact on the hospitality industry. Is your hotel prepared?
GDPR takes effect on May 25, 2018. This sweeping, detailed regulation requires businesses to protect the personally identifiable information (PII) of European Union citizens. Non-compliance could cost companies dearly. For the most serious breaches, fines of up to 4% of annual global turnover will be imposed or €20 Million, whichever is greater. So yeah, this is serious. Companies like Google and Microsoft have entire global teams dedicated to GDPR compliance. Hotels need to prepare too, but it doesn't necessarily have to require heavy investment. Here are five ways to ensure you are prepared for this new and consequential law.
1. Establish whether or not GDPR applies to you
It's important to understand that GDPR applies to the handling of information of EU citizens, not just hotels operating in Europe. If you have the data of any EU citizen or resident, regardless of when that resident stayed with you, then yes, GDPR applies to you.
2. Educate and train your staff
GDPR applies to every hotel department, from Ownership to Front Desk Agents. Start by building awareness. Hotel staff must understand how to collect, access, use and disclose personal information, as well as how to restrict access to cardholder data. Measures should include: 
Limit access to personal data to only those who need to see it

Advise employees on how to properly dispose of documents containing payment card data

Read up on relevant GDPR terms you and your staff need to know. Check out our GDPR Glossary of Terms for help

Send email marketing communications to only those who have explicitly OPTED IN to your hotel guest marketing program
3. Know where your data is stored
Hotels by nature manage a vast amount of personal data. Before you even begin protecting the data, you first need to know which information you are holding and where it's stored. General Personally Identifiable Information (PII) includes:
Name

Birthdate

Email

Address

Phone Number
In addition to general data, hotels have to consider other sensitive information they may be collecting on guests. For example, even something like a guest's dietary preference could be considered sensitive health information and therefore out of compliance if you don't have their explicit consent to process such data.
Hotels receive all this information from many sources, including third-party booking systems, point-of-sale systems, their booking engine, email marketing messages, phone, even scribbled Post-It notes. First account for all data, then decide how it should be handled. Actions can include deletion, redaction, encryption, quarantine, or storage in an accredited, cloud-based storage solution, where it can be accessed by staff. Another consideration is IT — ensure your systems are up-to-date for maximum data protection.
4. Understand who has access to your data
Don't forget that many partners and third parties also have access to your data. It's important to understand all existing contracts and who has logins to each of your systems storing sensitive data. Ensure these partners and data processors, like Revinate, are able to comply with GDPR's "right to be forgotten" stipulation. Under it, anyone residing in the EU, not just EU citizens — can request their personal information be removed from databases in a timely fashion or know the reason why it can't. This means that not only do you have to wipe your own systems, but your data partners will be expected to as well.
5. Seek assistance 
As a final tip, consider consulting legal or other data privacy expertise for guidance specific to your hotel or organization. It may be recommended to appoint a Data Protection Officer (DPO). The DPO should always be aware of all data flows in the hotel. This leadership and alignment are especially important for hotels with multiple properties or in multiple EU countries.
To sum up, May 2018 is right around the corner. With these tips, take action now to build awareness, train your personnel, audit your data and partners, and likely seek legal expertise to ensure full compliance. Ultimately, it's all about protecting your guest's data. Take this seriously, and you'll be well prepared for next May and beyond!
Want to drive more direct revenue and connect with guests? Download our free Email Marketing Strategy Guide. Never before has there been a more jam-packed, industry-specific guide to help hoteliers master the art (and science) of email marketing. Over 40+ topics with actionable insights, strategies, and best practices for email marketing.
Insights that drive results
Subscribe now to get the latest content