Four Myths of Online Reputation Management
Once upon a time, the vast majority of guest feedback was private. Hoteliers could see how their hotel was doing in the eyes of their guests without cluing their competitors or prospective guests in on what their guests were complaining about.
But now, consumers are writing feedback on public websites like online review sites, online travel agencies (OTAs), and more. In fact, according to TripAdvisor data, more than 50% of consumers have reported writing a review of the accommodation upon returning from a trip.
Understandably, this makes many hoteliers uneasy. Information about their hotels is being published on the internet without their consent. Review sites are publicly ranking their properties based in this information. Consumers are using this information to make booking decisions, rather than information or materials crafted by the hotel's management and marketing department.
Fortunately, it's not half as bad as it sounds. Even hotels with small teams can and should take advantage of the opportunities that this new digital landscape provides. Here are some misgivings hoteliers have expressed about online reputation management that actually represent great opportunities for their businesses.
1. I have zero control over my online reputation.
While it's true that hoteliers can't control which guests write what on sites like TripAdvisor, they can control how they react and how they choose to use the information.
For example, in a 2012 Phocuswright/TripAdvisor survey, 79% of consumers agree that an appropriate management response to a bad review is reassuring. 68% agree that if two comparable properties were being considered, the presence of management responses on one would sway consumers in its favor. In other words? By responding to your online feedback with empathy and a desire to create the best experience possible for your guests, you can show past and prospective guests that you truly care about their needs and are doing everything you can to meet them.
CLICK HERE to read more about how to respond to reviews.
2. Reputation management is time consuming.
If hoteliers had to log in to each review site one by one to check for reviews and respond, it would take hours of their time each week.
Fortunately, with today's technology, solutions like Revinate Reputation™ compile all online reviews into one dashboard so hoteliers can get notifications on when new reviews are posted, and respond to them all in one place. In fact, Kelly Wouters, Dotcom Manager of The Hotel-Brussels, estimates that Revinate saves her more than 8 hours each week.
3. It's hard to get guests to write reviews.
One of the contributing factors to review site ranking algorithms like the TripAdvisor Popularity Index is the quantity and freshness of reviews. This means that while a hotel may have glowing feedback online, not having enough recent positive reviews can hurt its ranking. Many hoteliers find this frustrating. If they don't have control over who posts what online, how can they encourage more guests to write reviews?
One solution that many hoteliers have seen some success with is simply asking. Staff can and should be trained to ask for feedback after a successful interaction with a guest. This can be as simple as saying, "If you have a minute when you get home, can you please take the time to leave a review on TripAdvisor? We're always looking for ways to improve, and we love hearing from guests how their stay was."
However, a solution that has delivered even better results is an automated post-stay surveys solution like Revinate Surveys™. With Revinate Surveys, an email is automatically sent to guests after check-out, asking them to fill out a survey. If the hotel chooses, this survey can also include a review-style portion that can be submitted to TripAdvisor. We've seen customers improve on the TripAdvisor Popularity Index by as much as 70% as a result of enabling this feature.
4. Review data isn't useful.
Whereas traditional guest satisfaction surveys are uniform and therefore easy to quantify, online reviews are freeform text. This represents a problem for many hoteliers, in that it's difficult to analyze the information to discover trends in the data.
But, sentiment analysis technology has made it possible to analyze freeform text and quantify traditionally qualitative data. With sentiment analysis of your online reputation and surveys data, you can gain deeper insights on what your guests like and dislike about your property. You can use that data to make smart operational changes, inform your marketing efforts, and even start to customize your guest experience for repeat guests.
For example, this is a screenshot of the Revinate Dashboard for one of our customers: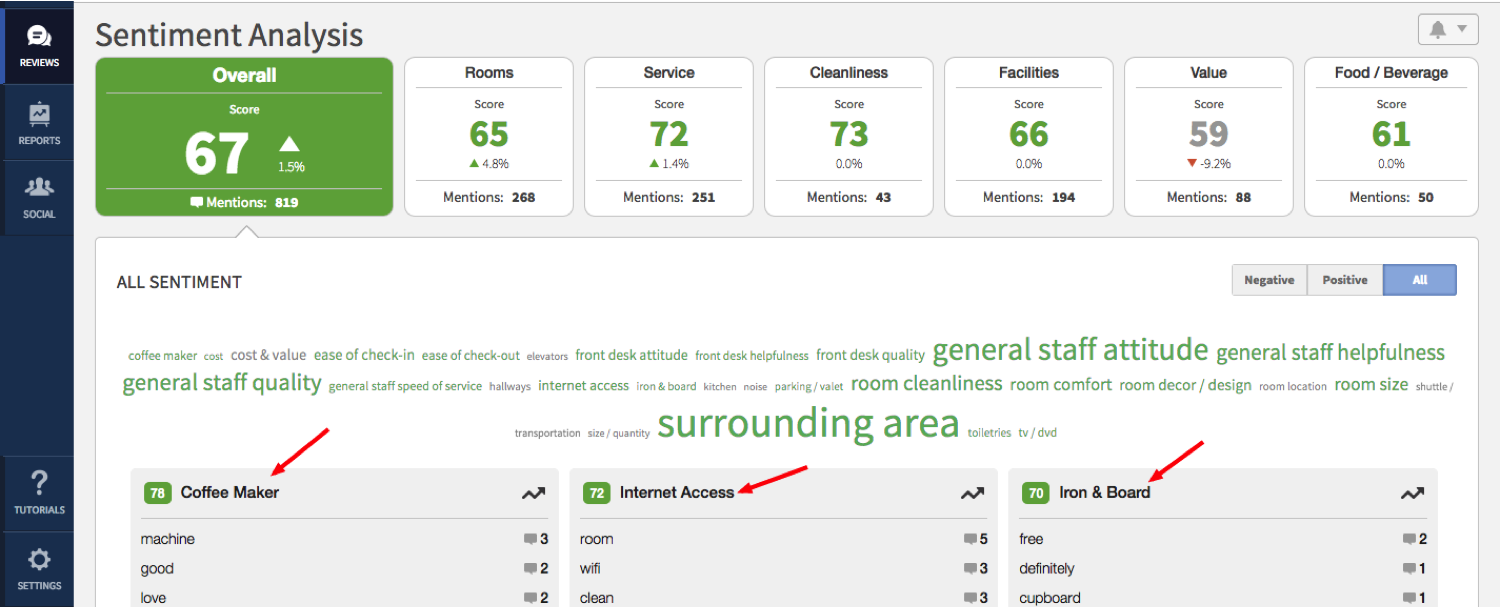 As you can see, overall, guests are saying some pretty positive things about this hotel, especially about the staff and the location of the property. Hoteliers can use this to get really specific information about what guests are consistently praising. For example, the scores here are very positive for the in-room coffee maker, the internet access, and the iron and board. This is information the hotel can use to its advantage. Knowing what guests like about your property is the first step toward delivering an ideal stay.
In the same way that a hotel can use positive mentions to learn more about guest expectations, it can also use sentiment analysis to find areas where it has opportunities for improvement: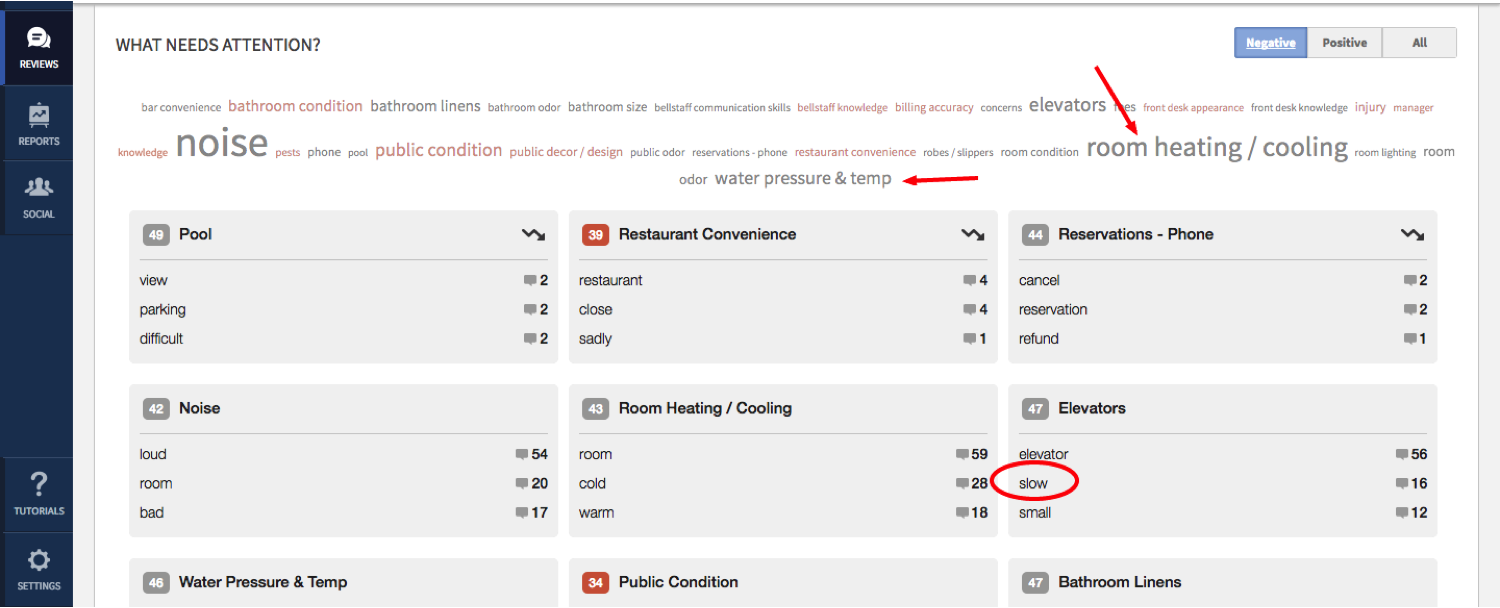 You can see here that guests are consistently complaining about noise, about the elevators being slow, about the water pressure in the bathrooms. These are all areas that the hotel can focus on to improve its guest experience, its overall ratings, and ultimately, its online reputation.
Online reviews don't have to be scary!
If online reviews are making you nervous, don't worry! Online feedback doesn't have to be a bad thing. With the right solutions, you can easily engage with guests online, collect the data, get instant analysis on that data, and use the information to improve your operations and services. Additionally, by being transparent about your hotel and working to improve you can increase your online visibility. Improving on the TripAdvisor Popularity Index is one way to get more bookings and ultimately increase revenue.
The widespread availability of guest feedback online is a good thing. Hoteliers just need to use it to their advantage.
Learn about what's trending, review response metrics, and a look forward at hospitality reputation in our 2018 Reputation Benchmark Report. Available free for download.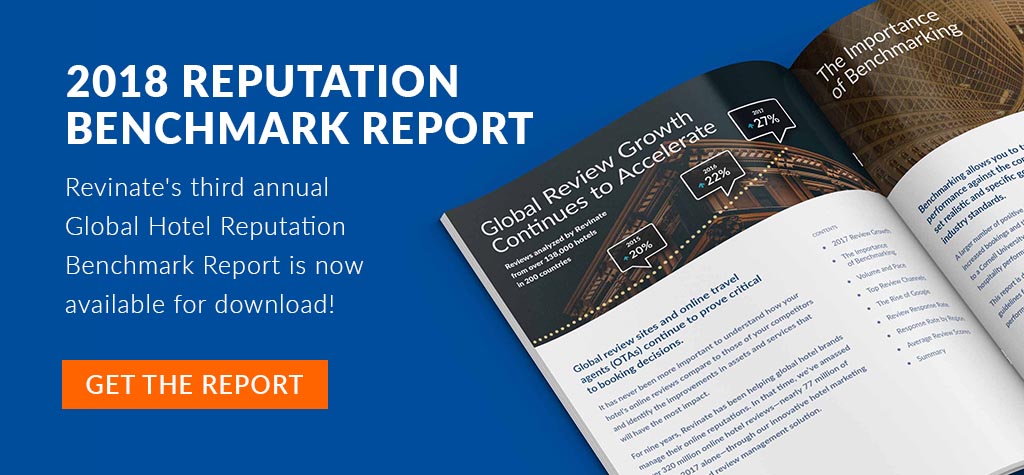 Insights that drive results
Subscribe now to get the latest content