6 hotel guest communication tips from Revinate's 2023 benchmark report
When you peruse social media or any other type of online community, you likely see profile after profile mentioning a love for travel. There's just something about getting out into the world that we can't get enough of.
Despite a few lackluster years, travel finally came roaring back in 2022. And according to Economist Intelligence, global tourism is expected to increase by 30% in 2023.
With guests eager to venture out again, it's a great time to learn some hotel guest communication tips that can help you capture their attention and drive direct bookings. Our recent benchmark report, "Understanding hoteliers' performance across communication channels," has a ton of insights on how to effectively engage with guests. Here's a sneak peek at some of the most notable ones.
What you will see here
Breaking down the top hotel guest communication tips
Because today's guests leverage a variety of channels, the hotel guest communication tips below cover email, text messaging, and web. These insights can help you make some improvements to drive even more success in the coming year.
1. Create more targeted emails to improve performance
Have you ever received a marketing email that began with, "Hi friend," and went on to include discounts for products you'd never dream of buying? It's a frustrating experience that rarely results in a purchase. This also applies to emails sent to guests.
You're much more likely to succeed by sending several highly segmented messages to different audiences than by trying to make a single campaign work for your entire database. And we have the data to prove it.
Emails sent to 5,000 guests or fewer performed better than any other segment size in 2022. Globally, this segment size had an average open rate of 49%, an average click-through rate of 8%, and an average conversion rate of 1%. In fact, this is the only segment size for which the conversion rate was measurable.
The advantage of personalization is also clear when you compare the results for one-time emails and automated emails. Why? Because automated campaigns are intentionally designed to target very specific audiences based on the criteria you set.
Not surprisingly, the performance metrics for automated campaigns were higher than for one-time campaigns last year. This was true at the global level as well as for the North America (NAM) region. In NAM, automated campaigns had a 14.58% average click-through rate and a 0.33% average conversion rate. One-time campaigns averaged a 2.87% conversion rate and a 0.28% conversion rate.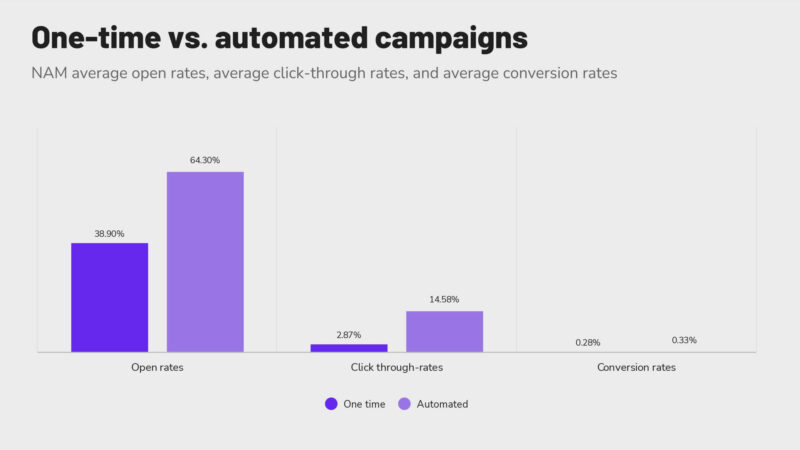 2. Take advantage of the opportunity your voice channel presents
Your reservation sales team is invaluable for driving direct bookings. Voice is an incredibly personal channel, allowing agents to connect with guests in a very human way. Agents also have the opportunity to follow up with guests who might otherwise forget to call back on their own, and those conversations are especially critical.
Let's compare the conversion rates for different call types. The average inbound conversion rate for hotels in 2022 was 43%. For outbound calls? The average conversion rate was still quite impressive at 36%.
While it's clear that implementing standard procedures for outbound calls can benefit you, that's only true if agents have the right tools at their fingertips. Unfortunately, only 12% of call centers say their technology effectively supports gaining a holistic view of the customer.
This isn't a problem if you have a robust call center solution. It gives agents access to all the guest information they need whenever they need it.
3. Don't give up on guests who abandon your booking engine
Getting people to your website is probably no issue. Turning those initial website visits into bookings can be a real struggle, though. Research shows that 81% of people abandon a booking before they're finished.
But if you think an abandoned booking is lost forever, think again. Re-connecting with these guests is actually one of the top hotel guest communication tips we can offer. And many hoteliers are having incredible success recouping these losses through cart abandonment emails. In fact, these campaigns were among the most successful of all emails in 2022.
For context, our report shows that NAM had average click-through rates ranging from 1.3% to 7.2% and average conversion rates between 0.1% and 0.5% across all emails. Cart abandonment campaigns were a completely different story. They generated an average click-through rate of 11.5% and an average conversion rate of 12.5%
4. Using a wide range of email types is one of the top hotel guest communication tips
One of our top hotel guest communication tips is to embrace variety in your email marketing plans since there isn't one specific approach that will work every time. A solid marketing plan should include both one-time emails and automated emails. And you can benefit even more from leveraging A/B testing and drip campaigns.
While A/B testing rarely led to better metrics for one-time campaigns in NAM during 2022, it's still a good idea to see how a few different approaches compare. When one version of the email clearly outperforms the other, you're able to learn valuable information you can apply to future campaigns.
In the case of one-time events and announcements emails, the average open rate was 43.2% for standard campaigns and 37.3% for campaigns that used A/B testing. This likely means that events and announcements emails had some lackluster results from subject lines that hoteliers now know to avoid.
You should also add drip campaigns to your toolkit if you have yet to, particularly for your automated campaigns. In fact, automated campaigns that used drip sequencing drove higher metrics across the board compared to pre-arrival emails that weren't part of a drip series.
5. Focus even more on responding to reviews
Responding to negative hotel reviews has always mattered, but it's now one of the most important hotel guest communication tips when you consider that the average hotel rating across NAM has fallen from 4.1 in 2019 to 3.9 in 2023.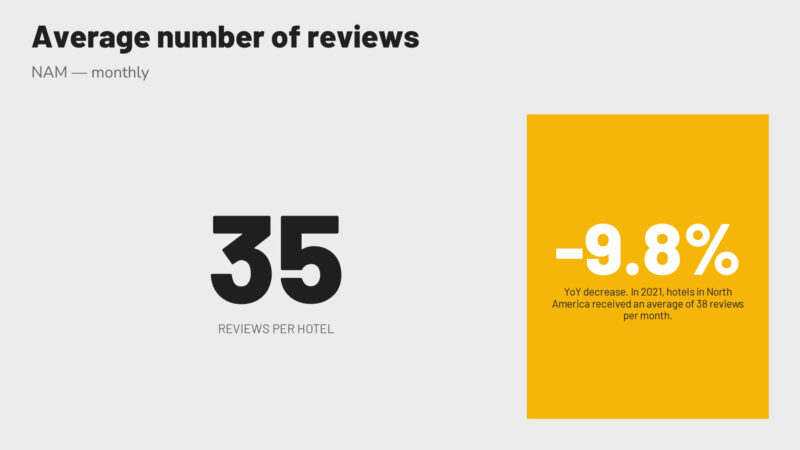 Guests are clearly more discerning than ever before. And they may be more likely to vent frustrations with anything that fell short of their expectations on a review platform.
Fortunately, you have an opportunity to join the conversation. When you address a bad review, you have the chance to rectify something that went wrong and find ways to make sure it doesn't happen again. Positive reviews are bound to follow, and that matters — a survey from BrightLocal shows that 73% of consumers are more likely to trust businesses with positive reviews.
As a general rule, encourage as many guests as you can to write reviews. This is particularly key for NAM. It was the only region that saw a decrease in the average number of reviews a hotel received each month, going from an average of 38 in 2021 to an average of 35 in 2022.
6. Leverage text messaging to drive efficiency and personalization
A text messaging solution is one of the best ways to offer both the personalization and convenience guests are craving. This type of technology truly benefits guests by serving as an always-available staff member.
Guests obviously need to interact with the solution for it to be useful. So, how many of them actually texted back? Our results show that nearly 30% of guests engaged with Ivy, Revinate's text messaging solution, in 2022. Those exchanges included everything from seeking information about their stays before arrival to responding to a post-stay survey.
Text messaging solutions also take some of the load off hotel staff. In fact, Ivy is able to resolve guests' issues in an average of 0.027 minutes. This means staff could spend more time building relationships with guests and solving more complex issues.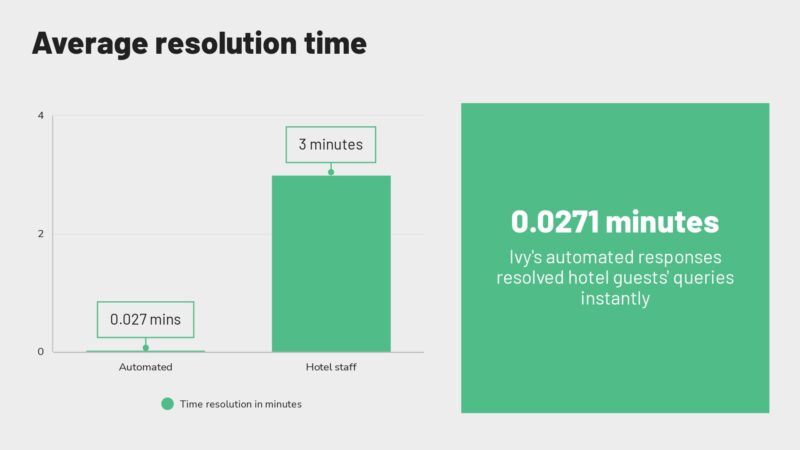 It's also worth noting that some text messaging solutions, including Ivy, get smarter over time. So, hoteliers can expect even better results in the future.
Start applying these hotel guest communication tips
Now that travel's back on the table, it's an exciting time for the hospitality industry. Make the most of it by leveraging these hotel guest communication tips. Doing so could help you delight guests and drive revenue like never before.
Of course, this is just a taste of the information we've gathered from 2022. For more insights and inspiration, take a look at our 2023 benchmark report.
Insights that drive results
Subscribe now to get the latest content