Upsells: What Hotels Need to Know
As the legend goes, when McDonalds began asking customers if they wanted fries with their burgers in the 70's, their sales spiked. In fact, they were able to get nearly half of their customers to add fries with that simple question. Why is the sales technique, known as upselling, so effective? Upselling, or persuading customers to purchase a more expensive, upgraded, or premium version after they have made a purchase decision, works because customers have already made the hard decision to buy. At that moment, encouraging them to add on another item is an easy decision. And, when the offer is well-positioned, guests will feel like adding on to the order is the obvious and expected choice.
Upsells are an important sales technique for hoteliers to master because it's far cheaper to drive revenue from an existing customer than find a new customer. In fact, acquiring a new customer is five times as expensive as retaining an existing customer. Another benefit of upsells is that, when done correctly, they can be personalized to the guest and can improve the guest experience and, as a result, drive loyalty. Finally, upselling can be automated as part of your email lifecycle so they don't require a big sales motion, a dedicated sales team or require paying a commission.
The pre-arrival email is a great medium to drive upsell revenue. This email sent three to seven days before check-in typically sees a 57% open rate and a 16% CTR. But, when hoteliers use the word 'upgrade' in the subject line, the open rate jumps to 61%, and the CTR increases to 30%. Why? At this stage in the customer journey, guests are getting ready to travel and anticipating a good time ahead. Your hotel is top of mind and they're willing to double down to ensure a great trip. A best practice, as shared in our Revinate University course, is to include five or six offers, personalized to the guest.
When it comes to enhancing the guest stay, you have the choice of offering additional amenities, services or room enhancements. Typically, upgrades are referred to as offers related to room selection. You might provide an upgrade offer for an ocean-view room, a suite, or a higher floor. Upsells typically refer to amenities or services that don't come standard with the room, such as breakfast, spa treatments, wine, transportation, early check-in, or other creative offers.
While upselling a guest typically happens before the guest checks in, there are lots of opportunities to drive additional revenue once the guest is on-site. For example, after the guest checks-in, you can automatically send an email with additional offers to enhance the stay. On the day before the guest is scheduled to check out, you can automatically send an email offering late check-out or an airport transfer. With Revinate Marketing, you can customize the offers based on data in the PMS to present personalized offers timed appropriately with the timing of the stay.
In our recent Marketing Benchmark Report, we shared that some of the most popular upsells in 2020 were food, beverage, and special one-time campaigns. In the F&B category, pre-purchased breakfast was the most popular upsell. In 2020, with many guests looking to stay safe by limiting their indoor time, hoteliers also got creative with upsells and created promotions for outdoor and sports-related activities. These proved to be big revenue drivers during the pandemic. Here are some of the most popular hotel upsells by category: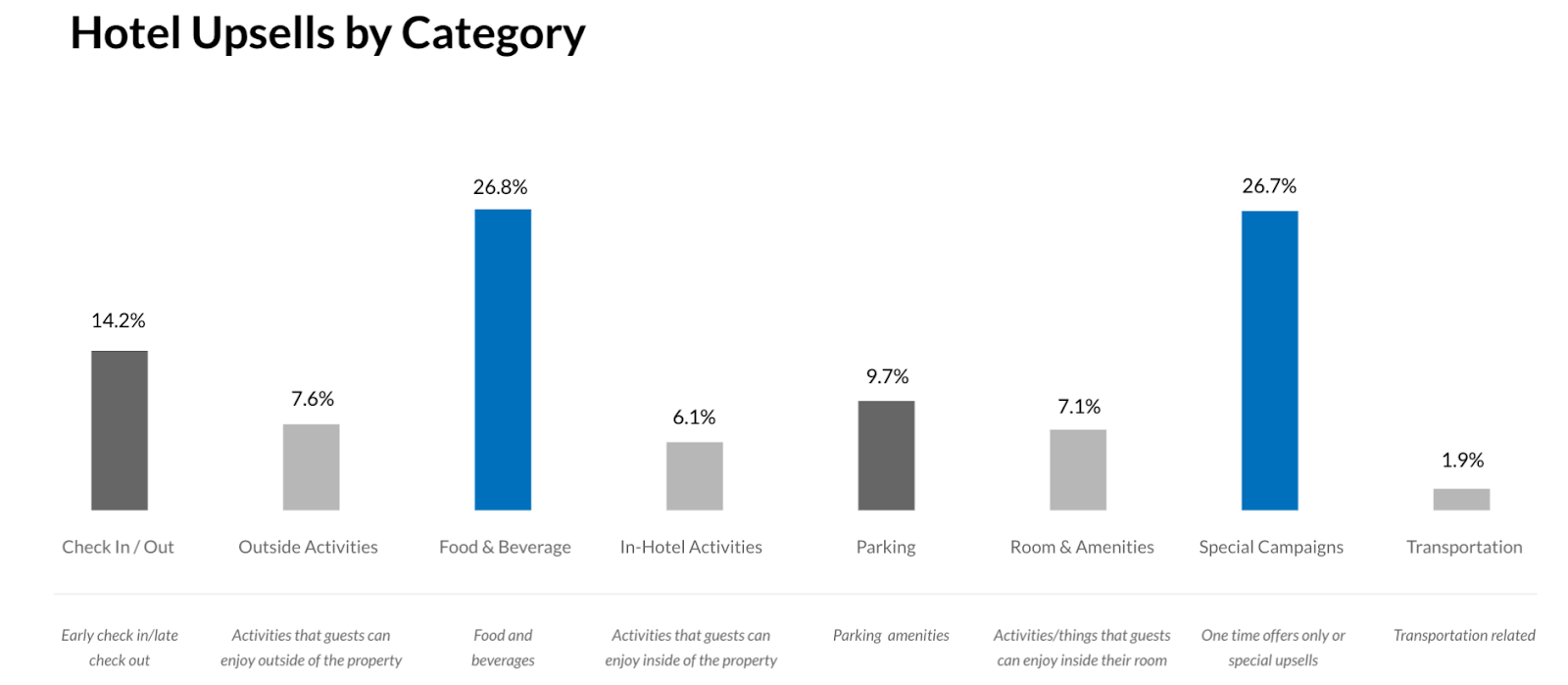 When it comes to driving revenue with upsells, hoteliers will need to use both sides of their brains as the driving conversion is both an art and a science. The art side is developing creative offers that entice your guest to respond. Maybe it's an hour of hitting balls with a tennis pro, an evening massage, or a cooking class with your award-winning chef.
The science is personalizing the right offers to the right guests and sending them at the right time. In the example below, Hotel Spero sends an offer for an early check-in to guests who are scheduled to arrive at the hotel within the next couple of days. Allowing guests to check-in early helps offset the afternoon crunch at the front desk, starts guests off on the right foot, and allows the hotel to drive upsell revenue.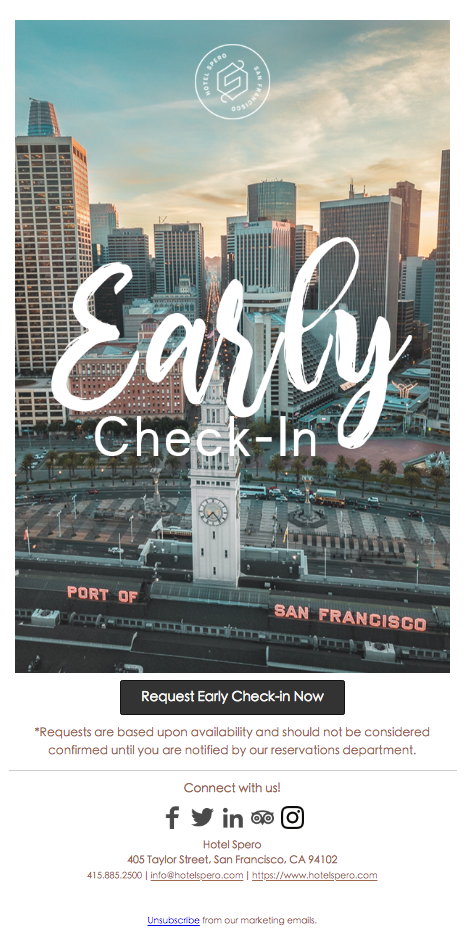 Similarly, the night before check-out, Hotel Spero sends an automated email to all guests scheduled to check out the next day with an offer to check out late. In addition to driving upsell revenue, this offer frees up the front-desk staff from fielding calls, allowing them to focus on serving guests in person. It's a win-win for everyone.
Insights that drive results
Subscribe now to get the latest content