Revinate's new Post-Stay Surveys Reinvent Guest Feedback, Turning Guests into an Army of Marketers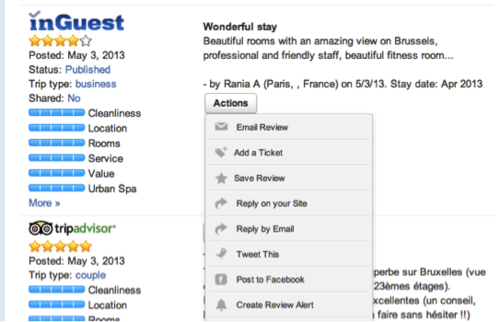 Revinate, the hospitality industry's undisputed leader in reputation management, announces the launch of Post-Stay Surveys, creating the first true 360° approach to guest feedback. The new product, already in use by hotels across the globe, fully integrates modern, innovative guest surveys with Revinate's market leading online review and social media solution. With over 20,000 hotel customers, Revinate is now helping hospitality businesses fully harness the power of guest feedback to improve operations, engage with customers and drive more bookings.
With Post-Stay Surveys, Revinate can now turn hotel guests into an army of advocates. Where solicited feedback was once considered only private intelligence, Post-Stay Surveys allows leading hoteliers to cash in the currency of feedback, using it to drive exposure and new bookings.
Feedback has always been the lifeblood of successful hospitality companies. The growing popularity of online reviews has shown that consumers prefer to write free-form reviews describing their hotel experiences.
Reviews also provide hoteliers with a rich source of feedback that can be used to improve operations and, ultimately, guest satisfaction and loyalty. In fact, well over 90% of travelers worldwide say online reviews have an impact on their
booking decisions (TripBarometer, March 2013).
With Post-Stay Surveys, Revinate improves on traditional post-stay surveying methods with an innovative, social approach inspired by online reviews. Post-Stay Surveys includes a customizable survey that is remarkably easy to manage and deploy. Revinate's new product also allows guests to share their experiences on social networks such as Facebook and Twitter. This social sharing not only appeals to today's travelers, it is also designed to drive more online exposure and bookings for the hotel.  In addition, Post-Stay Surveys can also be easily and automatically published on hoteliers' own web sites, improving site engagement, SEO and booking conversion rates.
Post-Stay Surveys is tightly integrated with reviews from online travel agencies and review sites across the globe, and analyzed with powerful yet intuitive sentiment analysis technology. This complete 360° view will help hoteliers quickly understand what guests love about the property and what needs to be improved, regardless of whether the feedback was published on TripAdvisor, booking.com or any other review site, or solicited directly through Post-Stay.

Jay Ashton, Revinate co-founder and CEO says, "Today more than ever travelers love to provide feedback, and they do so for two main reasons; to feel empowered and influence other customers, and because they genuinely want to improve a product. Traditional surveys will only meet the second need.  A streamlined digital survey that is inspired by online reviews, and that has
social-sharing capability, has more to offer. It can meet the needs of hotels to ask specific questions and the needs of customers to influence other people, providing both critical business intelligence and online marketing exposure."

Kelly Wouters, DotCom Manager at The Hotel Brussels, has been using Post-Stay Surveys since March. She says, "After using Revinate for online reputation management and seeing the impressive difference that it made across our organization, I was very excited to use Post-Stay Surveys. By combining our unsolicited feedback from social media channels and multiple review sites with solicited surveys from verified guests, we now have an even more powerful solution for tracking what matters to our customers, allowing us to make impactful changes that impact guest satisfaction.  We can automatically share that feedback on our website and post it on Facebook and Twitter to increase conversion rates and drive more bookings. But, what's really great is that we can now check all our customer insights in one place, making it very easy to take action and improve our service, which benefits our guests," Kelly adds.
Want to drive more direct revenue and connect with guests? Download our free Email Marketing Strategy Guide. Never before has there been a more jam-packed, industry-specific guide to help hoteliers master the art (and science) of email marketing. Over 40+ topics with actionable insights, strategies, and best practices for email marketing.
Insights that drive results
Subscribe now to get the latest content