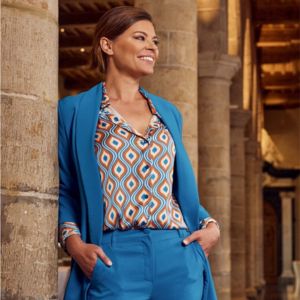 Meet the customer
"Revinate Marketing has not only paid for itself in bookings but, more importantly, has strengthened the bond between our customers and the hotel."
Sandrine Versavel
Director of Sales and Marketing
The brand
Botanic Sanctuary Antwerp hides behind ancient walls within the Botanical Garden in Antwerp. Part of Leading Hotels of the World, the property offers 3 MICHELIN-starred restaurants, a groundbreaking spa with a future-oriented health concept, a state-of-the-art conference centre for green meetings and events, a wedding venue, a chapel, and more. Opened in 2022, the hotel has already set a global benchmark for luxury hospitality.
The challenge
Catering to a sophisticated clientele was the biggest challenge for the marketing team, led by Sandrine Versavel. Sandrine knows the importance of personalized marketing and communication. "In a world where so many businesses spam their contact lists, it was really important for us, from the beginning, to be intentional in our communications planning," Sandrine says.
With guest segments for the spa, hotel, meetings, events, weddings, and the restaurants, personalization ran the risk of being time consuming and unwieldy. The team set out to find an easy-to-use solution that would make it simple to collect and centralize guest feedback, segment guests, and create well-designed and tailored communications for every guests.
The solution
When Sandrine saw a demo of Revinate Guest Feedback, she knew it was the platform she needed to manage her reviews. First, it aggregated online reviews from across the web, bringing them together into a single dashboard. Staff can easily see what amenities and services guests love and where there's room for improvement. "I love that we can respond to reviews, right from the Revinate dashboard. It saves us so much time and I know it means a lot to our guests that their reviews don't fall on deaf ears. By responding, we let them know how important their business is to us," Sandrine explains.
Sandrine and her team also love the simplicity and strength of Revinate Marketing, which checked all the boxes when searching for a solution to power email marketing. First, it is easy to use, which is important for busy hoteliers. Creating guest segments and personalizing communications can be done without much training. "I love that we can tailor the look and feel of our communications depending on the outlet. Everything is highly branded and speaks to the right customer," Sandrine says.
In addition, thanks to an integration with the PMS, the hotel can send automated emails at just the right time in the guest journey. These emails eliminate manual work and give the guests all the information they need before, during and after their stay. Like all communications, the content is personalized and represents the brand.
Finally, it's easy to see how marketing campaigns are driving direct revenue, right in the dashboard. As guests engage with email content, the hotel can track clicks, booking nights, and revenue.
The results
With Revinate, Botanic Sanctuary Antwerp has driven more than €200k in direct revenue in the last year and achieved their goal of personalized communications.
Average open rate: 67%
Click-through rate: 6%
Average revenue per campaign: €4,000
Increased and improved Email Health to 74% (+11% from last year)
"Revinate is an always-on marketing resource that we couldn't live without. Revinate Marketing has paid for itself in bookings but, more importantly, has strengthened the bond between our customers and the hotel," Sandrine says.