Hotel marketing tips for Black Friday and Cyber Monday
Black Friday is the biggest shopping weekend of the year — and the hospitality sector is no exception. Black Friday hotel marketing has become a significant opportunity for hoteliers to drive direct bookings and personally connect with past and future guests. Because guests will be spending.
In 2022, Black Friday spending topped $9.12 billion — a 2.3% increase from 2021. 2023 is bound to bring in billions just as well, and even more over the extended shopping weekend through Cyber Monday.
This is your chance to be ready with a top-notch marketing plan when guests go deal-hunting and stand out from the competition.
What you will see here
Personalize to meet the needs of your Black Friday shopper
You know your guests better than we do, but guest preferences and trends may look a little different on Black Friday this year. It doesn't hurt to do a little research on who will be shopping with your hotel brand.
Black Friday predictions for 2023
Before you go crafting those Black Friday offers and discounts, you need to know this year's shoppers and what they're looking for if you want those promos to land. PwC's recent Holiday Outlook 2023 report tells all.
Luckily, 2023 is boasting more travel-ready spenders, with Gen Z not only spending the most, but traveling the most with as much as 58% of them purchasing new trips.
Female shoppers are spending 11% more than last year, but aren't big on brand loyalty. You'll need deals that really capture their attention.
Shoppers are starting early. As many as 72% of consumers expect to see deals roll in before Black Friday starts.
Segment and personalize
While it's important to have some context about this year's Black Friday spenders, using the data you've collected from guests will take your campaigns from general to personal. And using that data starts where it always starts, with segmentation and personalization.
We're talking about guest preferences or demographic data or stay data — can you leverage a guest's lifetime spend, number of past stays, or if they travel with family? The more specific you can get with your segmentation, the better.
The goal for your Black Friday hotel marketing or any email campaign for that matter, should be to present relevant, uniquely personalized, eye-catching offers that are valuable to guests. You wouldn't want to send a discount for a family four-pack stay to one of your most loyal, yet single and childless guests, now would you?
Here is a well-segmented Black Friday email campaign example from The Stafford London, which generated 283 direct bookings. They targeted guests who had previously booked directly (not via OTA) and contacts from their general, travel, corporate, or food and beverage list.

Check it twice: email deliverability matters
Imagine putting all of this time and effort into your Black Friday hotel marketing, but your email campaigns flop. Cut off sentences, unreadable CTAs, poor list quality, bounced addresses — not good. So do yourself a favor and invest in improving your email deliverability.
Email marketing best practices
Whether a Black Friday campaign, a Cyber Monday campaign, or any other, your key email features need to be flawless.
Here's what you want:
Clear image and brand logo (with alt-text).
Relevant and succinct headline that avoids using "Re:" and "Fwd" abbreviations.
Obvious call-to-action. Maybe that's a couple of CTA buttons.
Contact details for your hotel. Feel free to include your hotel's address and website link.
Privacy compliance. You need that "unsubscribe" button!
Optional: A place for social integration. Don't hesitate to drop in the platform icons with links to your social profiles.
Whether that's double-checking the character limit for your subject lines (and please no all-caps), or testing the links on the CTA buttons, it pays to have these things correct.
Email filters
Good deliverability means campaigns go to the right email address, land in the guest's main inbox, and convey exactly what you want the guest to know. That's why you can't forget the big three email filters: "Stay recency", "Exclude OTA domains", and "No future stays".
For Black Friday campaigns, don't target people that haven't stayed with you in the last two years and people who use an OTA domain in their email address. Otherwise, you have a higher risk of the recipient labeling your email as spam or not taking your brand seriously.
And be sure to exclude folks who have already booked a future stay at a higher rate! (You'll avoid canceled bookings this way).
Great returns for thoughtful design
Email design isn't everything, but it'll sure help your Black Friday hotel marketing stand out. It's the holidays after all, so getting in the spirit with a colorful and themed campaign can only make those offers that much more enticing and irresistible to your audience. A/B testing your designs as well as subject lines and CTAs is a great way to predict how these campaigns will perform when they're ready for launch.
And those designs need to render clearly on both desktop and mobile, so you might want to test that too. (Psst, CTAs should be visible on the first scroll!) In fact, on Black Friday 2022, desktops had a 5.6 % higher conversion rate compared to mobile devices. Don't miss out on revenue because you didn't verify every viewing type.
Here's what we mean when we say "clearly defined CTAs." See how well this "Book now" CTA stands out? AutoCamp went with a simple yet bold design to quickly capture the guest's attention and show exactly where to navigate and book their stay.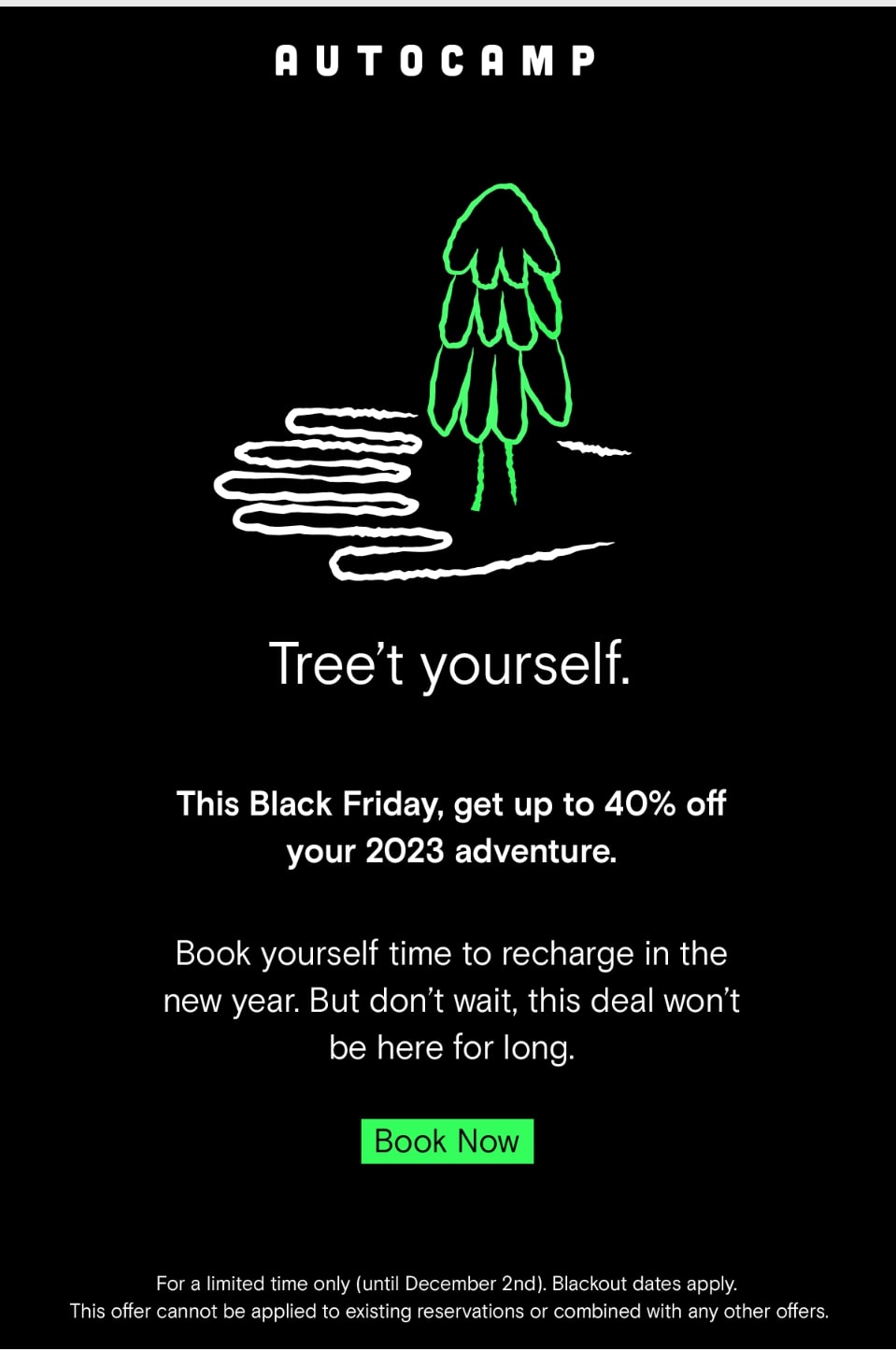 Don't forget about timing
Hoteliers, your competition will be making a mad dash to send emails to their databases before, during, and after Black Friday — just like you. Having a timely send strategy will bring in more revenue, reach your intended audience at the ideal moment, and elevate your Black Friday hotel marketing. It's time to stick out in a crowded inbox.
Automated campaigns are the way to go
You've crafted the best Black Friday emails; now it's time to think about dates. Create a sense of urgency to boost the impact of emails leading up to Black Friday. Extending offers through and after Cyber Monday keeps the shopping spree going. If you automate those sends, you'll not only ease pressure on your marketing team, but you'll rest assured knowing those campaigns will be delivered to the right guest at the right time.
And if you really want to drive those full-funnel conversions, consider testing offers and visual campaigns across your social platforms and even on your website. Guests can have many touchpoints before they finally book. Maybe it starts with that first Black Friday email, and then they browse your site. When they leave your website, they receive an automated email reminding them to book, and they do. So make sure you have set up website and cart abandonment campaigns to capture any leads that would otherwise fall through the cracks.
Lucrative Black Friday hotel marketing is possible
Black Friday doesn't have to be stressful. Keep your Black Friday hotel marketing simple and keep it data-driven. It's better to send multiple, timely, and personalized offers to your database than to send one mass email in the wee hours of Friday morning. Guests will notice that level of personalization, and reward you for it.
Insights that drive results
Subscribe now to get the latest content